Harnesses, Belts & Accessories
Miller Ladder Grip
The Miller Ladder Grip is a low profile ladder bracket/fall arrest anchor point that can be permanently attached to the roof to prevent a ladder from moving/tipping over.
Overview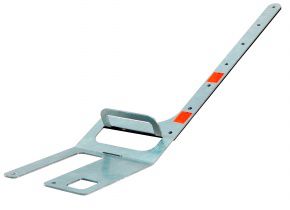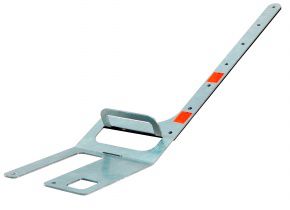 Key Features
Can be used as a Fall Arrest Anchor

Point for 1 person

Easy to install

Complete with a handle to hold on to

when getting on to and off the roof

Each unit is fitted with a weather seal

and is supplied with mounting rivets.

The Ladder Bracket can be mounted on

a single ridge or across multiple ridges.

Low profile design for minimal visual

intrusion.
Recommended Industries/Use
Hazards
Regulations
If installed as per Manufacturer instructions this unit co plies with AS/NZS 1891‐4 as a Fall Arrest or Restraint Anchor Point.
Warranty Information
MILLER FALL PROTECTION PRODUCT TOTAL SATISFACTIONASSURANCE At Sperian Protection, we have been providing quality Millerbrand fall protection equipment to millions of workers worldwide since1945. LIMITED LIFETIME WARRANTYBACKED BY OVER 60 YEARS IN THE FALLPROTECTION BUSINESS We sincerely believe that our fall protectionequipment is the best in the world. Our products endure rigorous teststo ensure that the fall protection equipment you trust is manufacturedto the highest standards. Miller fall protection products are tested towithstand normal wear and tear, but are not indestructible and can bedamaged by misuse. Our Limited Lifetime Warranty does not apply tonormal wear and tear or abusive treatment of the product. In theunlikely event that you should discover defects in either workmanshipor materials, under our Limited Lifetime Warranty, we will repair orreplace the product at our expense. If a replacement is necessary andyour product is no longer available, a comparable product will besubstituted. Should a product issue surface, contact us at 1300 139 166(Aust customers) or 0800 322 200 (NZ customers) Manufacturingspecifications are subject to change without notice.
Data Sheet
Name
Description
File Size
Date
Size
Miller Ladder Grip Datasheet
application/pdf 108.82 KB
10/12/2021
108.82 KB
Name
Description
File Size
Date
Size
Miller Ladder Grip Datasheet
108.82 KB
10/12/2021
108.82 KB
Name
Description
File Size
Date
Size