High Tech & Semiconductor
Vertex M
Provides a flexible 8 to 24 points of monitoring using colorimetric Chemcasstte®, the industry's most reliable gas monitoring technology. • Quick Specs • Power requirements: 110 or 230 VAC • Operating temperature: 59° to 95°F (15° to 35°C)
Overview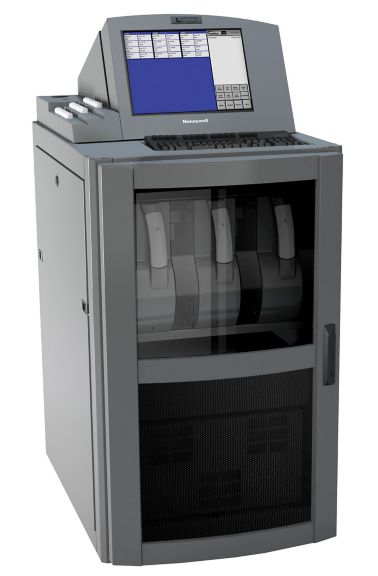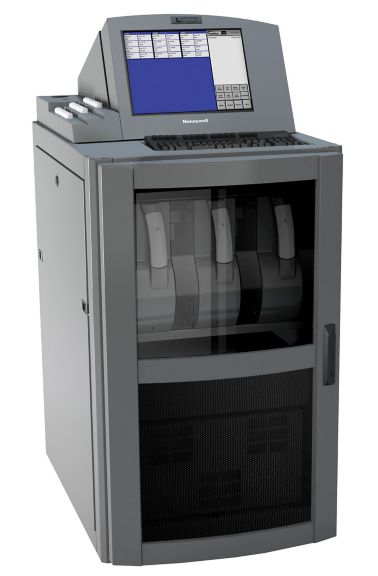 Vertex M™ is an economical way to install, augment or upgrade a gas monitoring system for industries using toxic . It provides a flexible 8 to 24 points of monitoring for use with up to 3 Chemcassette analyzers or combination 1 pyrolyzer analyzer/1 universal Chemcassette analyzer; comes in a small, space-saving cabinet; 110V or 220V power options; and uses the industry's most reliable toxic gas monitoring technology, colorimetric Chemcassette, which shows proof of a gas response through a telltale stain on the Chemcassette tape. The Vertex M integrates easily into a factory automation system or HMI to serve semiconductor, PV, nano, specialty chemical, lab and other High Tech/Industrial environments.
Additional Features and Benefits:
Cost Effective
Extended tapes (90 days) provides longer monitoring life
No calibration or flow balancing required
Additional pump and internal power module increase uptime
Software can be configured with out taking unit offline
Sampling points can be up to 400 feet (121m) from the monitor and routed to more than one analyzer.
Easy to use
Touch screen for easy access to data
Software updates via CD-ROM or network to all system components
Configuration profile editing and data retrieval are all achievable without taking unit offline
Radio frequency identification tag (RFID) ensures Chemcassettes® are installed into appropriately programmed analyzer, eliminating human error
On-line help system
Security
Multiple levels of password protection
Reconfigure security setup without taking unit offline
Low cost of ownership
Small footprint and greater density of points reduce your cost per point
Eight points per analyzer lowers Chemcassette® costs
Maximized 24 point systems provide low cost per point as compared to other continuous monitors


One system monitors up to three gas families and more than 40 gases


You can split your sample to more than one analyzer
Easy to maintain
Uses cost-effective XP Chemcassettes®, providing up to three months of continuous monitoring
Simplified replacement of Chemcassettes® and automated optics verification
No dynamic calibration required
No flow balancing
Easy access to analyzers, pumps, power supplies and touch screen from front panel
Onscreen interactive electronic manual
 Advanced communications
Built-in configurable PLCs with optional 64 relay contacts
Standard OPC interface for easy integration into your existing factory automation system or HMI
Optional Ethernet/CIP, LONWORKS®, DeviceNetTM, DF1Interface, PROFIBUS, Modbus Plus, Modbus/TCP or ControlNet outputs available
Others
Features

Touch screen for easy data access

No dynamic calibration required

Longer monitoring life with extended tapes (90 days)
Others
Features

Touch screen for easy data access

No dynamic calibration required

Longer monitoring life with extended tapes (90 days)
Features : Touch screen for easy data access|No dynamic calibration required|Longer monitoring life with extended tapes (90 days)
Manuals and Guides
Name
Description
File Size
Date
Size
Vertex M Multi-Point Toxic Gas Monitoring System Technical Handbook - EN
application/pdf 7.68 MB
10/7/2021
7.68 MB
Vertex M Multi-Point Toxic Gas Monitoring System - User Manual - English
application/pdf 10.96 MB
5/17/2022
10.96 MB
Technical Note
Name
Description
File Size
Date
Size
Vertex & Vertex M - Product Notice
application/pdf 119.37 KB
10/21/2022
119.37 KB
Name
Description
File Size
Date
Size
Vertex M Multi-Point Toxic Gas Monitoring System Technical Handbook - EN
7.68 MB
10/7/2021
7.68 MB
Vertex M Multi-Point Toxic Gas Monitoring System - User Manual - English
10.96 MB
5/17/2022
10.96 MB
Vertex & Vertex M - Product Notice
119.37 KB
10/21/2022
119.37 KB
Name
Description
File Size
Date
Size
Vertex M Multi-Point Toxic Gas Monitoring System Technical Handbook - EN
7.68 MB
10/7/2021
Vertex M Multi-Point Toxic Gas Monitoring System - User Manual - English
10.96 MB
5/17/2022
Vertex & Vertex M - Product Notice
119.37 KB
10/21/2022
SKUs

1283K1090
Sample Line Tubing Duct Adapter: Midas Gas Detector Accessories

1290-0066

1290-0071

1290-0072

1290-0073

1290-0074

1290-0075

1290-0076

1290-0077

1290-0078

1283K1090
Sample Line Tubing Duct Adapter: Midas Gas Detector Accessories

1290-0066

1290-0071

1290-0072

1290-0073

1290-0074

1290-0075

1290-0076

1290-0077

1290-0078