Portables
AutoRAE 2
Automatic bump test and calibration system
Overview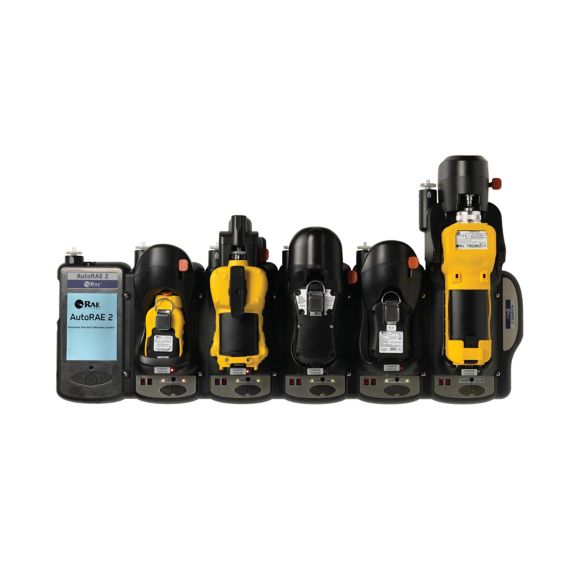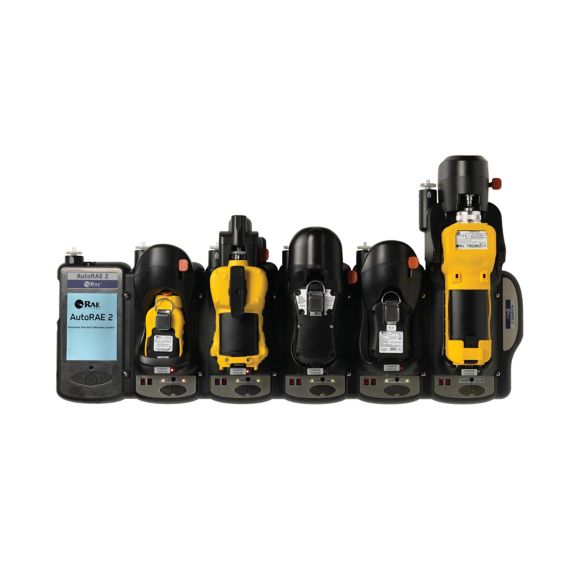 Simplify bump testing and calibration of your RAE Systems gas monitors with the AutoRAE 2. Versatile and modular, it can be deployed as a single, stand-alone unit to calibrate one instrument at a time, or networked to support up to 10 units at once and calibrate for up to five distinct gases. One-touch bump testing and single-button operation for calibration make it easy to use. Upgradeable firmware protects your investment and ensures that it's always up-to-date, while the standard SD card for storage ensures your data is always at your fingertips.
Features and Benefits:
Easy, one-touch bump testing, calibration, charging, and records management
Supports a wide variety of gases, including exotics
Optimized for field use--does not require a computer to operate
Can be used on a bench top or mounted on the wall
Deployable as a standalone cradle or a controller-based system with up to 10 cradles
Networking capability
Data storage on a standard SD card
Instrument supported:ToxiRAE Pro, ToxiRAE Pro LEL, ToxiRAE Pro PID, ToxiRAE Pro CO2: QRAE 3: MicroRAE, MulitRAE Lite (pumped version only), MulitRAE, MultiRAE Pro, MultiRAE Benzene, MiniRAE Lite, MiniRAE 3000, UltraRAE 3000 and ppbRAE3000
Application:
CBRNE
Clandestine Labs
Confined Space Entry
Decontamination
Emergency Response
Environmental Cleanups/ Remediation
Exploration
Fire Overhaul
Fracking
Hazmat Response
Indoor Air Quality
Leak Detection
Plant Shutdown & Turn-Around
Residential Calls
Urban Search & Rescue
Venue Protection
Worker Exposure
Even the best products deserve expert maintenance!
Elevate your gas detectors' potential with Honeywell's expert maintenance services! Maximize uptime, eliminate costs, and ensure on-time, on-budget project completion.
Explore our fixed, portable, and high-tech support services now!
Data Sheet
Name
Description
File Size
Date
Size
AutoRAE 2 Data Sheet
application/pdf 326.86 KB
10/7/2021
326.86 KB
Manuals and Guides
Name
Description
File Size
Date
Size
AutoRAE 2 Controller Quick Start Guide
application/pdf 740.96 KB
10/7/2021
740.96 KB
AutoRAE 2 Cradle Quick Start Guide
application/pdf 441.44 KB
10/7/2021
441.44 KB
Firmware
Name
Description
File Size
Date
Size
AutoRAE 2 Cradle For ToxiRAE Pro Monitors v 1.44
application/zip 174.21 KB
9/4/2023
174.21 KB
AutoRAE 2 Cradle For Handheld PID V1.44
application/zip 174.19 KB
9/4/2023
174.19 KB
AutoRAE 2 Controller Application Firmware v1.44
application/zip 2.14 MB
9/4/2023
2.14 MB
AutoRAE 2 Cradle For QRAE 3 Monitors v 1.42.2
application/zip 173.87 KB
2/1/2023
173.87 KB
AutoRAE 2 Cradle For MicroRAE Monitors v 1.42.2
application/zip 173.88 KB
2/1/2023
173.88 KB
AutoRAE 2 Cradle For MultiRAE Pumped Monitors v 1.42.2
application/zip 173.9 KB
2/1/2023
173.9 KB
AutoRAE 2 Cradle For ToxiRAE Pro Monitors v 1.38
application/zip 173.08 KB
10/11/2021
173.08 KB
Technical Note
Name
Description
File Size
Date
Size
Technical Note 203 Gas Sequences for Calibration and Calibration Check Testing of the MultiRAE Instrument Family
application/pdf 1.15 MB
10/7/2021
1.15 MB
Technical Note 114 Sensor Specifications and Cross-Sensitivities
application/pdf 795.02 KB
10/7/2021
795.02 KB
Others
Name
Description
File Size
Date
Size
AutoRAE 2 User's Guide
application/pdf 7.69 MB
10/7/2021
7.69 MB
Name
Description
File Size
Date
Size
Name
Description
File Size
Date
Size
AutoRAE 2 Data Sheet
326.86 KB
10/7/2021
AutoRAE 2 Controller Quick Start Guide
740.96 KB
10/7/2021
AutoRAE 2 Cradle Quick Start Guide
441.44 KB
10/7/2021
AutoRAE 2 Cradle For ToxiRAE Pro Monitors v 1.44
174.21 KB
9/4/2023
AutoRAE 2 Cradle For Handheld PID V1.44
174.19 KB
9/4/2023
AutoRAE 2 Controller Application Firmware v1.44
2.14 MB
9/4/2023
AutoRAE 2 Cradle For QRAE 3 Monitors v 1.42.2
173.87 KB
2/1/2023
AutoRAE 2 Cradle For MicroRAE Monitors v 1.42.2
173.88 KB
2/1/2023
AutoRAE 2 Cradle For MultiRAE Pumped Monitors v 1.42.2
173.9 KB
2/1/2023
AutoRAE 2 Cradle For ToxiRAE Pro Monitors v 1.38
173.08 KB
10/11/2021
Technical Note 203 Gas Sequences for Calibration and Calibration Check Testing of the MultiRAE Instrument Family
1.15 MB
10/7/2021
Technical Note 114 Sensor Specifications and Cross-Sensitivities
795.02 KB
10/7/2021
AutoRAE 2 User's Guide
7.69 MB
10/7/2021

002-3008-000
Organic vapor zeroing kit ((charcoal filter trap) multiple use, with connectors

410-0225-000

500-0141-000
Power adapter,AC/DC,90-264V Input,12VDC/7.5A 90W Output

T01-0100-000
Bump Test and Calibration (ToxiRAE 3 version)

T01-1011-000
PCB,ASSY,BUTTON,AUTORAE LITE

T01-1013-000
PCB,ASSY,ADAPTER,AUTORAE LITE

T01-2002-000
TOXIRAE 3 RBR FOR SGL ADTR AUTORAE LITE

T01-3029-000
ADAPTOR W/ CABLE,AUTORAE LITE FOR QRAE I

T02-0003-000
AutoRAE 2 Cradle for ToxiRAE Pro

T02-0103-000

002-3008-000
Organic vapor zeroing kit ((charcoal filter trap) multiple use, with connectors

410-0225-000

500-0141-000
Power adapter,AC/DC,90-264V Input,12VDC/7.5A 90W Output

T01-0100-000
Bump Test and Calibration (ToxiRAE 3 version)

T01-1011-000
PCB,ASSY,BUTTON,AUTORAE LITE

T01-1013-000
PCB,ASSY,ADAPTER,AUTORAE LITE

T01-2002-000
TOXIRAE 3 RBR FOR SGL ADTR AUTORAE LITE

T01-3029-000
ADAPTOR W/ CABLE,AUTORAE LITE FOR QRAE I

T02-0003-000
AutoRAE 2 Cradle for ToxiRAE Pro

T02-0103-000