Face Shields
Honeywell Turboshield
Together, We're Changing the Face of Safety!
Overview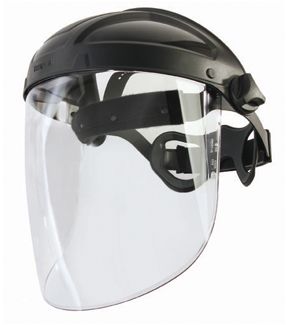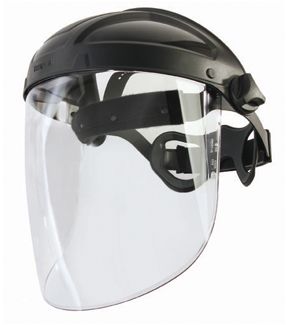 Key Features
Flexible Head-Cushioning suspension cradle provides 300% greater contact area than traditional suspensions.
Easy visor exchange with a simple push button release
Improved Protection with 50% more chin coverage compared to traditional visors
Adjustment knobs are large and ergonomically designed for simple, easy adjustment - even wearing gloves!
Patented Hard Hat Adapter that allows visors to slide back 170 mm overhead when faceshield is in the up-right position for better balance and weight distribution.
Recommended Industries/Use
Chemical
Construction
Food Services
Manufacturing
Medical
Oil and Gas
Pharmaceutical
Steel and Metals
Hazards
Abrasion
Airborne Particulates
Chemical
Extreme Environment
Impact
Splash
Regulations
DIN EN 166:2001 -
DIN EN 169:2002 -
DIN EN 170:2002 -
DIN EN 172:1994+A1:2000+A2:2001 -
Essential requirements according to Annex II of the PPE-Directive 89/686/EEC -
AS/NZS 1337.1 2010 - Australian New Zealand Standards. Extra High Impact, Splash Resistance, Molten Metal & Hot Solids LIC 02209/3
Warranty Information
1-year limited Warranty in accordance with other Honeywell branded Eye & Face products.
Others
Shape

Toric (curved on two planes)

Maximum Operating Temperature

191 degrees Celcius

97 Degrees Celcius

Thickness

2.2 mm at Optical Axis millimetre
Others
Shape

Toric (curved on two planes)

Maximum Operating Temperature

191 degrees Celcius

97 Degrees Celcius

Thickness

2.2 mm at Optical Axis millimetre
Shape : Toric (curved on two planes)
Maximum Operating Temperature : 191 degrees Celcius|97 Degrees Celcius
Thickness : 2.2 mm at Optical Axis millimetre
SKUs

1031740
Honeywell Turboshield Headgear

1031740
Honeywell Turboshield Headgear

1031743
Turboshield Clear Polycarbonate Visor - Uncoated

1031743
Turboshield Clear Polycarbonate Visor - Uncoated

1031744
Honeywell Turboshield Clear Coated Visor (HC/FB)

1031744
Honeywell Turboshield Clear Coated Visor (HC/FB)

1031747
Honeywell Turboshield Welding Shade 3.0 Uncoated Visor

1031747
Honeywell Turboshield Welding Shade 3.0 Uncoated Visor

1031748
Honeywell Turboshield IR Shade 5.0 Visor Uncoated

1031748
Honeywell Turboshield IR Shade 5.0 Visor Uncoated

1031740
Honeywell Turboshield Headgear

1031740
Honeywell Turboshield Headgear

1031743
Turboshield Clear Polycarbonate Visor - Uncoated

1031743
Turboshield Clear Polycarbonate Visor - Uncoated

1031744
Honeywell Turboshield Clear Coated Visor (HC/FB)

1031744
Honeywell Turboshield Clear Coated Visor (HC/FB)

1031747
Honeywell Turboshield Welding Shade 3.0 Uncoated Visor

1031747
Honeywell Turboshield Welding Shade 3.0 Uncoated Visor

1031748
Honeywell Turboshield IR Shade 5.0 Visor Uncoated

1031748
Honeywell Turboshield IR Shade 5.0 Visor Uncoated