Safety Eyewear
Honeywell Millennia Sport
Millennia Sport is a classic - simple in appearance, but highly sophisticated in design. This is sporty, sleek and stylish protective eyewear with exceptional optical properties and a universal fit.
Overview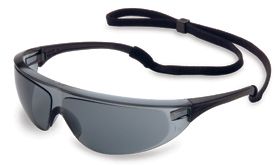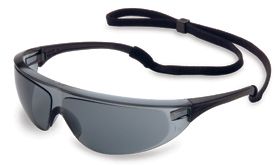 Key Features
The lightweight value-based frame gives superior side and brow protection.  The Millennia Sport comes standard with a flexicord retainer.
Regulations
ASNZS 1337.1 2010 - Australia/New Zealand Standards. Medium Impacy & High Temps (120 deg C) Lic 21726
Historical Brand
Pulsafe
Warranty Information
LIMITED WARRANTY: Honeywell warrants that is products are free from defects in material and workmanship. A product that is subject of a warranty claim must first be made available to an authorized Honeywell Safety Product distributor or the to seller from whom the product was purchased. All warranty returns must be shipped pre-paid. Honeywell or the Honeywell Safety Product distributor will then determine whether repair or replacement of the product is the appropriate remedy. This will be done at no charge to the end-user. This limited warranty does not cover any Honeywell product or component found to have been altered, misused, abused tampered with or improperly maintained or to have deteriorated due to aging of any components made of rubber or any other elatomer. This limited warranty does not cover any damage, loss or expense due to damage caused by accident, abuse, improper maintenance, use or misuse of the product. Honeywell Safety Product should be used only on strict accordance wtih and adherance to the detailed instructions and warnings provided with the product.

1005981
MILLENNIA SPORT Black, Clear Lens

1005981
MILLENNIA SPORT Black, Clear Lens

1005982
MILLENNIA SPORT Black, TSR Grey Lens

1005982
MILLENNIA SPORT Black, TSR Grey Lens

1005985
MILLENNIA SPORT Black, Clear FogBan Lens

1005985
MILLENNIA SPORT Black, Clear FogBan Lens

1005986
MILLENNIA SPORT Black, TSR Grey FogBan Lens

1005986
MILLENNIA SPORT Black, TSR Grey FogBan Lens

1005981
MILLENNIA SPORT Black, Clear Lens

1005981
MILLENNIA SPORT Black, Clear Lens

1005982
MILLENNIA SPORT Black, TSR Grey Lens

1005982
MILLENNIA SPORT Black, TSR Grey Lens

1005985
MILLENNIA SPORT Black, Clear FogBan Lens

1005985
MILLENNIA SPORT Black, Clear FogBan Lens

1005986
MILLENNIA SPORT Black, TSR Grey FogBan Lens

1005986
MILLENNIA SPORT Black, TSR Grey FogBan Lens