Air Purifying Respirator (APR)
Honeywell 7700 Lunchbox Welders Kit
The Honeywell 7700 series half mask welders kit is the quality choice for welders requiring respiratory protection from welding fumes.
Overview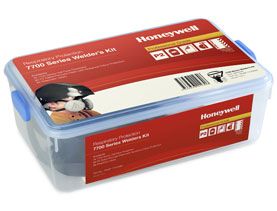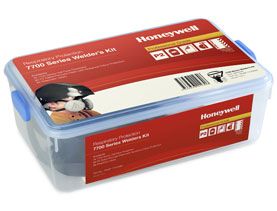 Key Features
Lunchbox Packaging provides great storage for the mask and filters to keep them clean and to stop filters being clogged up with dust when not in use.
Handy Kits make filter selection easy!
Pancake filters are flexible and easily fit underneath a welding helmet.
100% silicone half mask is latex free meaning no latex allergens & are safe for workers with allergies
Low "dead air" space in mask, means less exhaled breath is re-breathed which encourages Increased worker productivity
Strategic placement of exhalation valve allows more breath to be exhaled out of the mask faster leaving workers feeling cooler & more comfortable
Approved to AS/NZS 1716 : 2012 Lic 0563. Pancake Filter P2 rating with a half mask (P3 with full face) provides protection against particulates including dust mist & fume, as well as nuisance odour protection.
Recommended Industries/Use
Hazards
Chemical
Gas, Vapors, Smoke
Regulations
Data Sheet
Name
Description
File Size
Date
Size
Honeywell 7700 Lunchbox Welders Kit Datasheet
application/pdf 120.69 KB
10/12/2021
120.69 KB
Honeywell BW™ Max XT ll - Data Sheet - Turkish
application/pdf 314.55 KB
4/27/2023
314.55 KB
Brochure
Name
Description
File Size
Date
Size
Honeywell 7700 Lunchbox Welders Kit Literature
application/pdf 552.92 KB
10/12/2021
552.92 KB
Name
Description
File Size
Date
Size
Honeywell 7700 Lunchbox Welders Kit Datasheet
120.69 KB
10/12/2021
120.69 KB
Honeywell BW™ Max XT ll - Data Sheet - Turkish
314.55 KB
4/27/2023
314.55 KB
Honeywell 7700 Lunchbox Welders Kit Literature
552.92 KB
10/12/2021
552.92 KB
Name
Description
File Size
Date
Size
Honeywell 7700 Lunchbox Welders Kit Datasheet
120.69 KB
10/12/2021
Honeywell BW™ Max XT ll - Data Sheet - Turkish
314.55 KB
4/27/2023
Honeywell 7700 Lunchbox Welders Kit Literature
552.92 KB
10/12/2021