Unamplified Airflow Sensors
AWM1000 Series
Uncompensated. ±200 SCCM, 1000 SCCM to -600 SCCM: ±5.0 mbar, ±10.0 mbar. Analog output
Geral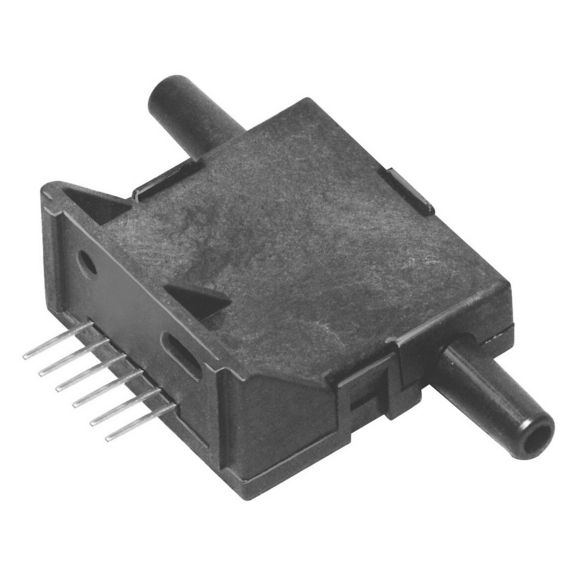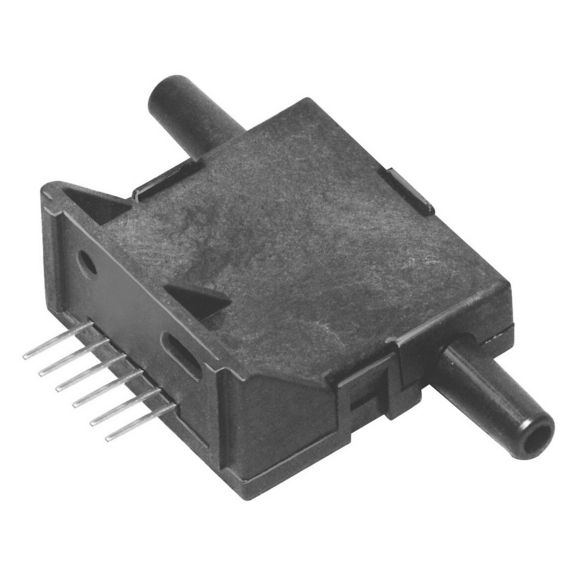 Take advantage of microbridge mass flow sensor technology. The AWM1000 series mass flow sensor provides all of the outstanding performance benefits of the standard AWM2000 series in a more cost-effective sensor platform. This device provides accurate, repeatable flow sensing. Sensor to sensor interchangeability specifications are approximately twice as large as compared to the AWM2000 series.
The heater control circuit and the sensing bridge supply circuit are both required for operation per specification. These two circuits are not on board the sensor and must be supplied in the application. The differential amplifier circuitry may be useful in providing output gain and/or introducing voltage offsets to the sensor output.
CAUTION: PRODUCT DAMAGE
AWM Series Microbridge Mass Airflow Sensors are not designed to sense liquid flow and will be damaged by liquid flow through the sensor.
Failure to comply with these instructions could result in product damage.
Manuais e guias
Nome
Descrição
Tamanho do arquivo
Data
Tamanho
Airflow sensors contain advanced microstructure technology to provide a sensitive and fast responseto flow, amount/direction of air or other gases. Potential applications include HVAC, gas metering, chromatography, vent hoods, and medical equipment.
application/pdf 2.76 MB
9/2/2021
2.76 MB
Folheto
Nome
Descrição
Tamanho do arquivo
Data
Tamanho
Sensors and Switches for Medical Applications
application/pdf 10.15 MB
4/25/2023
10.15 MB
Nota técnica
Nome
Descrição
Tamanho do arquivo
Data
Tamanho
Mass Airflow Sensors Measuring Low Differential Pressures Altitude and Gas Density Correction
application/pdf 89.36 KB
9/2/2021
89.36 KB
Pressure or Airflow Sensors?
application/pdf 564.63 KB
9/2/2021
564.63 KB
Mass Flow Sensors: Mass Flow versus Volumetric Flow and Flow Rate Unit Conversions
application/pdf 199.5 KB
9/2/2021
199.5 KB
Energy and Environmental Design Trends
application/pdf 833.47 KB
9/2/2021
833.47 KB
Mass Airflow Sensors Particle Contamination and Filter Manufacturers
application/pdf 107.23 KB
9/2/2021
107.23 KB
Gas Media Compatibility & Correction Factors
application/pdf 146.35 KB
9/2/2021
146.35 KB
Airflow Sensor Glossary of Terms
application/pdf 163.38 KB
9/2/2021
163.38 KB
Catálogo
Nome
Descrição
Tamanho do arquivo
Data
Tamanho
AWM1000 Series Airflow Sensors, Unamplified
application/pdf 259.1 KB
9/2/2021
259.1 KB
AWM Series Airflow Sensors Introduction
application/pdf 188.18 KB
9/2/2021
188.18 KB
Nota de aplicação
Nome
Descrição
Tamanho do arquivo
Data
Tamanho
Sensors and Switches for HVAC Applications
application/pdf 4.51 MB
9/2/2021
4.51 MB
Solutions for Ventilators
application/pdf 2.78 MB
6/12/2023
2.78 MB
Nome
Descrição
Tamanho do arquivo
Data
Tamanho
Nome
Descrição
Tamanho do arquivo
Data
Tamanho

AWM1200V
AWM 1000 Series airflow sensor, unamplified (mV), flow/pressure range: ±10.0 mbar [4.0 H<sub>2</sub>O]; straight port style

AWM1300V
AWM 1000 Series airflow sensor, unamplified (mV), flow/pressure range: +1000 sccm (1.0 SLPM) to -600 sccm; straight port style

AWM1200V
AWM 1000 Series airflow sensor, unamplified (mV), flow/pressure range: ±10.0 mbar [4.0 H<sub>2</sub>O]; straight port style

AWM1300V
AWM 1000 Series airflow sensor, unamplified (mV), flow/pressure range: +1000 sccm (1.0 SLPM) to -600 sccm; straight port style