Large Basic Switches
YA Series
20 A. SPNO. Variety of actuators & terminations. 25,4 mm centers. Side or panel mounting
Geral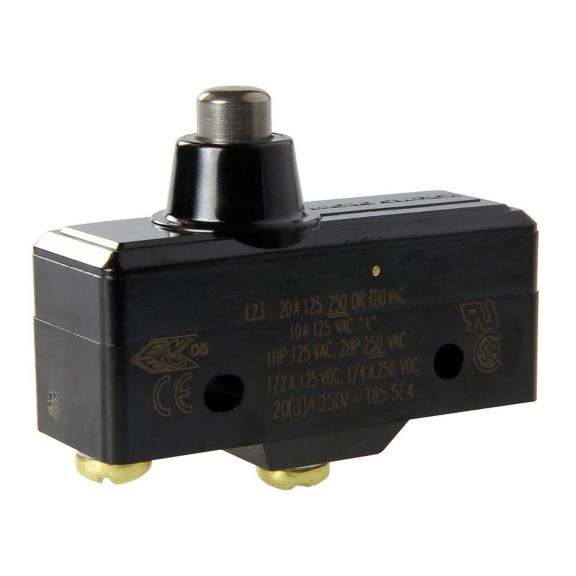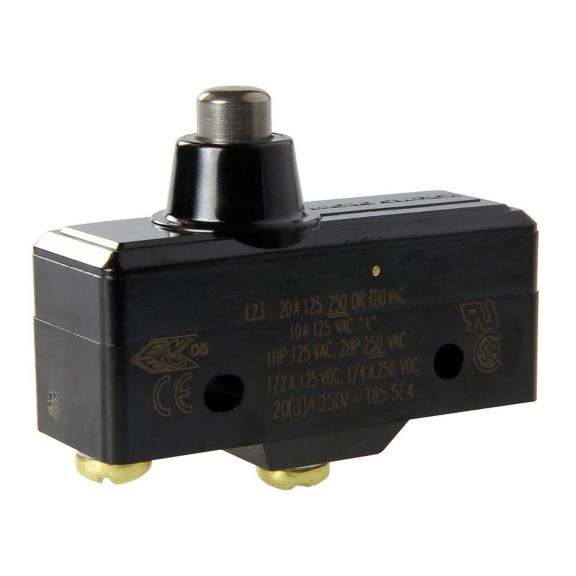 Accurate, reliable, and repeatable, MICRO SWITCH BZ/BA/BM/BE/6AS/WZ/YZ/WA/YA Series features precise operating characteristics and enhanced life. These premium, large snap-action switches offer precision operation and sensitive differential travel.
Utilizing state-of-the-art manufacturing processes and quality controls, Honeywell has engineered premium, large snap-action switches that meet various international agency requirements. Some models have military qualifications. These Series are often used for precision on/off applications, as well as end of limit, presence/absence, and manual operator interface functions.
Their engineered design is suitable for various application needs. Configured options provide a wide variety of operating and interface characteristics.
Ficha Técnica
Manuais e guias
Folheto
Nota técnica
Nota de aplicação
eBook
Foto do produto
Nome
Descrição
Tamanho do arquivo
Data
Tamanho
Nome
Descrição
Tamanho do arquivo
Data
Tamanho
MICRO SWITCH BZ/BA/BM/BE & 6AS Series Premium Large Snap-Action Switches
2.59 MB
12/12/2022
Basic, Toggle, and Rocker Switches Range Guide -
6.48 MB
10/25/2022
Partners Providing Technical Safety and Productivity Solutions
8.05 MB
10/4/2021
Oil and Gas Brochure -
3.4 MB
10/25/2022
Technical Bulletin #14 - Applying Precision Switches
617.67 KB
5/31/2022
Forestry Vehicles
1.05 MB
12/20/2022
Agricultural Vehicles -
1.11 MB
10/25/2022
Switches for Automated Parking Gates/Barriers
2.84 MB
11/17/2022
Sensors and Switches in Valves and Flowmeters
1.78 MB
9/23/2022
Construction Vehicles -
984.29 KB
12/20/2022
Defence Ground Vehicles -
872.87 KB
6/14/2023
Redefining Road Rail & Rugged Applications
28.35 MB
12/20/2022
YZ-2RB19-A64 highres photo
209.35 KB
9/2/2021
YA Series Product Photo
220.15 KB
9/2/2021
YZ-2RB19-A64 lowres photo
19.62 KB
9/2/2021

YA-1R5435242-A2
MICRO SWITCH YA Series Standard Basic Switch, Single Pole Normally Open Circuitry, 20 A at 250 Vac, Pin Plunger Actuator, 2,55 N [9.0 oz] Operating Force, Silver Contacts, Screw Termination, UL, CSA, CE, ENEC

YA-2CB713-A2
MICRO SWITCH YA Series Standard Basic Switch, Single Pole Normally Open Circuitry, 20 A at 250 Vac, Overtravel Plunger Actuator, 3,89 N to 6,12 N [14.0 oz to 22.0 oz] Operating Force, Screw Termination, Silver Contacts, CSA

YA-2R-A2
MICRO SWITCH YA Series Standard Basic Switch, Single Pole Normally Open Circuitry, 20 A at 250 Vac, Pin Plunger Actuator, 3,89 N to 6,12 N [14 oz to 22 oz] Operating Force, Silver Contacts, Screw Termination, UL, CSA, CE, ENEC

YA-2RB-A2
MICRO SWITCH YA Series Standard Basic Switch, Single Pole Normally Open Circuitry, 20 A at 250 Vac, Overtravel Pin Plunger Actuator, 3,89 N to 6,12 N [14.0 oz to 22.0 oz] Operating Force, Silver Contacts, Screw Termination, UL, CSA, CE, ENEC

YA-2RB-D504
MICRO SWITCH YA Series Standard Basic Switch, Single Pole Normally Open Circuitry, 20 A at 250 Vac, Overtravel Pin Plunger Actuator, 3,89 N to 6,12 N [14.0 oz to 22.0 oz] Operating Force, Silver Contacts, Quick Connect Termination, UL, CSA, CE, ENEC

YA-2RB18-A21
MICRO SWITCH YA Series Standard Basic Switch, Single Pole Normally Open Circuitry, 20 A at 250 Vac, Overtravel Pin Plunger Actuator, 3,89 N to 6,12 N [14.0 oz to 22.0 oz] Operating Force, Silver Contacts, Screw Termination, UL, CSA, CE, ENEC

YA-2RB19-A64
MICRO SWITCH YA Series Standard Basic Switch, Single Pole Normally Open Circuitry, 20 A at 250 Vac, Overtravel Pin Plunger Actuator, 3,89 N to 6,12 N [14.0 oz to 22.0 oz] Operating Force, Silver Contacts, Screw Termination, UL, CSA, CE, ENEC

YA-2RBT
MICRO SWITCH YA Series Standard Basic Switch, Single Pole Normally Open Circuitry, 20 A at 250 Vac, Overtravel Pin Plunger Actuator, 3,89 N to 6,12 N [14.0 oz to 22.0 oz] Operating Force, Silver Contacts, Screw Termination, UL, CSA, CE, ENEC

YA-2RL-A6
MICRO SWITCH YA Series Standard Basic Switch, Single Pole Normally Open Circuitry, 20 A at 250 Vac, Straight Lever Actuator, 2,5 N [9 oz] Maximum Operating Force, Silver Contacts, Screw Termination, UL, CSA, CE, ENEC

YA-2RQ1-A2
MICRO SWITCH YA Series Standard Basic Switch, Single Pole Normally Open Circuitry, 20 A at 250 Vac, High Overtravel Plunger Actuator, 3,89 N to 6,12 N [14.0 oz to 22.0 oz] Operating Force, Silver Contacts, Screw Termination, UL, CSA, CE, ENEC

YA-1R5435242-A2
MICRO SWITCH YA Series Standard Basic Switch, Single Pole Normally Open Circuitry, 20 A at 250 Vac, Pin Plunger Actuator, 2,55 N [9.0 oz] Operating Force, Silver Contacts, Screw Termination, UL, CSA, CE, ENEC

YA-2CB713-A2
MICRO SWITCH YA Series Standard Basic Switch, Single Pole Normally Open Circuitry, 20 A at 250 Vac, Overtravel Plunger Actuator, 3,89 N to 6,12 N [14.0 oz to 22.0 oz] Operating Force, Screw Termination, Silver Contacts, CSA

YA-2R-A2
MICRO SWITCH YA Series Standard Basic Switch, Single Pole Normally Open Circuitry, 20 A at 250 Vac, Pin Plunger Actuator, 3,89 N to 6,12 N [14 oz to 22 oz] Operating Force, Silver Contacts, Screw Termination, UL, CSA, CE, ENEC

YA-2RB-A2
MICRO SWITCH YA Series Standard Basic Switch, Single Pole Normally Open Circuitry, 20 A at 250 Vac, Overtravel Pin Plunger Actuator, 3,89 N to 6,12 N [14.0 oz to 22.0 oz] Operating Force, Silver Contacts, Screw Termination, UL, CSA, CE, ENEC

YA-2RB-D504
MICRO SWITCH YA Series Standard Basic Switch, Single Pole Normally Open Circuitry, 20 A at 250 Vac, Overtravel Pin Plunger Actuator, 3,89 N to 6,12 N [14.0 oz to 22.0 oz] Operating Force, Silver Contacts, Quick Connect Termination, UL, CSA, CE, ENEC

YA-2RB18-A21
MICRO SWITCH YA Series Standard Basic Switch, Single Pole Normally Open Circuitry, 20 A at 250 Vac, Overtravel Pin Plunger Actuator, 3,89 N to 6,12 N [14.0 oz to 22.0 oz] Operating Force, Silver Contacts, Screw Termination, UL, CSA, CE, ENEC

YA-2RB19-A64
MICRO SWITCH YA Series Standard Basic Switch, Single Pole Normally Open Circuitry, 20 A at 250 Vac, Overtravel Pin Plunger Actuator, 3,89 N to 6,12 N [14.0 oz to 22.0 oz] Operating Force, Silver Contacts, Screw Termination, UL, CSA, CE, ENEC

YA-2RBT
MICRO SWITCH YA Series Standard Basic Switch, Single Pole Normally Open Circuitry, 20 A at 250 Vac, Overtravel Pin Plunger Actuator, 3,89 N to 6,12 N [14.0 oz to 22.0 oz] Operating Force, Silver Contacts, Screw Termination, UL, CSA, CE, ENEC

YA-2RL-A6
MICRO SWITCH YA Series Standard Basic Switch, Single Pole Normally Open Circuitry, 20 A at 250 Vac, Straight Lever Actuator, 2,5 N [9 oz] Maximum Operating Force, Silver Contacts, Screw Termination, UL, CSA, CE, ENEC

YA-2RQ1-A2
MICRO SWITCH YA Series Standard Basic Switch, Single Pole Normally Open Circuitry, 20 A at 250 Vac, High Overtravel Plunger Actuator, 3,89 N to 6,12 N [14.0 oz to 22.0 oz] Operating Force, Silver Contacts, Screw Termination, UL, CSA, CE, ENEC