Specialized First Aid
Fendall 2000
100% Sterile Portable Emergency Eyewash. Comfort features, ergonomic design, and an alarm system help ensure compliance with ANSI 15-minute requirement..
Overview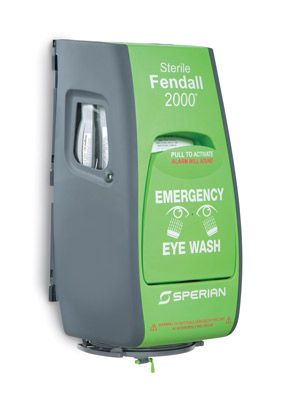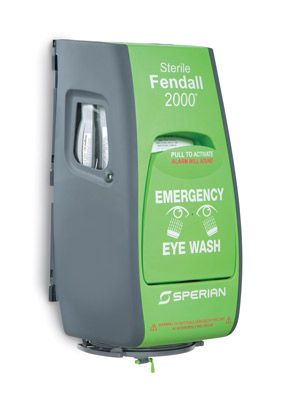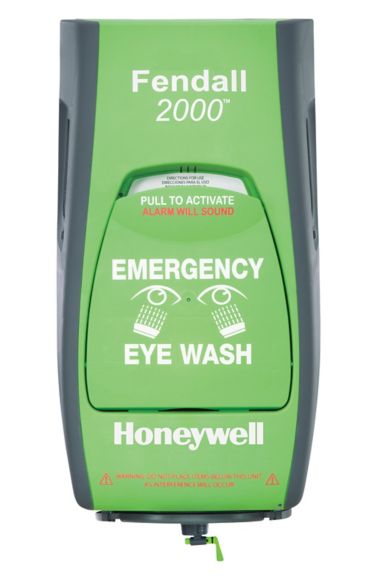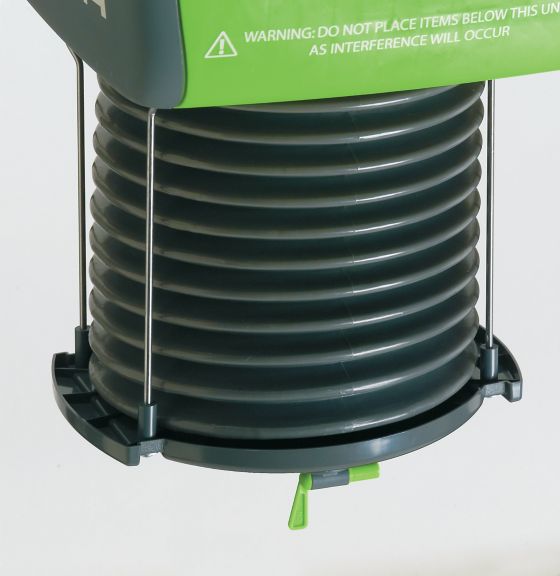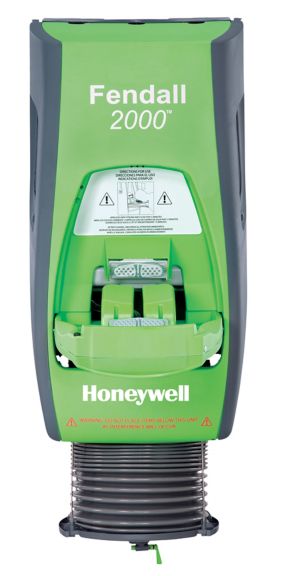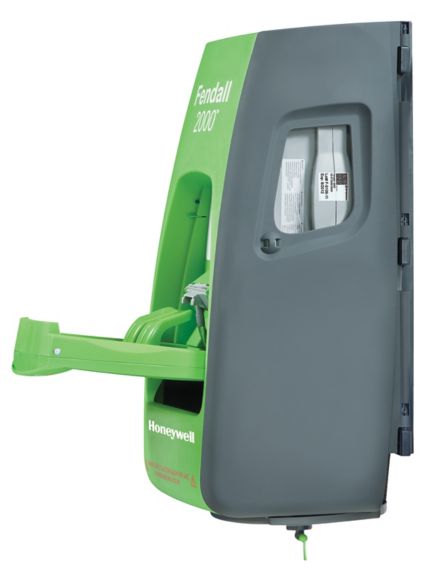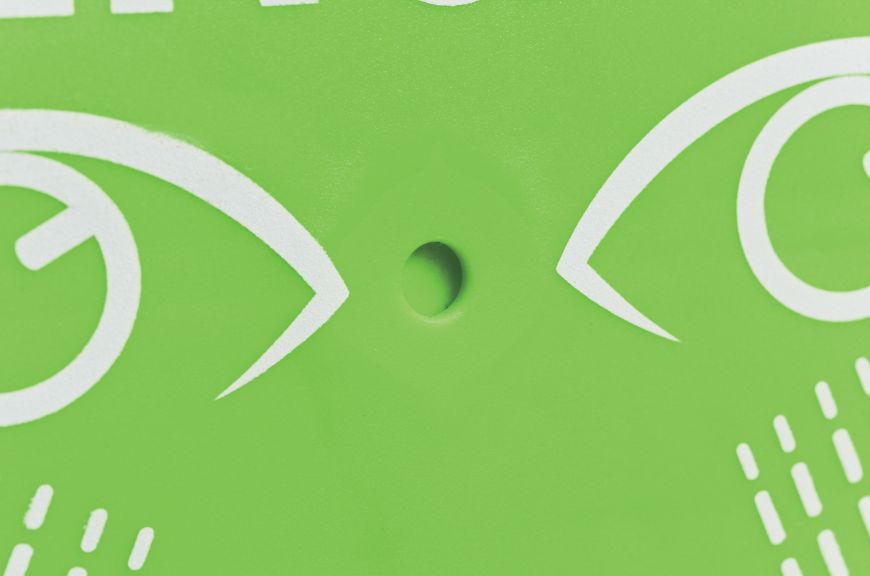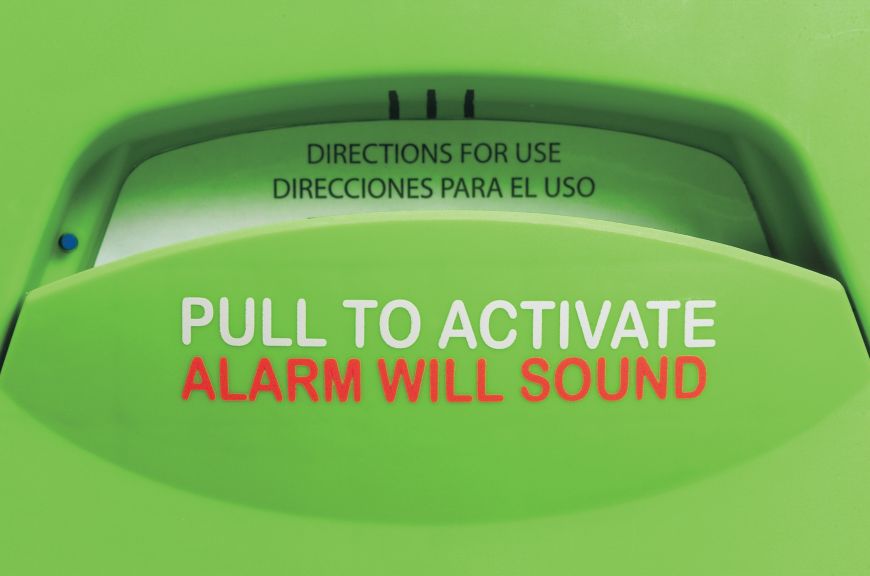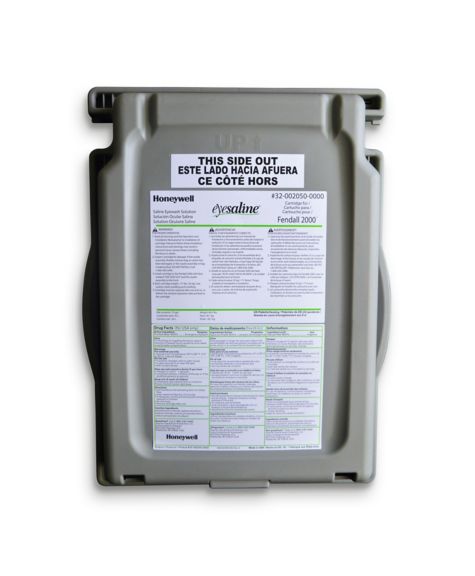 Key Features
100% Sterile Emergency Eyewash System- the innovation you expect from Honeywell. We've listened to our end-users and have built an eyewash station with all of the features and benefits that you would expect in a state-of-the-art portable emergency eyewash station from Honeywell. With the Fendall 2000, injured workers are treated with 100% sterile, buffered and physiologically balanced saline solution free of contaminants, bacteria, corrosives and pollutants.
 • Delivers 100% sterile saline from a100% sterile delivery system
 • Built-in alarm system that sounds when the unit has been activated and again when the injured individual has completed the required 15-minute flush.
 • Sleek assembly that fits nearly anywhere
• Highly portable and easily moved when work stations move.
• Easy-view side windows to check sterile solution expiration date and key contact information
• Meets ANSI Z358.1-2004 15-minute flush requirement for primary eyewash stations
• Sterile saline solution adheres to FDA requirements for providing sterile eyewash solution in self-contained emergency eyewash stations.
• Easy-to-install single cartridge with ESP™ Enabled Safety Products RFID technology features 100% sterile saline

Recommended Industries/Use
Chemical
Construction
Food Services
Government
Manufacturing
Medical
Military
Mining
Oil and Gas
Pharmaceutical
Steel and Metals
Transportation
Utilities
Welding

Hazards
Airborne Particulates
Biohazard
Chemical
Contamination
Gas, Vapors, Smoke
Splash

Regulations
ANSI Z358.1 - Meets ANSI Z358.1, SEI Certified

Historical Brand
Fend-All

Warranty Information
Sperian Eye & Face Protection, Inc., warrants that Sperian Eye & Face, Inc. Emergency Eyewash products are free of defects in material and workmanship for one (1) year from the date of shipment under the following conditions: 1. This limited warranty is effective only if the Sperian Eye & Face Protection, Inc. product is installed, maintained and used for the purpose intended and in accordance with the Sperian Eye & Face Protection, Inc. Installation and Operation Manual. 2. Sperian Eye & Face Protection, Inc.'s only obligation under this limited warranty shall be the repair or replacement, without charge, of any products or components, which upon inspection by Sperian Eye & Face Protection, Inc., are determined to be defective in materials or workmanship. 3. This limited warranty does not cover any damage, loss or expense due to damage caused by accident, abuse, improper installation, or improper maintenance. 4. No warranty is provided if any portion of the product covered by this limited warranty is altered or modified without the express written consent of Sperian Eye & Face Protection, Inc.
Others
Shelf Life

24 month cartridge life from date of manufacture (sold separately megaohm
Others
Shelf Life

24 month cartridge life from date of manufacture (sold separately megaohm
Shelf Life : 24 month cartridge life from date of manufacture (sold separately megaohm
Data Sheet
Name
Description
File Size
Date
Size
Fendall 2000 Saline Replacement Cartridge ENG - Data Sheet
application/pdf 2.69 MB
10/21/2021
2.69 MB
Manuals and Guides
Name
Description
File Size
Date
Size
Fendall 2000™ Emergency Eyewash - Manual - ENG-ESP-FR
application/pdf 7.9 MB
10/21/2021
7.9 MB
Brochure
Name
Description
File Size
Date
Size
Fendall 2000 ENG - Brochure
application/pdf 2.85 MB
10/21/2021
2.85 MB
Fendall 2000 Eyewash Literature
application/postscript 667.56 KB
10/26/2021
667.56 KB
Certificate
Name
Description
File Size
Date
Size
Fendall 2000™ Emergency Eyewash - Certificate for Product Certification
application/pdf 83.09 KB
10/21/2021
83.09 KB
Fendall 2000™ Emergency Eyewash - Certificate of Compliance
application/pdf 334.83 KB
10/21/2021
334.83 KB
Others
Name
Description
File Size
Date
Size
Fendall 2000™ - Product Numbers & Ordering Information
application/pdf 137.12 KB
10/21/2021
137.12 KB
Fendall 2000™ Emergency Eyewash - Door Alarm Installation
application/pdf 941.09 KB
10/21/2021
941.09 KB
Fendall 2000™ Emergency Eyewash - Cartridge Quick Installation
application/pdf 1.64 MB
10/21/2021
1.64 MB
Emergency Eyewash Products Warranty Card
application/postscript 120.61 KB
10/21/2021
120.61 KB
Fendall 2000™ Emergency Eyewash - Waste Reservoir Removal & Installation
application/pdf 1.07 MB
10/21/2021
1.07 MB
Fendall 2000™ Emergency Eyewash - Dust Cover Installation
application/pdf 1.34 MB
10/21/2021
1.34 MB
Name
Description
File Size
Date
Size
Name
Description
File Size
Date
Size