Industrial Fixed
FS10-R
A high-speed microprocessor based fire detection and process control system specially designed for liquid and powder coating applications, the FS System 10TM quickly detects the presence of a flame
Overview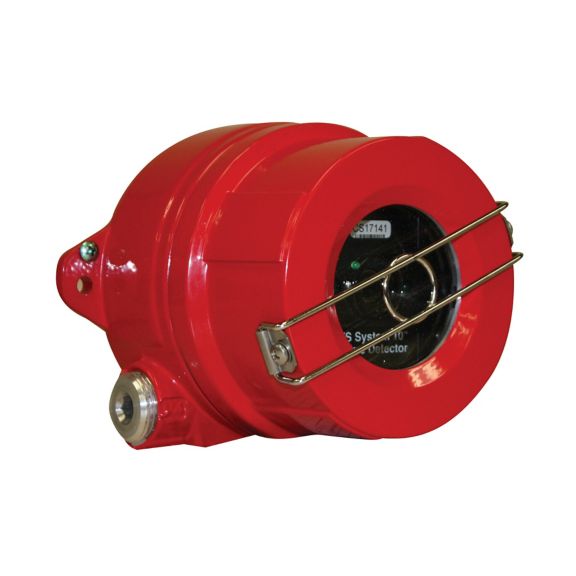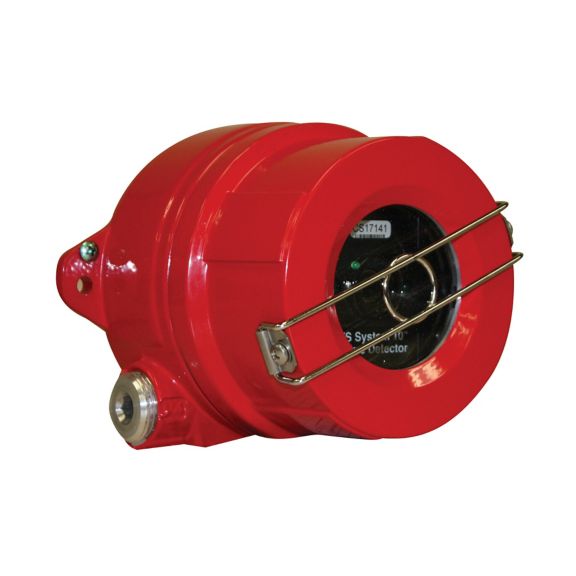 FS System 10™
A high-speed microprocessor based fire detection and process control system specially designed for liquid and powder coating applications, the FS System 10™ quickly detects the presence of a flame, reacts by initiating a shutdown of the electrostatic finishing process in a matter of milliseconds; and effectively interrupts the fire before residues and wet paint films can ignite.
The FS System 10 is the only system that provides a two-stage response:
an ALERT for spray gun "fireball" type fires and if the fire continues, a FIRE ALARM is declared in 4-5 seconds.
The FS System 10 is vastly superior to conventional detectors due to the electro-optical quantum infrared sensors array and the ability to accurately detect fires without false alarms.The FS System 10 is available in both wall-mount controller and card controller configurations.(For additional information on card controller, consult the factory.)
The detector is mounted in an explosion-proof housing.The wall-mounted controller is a self-contained system mounted in a NEMA 12 enclosure with LCD display and LED status lights.Three 10-amp mechanical relays have been incorporated for shutting down the paint flow, electrostatics and conveyor.Event history and fire tech data are reported by the detector in real time and data, then stored in the controller's non-volatile memory.FirePic™ and SnapShot™ data can be downloaded from the RS-232 port of the controller from your PC.The controller may operate with one or two detectors.
FS10-R Unitized
The FS10-R Unitized is a multi-spectral infrared electro-optical flame detector designed specifically for liquid paint or powder spray booth applications.
Based on the FS System 10, the FS10-R Unitized flame detector meets the need for a stand-alone capability and complies with the NFPA 33 Standard.
The WideBand IR™, NearBand IR, and Visible sensors combined with the advanced signal procession provide optimum performance.High spend fire response with optional factory sensitivity settings and alarm outputs provide the best, proven solution to fire detection for the Finishing Industry.
Additional Features and Benefits:
Multi-Spectral digital electro-optical infrared fire detector
Immune to false alarms caused by arcs or corona discharges
Built-in automatic "through the lens" self-test
Not sensitive to background radiant energy sources such as paint heaters
Not affected by absorbing smoke or paint solvent mist in liquid pant spray booths
Sees through paint, powder or oil residue on detector's lens
Digital communications with RS-485 interface
FirePic™: retrieval of recorded pre-fire data
SnapShot™: dynamic graphical display of what the detector sees
Others
Features

Unique two-stage ALERT and FIRE ALARM response

Multi-spectral digital electro-optical infrared fire detector

Meets requirements of NFPA 33
Others
Features

Unique two-stage ALERT and FIRE ALARM response

Multi-spectral digital electro-optical infrared fire detector

Meets requirements of NFPA 33
Features : Unique two-stage ALERT and FIRE ALARM response|Multi-spectral digital electro-optical infrared fire detector|Meets requirements of NFPA 33
Data Sheet
Name
Description
File Size
Date
Size
Fire Sentry FS System 10 and FS10-R Data Sheet
application/pdf 432.49 KB
10/21/2021
432.49 KB
FS10-R Data Sheet
application/pdf 164.15 KB
10/21/2021
164.15 KB
Manuals and Guides
Name
Description
File Size
Date
Size
FSL100 Flame Detectors,FS10-R,FS24X Flame Detector,SS2 Flame Detector,FS20X Flame Detector,SS4 Flame Detector Product Guide
application/pdf 2.58 MB
10/21/2021
2.58 MB
FS10-R Manual
application/pdf 274.81 KB
10/21/2021
274.81 KB
Technical Note
Name
Description
File Size
Date
Size
FS10-R Fire Sentry FS System 10 Specifications
application/pdf 193.6 KB
10/21/2021
193.6 KB
Name
Description
File Size
Date
Size
Name
Description
File Size
Date
Size
SKUs

BP-1

BP-2

BP-4-L9

CAB-100

CAB-50

FS10-CARD-2FL

FS10-CARD-2GE

FS10-CARD-2GF

FS10-CARD-2WL

FS10-DET-MODULE

BP-1

BP-2

BP-4-L9

CAB-100

CAB-50

FS10-CARD-2FL

FS10-CARD-2GE

FS10-CARD-2GF

FS10-CARD-2WL

FS10-DET-MODULE