Switches
Rotary Switches
Lever or knob action. 3- and 4-positions. Integral connectors (Metripack 280 and Sumitomo). Environmentally sealed design
Overview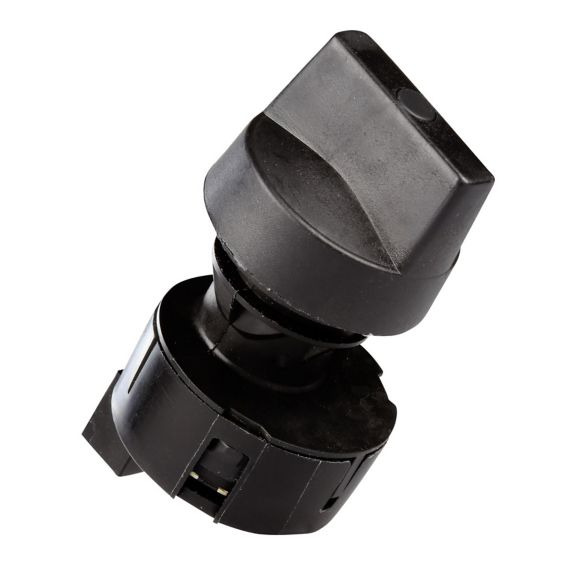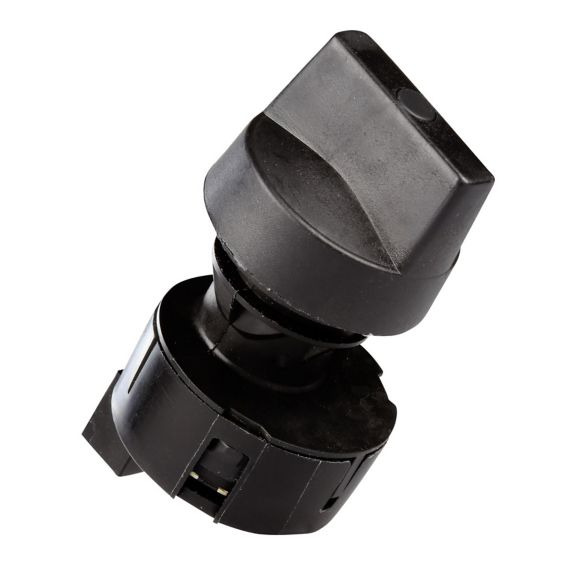 Customization is standard with Honeywell's rotary switches, which are tested to withstand a wide range of environmental conditions and contaminants such as temperature cycling, chemical splashes, pressure wash, vibration, dust, humidity, and salt.
Honeywell's broad range of product options simplifies the way you build the rotary switch for and application. Optional features of momentary positions, terminal and integral connector types, UL-ratings, and various circuitry configurations are available to promote design flexibility. These options, coupled with the wide electrical rating and temperature range, come standard on every switch to meet the growing needs of our customers.
Features and benefits:
Durable construction: polypropylene plastic housing (rear) improves durability and supports equipment.
Wide range of configuration: two-, three-, or four-position switches, maintained and momentary (recoil) positions and numerous circuitry configurations allow for customization of equipment operation and control.
Many connector choices: integral connector (Metri-Pack, Sumitomo): Two-, three-, or four-position switches. Screw terminal: Two- or three-position switches.
Faster assembly: integral connectors facilitate quick assembly and minimize the potential for wiring errors.
Longer switch life: thanks to their ability to keep dirt and moisture out of the contact chamber.
Designed to withstand harsh environments with a durable, environmentally-sealed design, Honeywell rotary switches are found in rugged applications, from off-road vehicles like ATVs, snowmobiles, and motorcycles to agriculture, construction, industrial, lawn and garden equipment. Other product applications include:
golf carts
aerial lifts
telehandlers
skid loaders
forklifts
tractors
material handlers
marine equipment
generators
Others
Diameter
Match Existing Key Codes

Optional (with factory approval)

Cycle Life (Rotary)
Multiple Key Codes
Depth Behind Panel
Electrical Rating

12 Vdc, 20 A; 24 Vdc, 8 A (Res.)

Unique Key Codes
Chamber Sealing
Temperature

-40 °C to 85 °C] -40 °F to 185 °F]

Series Name
Thickness

3,18 mm to 6,35 mm [0.15 in to 0.25 in]

Connector
Position

Four [Off-Ignition-Ignition Heat-Ignition Heat Start (momentary)]; 4 terminals

Three [Off (magneto ground)-On-Start (momentary)]; 6 terminals

Three [Off-On(1)-On(2 Dual Circuit)]; 4 terminals

Three [Off-On-Start (momentary)]; 4 terminals

Two (Off-On); 4 terminals

Mounting
Others
Match Existing Key Codes

Optional (with factory approval)

Electrical Rating

12 Vdc, 20 A; 24 Vdc, 8 A (Res.)

Temperature

-40 °C to 85 °C] -40 °F to 185 °F]

Thickness

3,18 mm to 6,35 mm [0.15 in to 0.25 in]

Position

Four [Off-Ignition-Ignition Heat-Ignition Heat Start (momentary)]; 4 terminals

Three [Off (magneto ground)-On-Start (momentary)]; 6 terminals

Three [Off-On(1)-On(2 Dual Circuit)]; 4 terminals

Three [Off-On-Start (momentary)]; 4 terminals

Two (Off-On); 4 terminals
Diameter : 22,1 mm [0.87 in]
Match Existing Key Codes : Optional (with factory approval)
Cycle Life (Rotary) : 25000 Cycles
Multiple Key Codes : Optional
Depth Behind Panel : 43,43 mm [1.71 in]
Electrical Rating : 12 Vdc, 20 A; 24 Vdc, 8 A (Res.)
Unique Key Codes : Optional
Temperature : -40 °C to 85 °C] -40 °F to 185 °F]
Series Name : Key and Rotary Switches
Thickness : 3,18 mm to 6,35 mm [0.15 in to 0.25 in]
Position : Four [Off-Ignition-Ignition Heat-Ignition Heat Start (momentary)]; 4 terminals|Three [Off (magneto ground)-On-Start (momentary)]; 6 terminals|Three [Off-On(1)-On(2 Dual Circuit)]; 4 terminals|Three [Off-On-Start (momentary)]; 4 terminals|Two (Off-On); 4 terminals
Manuals and Guides
Brochure
Application Note
Product Photo
Name
Description
File Size
Date
Size
Name
Description
File Size
Date
Size