Hall-effect Digital Speed and Direction Sensors
SNG-Q Series
Hall-effect speed and direction sensor with quadrature output. 4.5 V to 26 V supply voltage. 3 Hz to 20 kHz operating frequency
Overview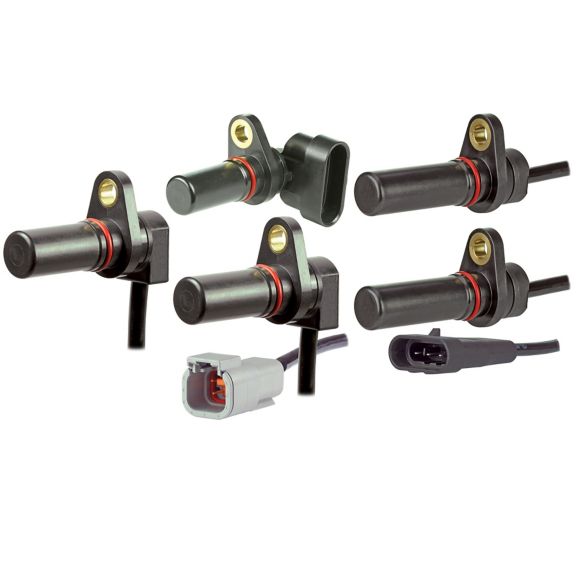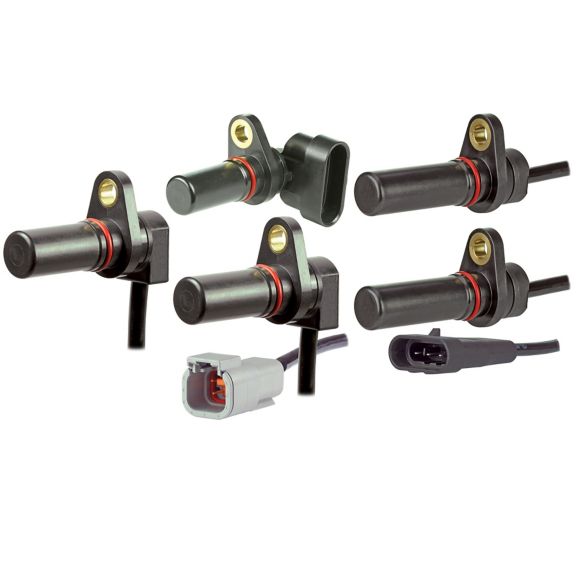 Honeywell's SNG-Q Series Quadrature Speed and Direction Sensors are designed to provide both speed and direction information. Speed information is provided from digital square wave outputs: direction is provided using a quadrature output with signals 90° phase shifted from each other. With the quadrature output, target direction is determined byoutput lead/lag phase shifting.
Value to Customers
Higher reliability: IP69K rating, EMC radiated immunity protection, O-ring seal and wide operating temperature range:

Improves equipment uptime
Minimizes service costs
Provides resistance to high electrical noise
Provides resistance to moisture intrusion
Wide operating temperature range
Attempts to substantially reinforce the customer's brand equity

Cost-competitive: Designed and manufactured using a platform-based approach that enables better cost competitiveness and mechanical and electrical configurability for customers.
Enhanced accuracy: Dual differential Hall-effect sensor IC technology allows an enhanced ability to detect small target features.
Flexible: Wide operating temperature range, robust electrical noise immunity and enhanced environmental sealing capability allow flexibility of use in the application.
Expedites installation: O-ring seal for use in pressure applications and a fixed mounting flange allows for a simpler installation process, using one fastener.
Data Sheet
Manuals and Guides
Installation Instructions
CAD Model
Brochure
Application Note
eBook
Product Photo
Name
Description
File Size
Date
Size
Name
Description
File Size
Date
Size

SNG-QPCA-001
SNG-Q Series, quadrature speed and direction sensor, plastic housing, 35 mm housing length, Deutsch DTM04-4P connector with 1,25 m cable, right angle exit

SNG-QPDB-000
SNG-Q Series, quadrature speed and direction sensor, plastic housing, 45 mm housing length, Amp Superseal 1.5 connector 282106 with 145 mm cable, straight exit

SNG-QPDB-002
SNG-Q Series, quadrature speed and direction sensor, plastic housing, 45 mm housing length, Deutsch DTM04-4P connector with 1,25 m cable, straight exit

SNG-QPLA-000
SNG-Q Series, quadrature speed and direction sensor, plastic housing, 35 mm housing length, 500 mm cable, right angle exit

SNG-QPMB-000
SNG-Q Series, quadrature speed and direction sensor, plastic housing, 45 mm housing length, 500 mm cable, straight exit

SNG-QPRA-000
SNG-Q Series, quadrature speed and direction sensor, plastic housing, 35 mm housing length, integral Amp Superseal 1.5 connector, right angle exit

SNG-QPCA-001
SNG-Q Series, quadrature speed and direction sensor, plastic housing, 35 mm housing length, Deutsch DTM04-4P connector with 1,25 m cable, right angle exit

SNG-QPDB-000
SNG-Q Series, quadrature speed and direction sensor, plastic housing, 45 mm housing length, Amp Superseal 1.5 connector 282106 with 145 mm cable, straight exit

SNG-QPDB-002
SNG-Q Series, quadrature speed and direction sensor, plastic housing, 45 mm housing length, Deutsch DTM04-4P connector with 1,25 m cable, straight exit

SNG-QPLA-000
SNG-Q Series, quadrature speed and direction sensor, plastic housing, 35 mm housing length, 500 mm cable, right angle exit

SNG-QPMB-000
SNG-Q Series, quadrature speed and direction sensor, plastic housing, 45 mm housing length, 500 mm cable, straight exit

SNG-QPRA-000
SNG-Q Series, quadrature speed and direction sensor, plastic housing, 35 mm housing length, integral Amp Superseal 1.5 connector, right angle exit