Force Sensors
FSA Series
N, lb, g, & kg force ranges. Amplified, compensated. Analog or digital (SPI or I<sup>2</sup>C) output
Overview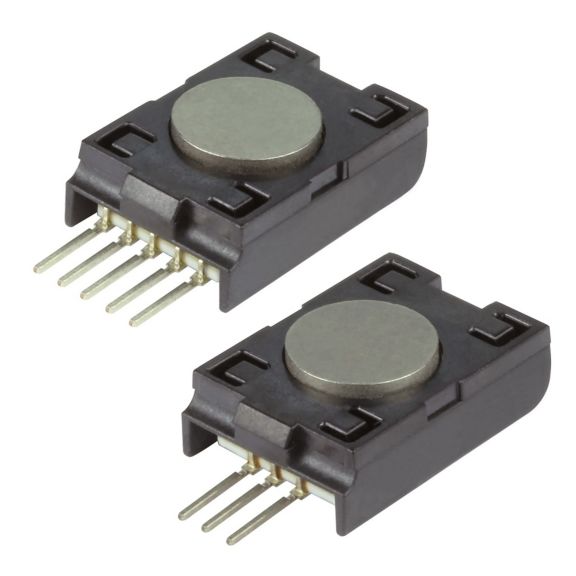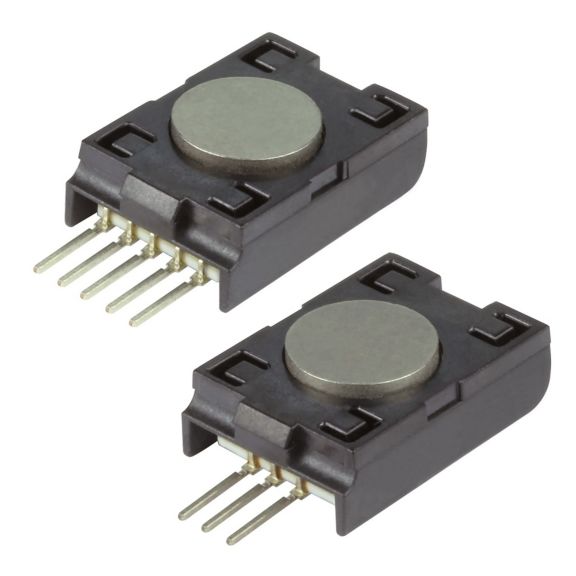 The FSA Series are piezoresistive-based force sensors offering a ratiometric analog or digital output for reading force over the specified full scale force span and temperature range. They are fully calibrated and temperature compensated for sensor offset, sensitivity, temperature effects, and nonlinearity using an on-board Application Specific Integrated Circuit (ASIC).
Direct mechanical coupling allows for easy interface with the sensor, coupling with tubing, membrane or a plunger, providing repeatable performance and a reliable mechanical interface to the application. The package also provides excellent corrosion resistance and isolation to external package stress. All products are designed and manufactured according to ISO 9001 standards.
Value to Customers
The FSA Series are designed to meet the customers̵7: need for a compensated, amplified force sensor that provides analog and digital outputs, a variety of force sensing ranges, and enhanced durability and accuracy. Their flexible design provides multiple standard configurations over a wide operating temperature range.
Differentiators
Multiple force ranges allow the customer to choose the force range to maximize sensitivity and improve system resolution/performance
Overforce provides enhanced durability in applications where overforce may exist
Enhanced accuracy includes all errors due to force non-linearity, force hysteresis, and non-repeatability
Total Error Band enhances system performance
Digital output enhances performance through reduced conversion requirements and the convenience of direct interface to microprocessors
Diagnostics functions allow the user to determine if the sensor is working correctly by detecting if the electrical paths are broken or shorted inside the sensor
Supply voltage provides customers flexibility of design within the application
Data Sheet
Manuals and Guides
Installation Instructions
CAD Model
Brochure
Technical Note
Application Note
Product Photo
Name
Description
File Size
Date
Size
Name
Description
File Size
Date
Size
FSA Series Force Sensors, Compensated/Amplified
428.37 KB
7/22/2021
Airflow sensors contain advanced microstructure technology to provide a sensitive and fast responseto flow, amount/direction of air or other gases. Potential applications include HVAC, gas metering, chromatography, vent hoods, and medical equipment.
4.14 MB
7/22/2021
Sensor Evaluation Board (SEB) User Instructions
1.64 MB
1/11/2022
FSA Series Force Sensors, Compensated/Amplified
296.95 KB
7/22/2021
FSA Series CAD Models - grouped
327.5 KB
7/22/2021
FSA Series analog CAD model.zip
327.52 KB
7/22/2021
Sensors and Switches for Medical Applications
10.15 MB
7/22/2021
Diagnostics for TruStability™ HSC and SSC Series, and Basic ABP Series Board Mount Pressure Sensors; FSA Series Force Sensors
186.84 KB
7/22/2021
Defence Ground Vehicles -
872.87 KB
6/14/2023
Switches and Sensors Solutions for Industrial Applications
2.48 MB
11/25/2021
FSA Series Force Sensors, Compensated/Amplified
68.18 KB
7/22/2021
Sensors and Switches: Solutions for Medical Applications
1.34 MB
5/18/2023
Solutions for Infusion Pumps
2.35 MB
6/12/2023
Solutions for Hemodialysis Machines
2.66 MB
4/4/2023
FSA Series Product Photo
205.48 KB
7/22/2021

FSAGPDXX001RCAB5
FSA Series force sensor, compensated/amplified, gel coupling, plunger contact element, no diagnostics, 0 lb to 1 lb force range, compression force type, analog output, 5% to 95% transfer function, 5.0 Vdc supply voltage

FSAGPDXX005LCSB5
FSA Series force sensor, compensated/amplified, gel coupling, plunger contact element, no diagnostics, 0 N to 5 N force range, compression force type, digital SPI, 5% to 95% transfer function, 5.0 Vdc supply voltage

FSAGPDXX010WCAA5
FSA Series force sensor, compensated/amplified, gel coupling, plunger contact element, no diagnostics, 0 N to 10 N force range, compression force type, analog output, 10% to 90% transfer function, 5.0 Vdc supply voltage

FSAGPDXX1.5LC5B5
FSA GPD 1.5 LBS C DIGITAL 5-95% 5.0V

FSAGPNXX001RC4C5
FSA Series force sensor, compensated/amplified, gel coupling, plunger contact element, no diagnostics, 0 lb to 1 lb force range, compression force type, digital I<sup>2</sup>C, address 0x48 output, 20% to 80% transfer function, 5.0 Vdc supply voltage

FSAGPNXX003LCAC5
FSA Series force sensor, compensated/amplified, gel coupling, plunger contact element, no diagnostics, 0 lb to 3 lb force range, compression force type, analog output, 10% to 90% transfer function, 5.0 Vdc supply voltage

FSAGPNXX010WC2C3
FSA Series force sensor, compensated/amplified, gel coupling, plunger contact element, no diagnostics, 0 N to 10 N force range, compression force type, digital I<sup>2</sup>C, address 0x28 output, 20% to 80% transfer function, 5.0 Vdc supply voltage

FSAGPNXX1.5LCAC5
FSA Series force sensor, compensated/amplified, gel coupling, plunger contact element, no diagnostics, 0 lb to 1.5 lb force range, compression force type, analog output, 20% to 80% transfer function, 5.0 Vdc supply voltage

FSAGPDXX001RCAB5
FSA Series force sensor, compensated/amplified, gel coupling, plunger contact element, no diagnostics, 0 lb to 1 lb force range, compression force type, analog output, 5% to 95% transfer function, 5.0 Vdc supply voltage

FSAGPDXX005LCSB5
FSA Series force sensor, compensated/amplified, gel coupling, plunger contact element, no diagnostics, 0 N to 5 N force range, compression force type, digital SPI, 5% to 95% transfer function, 5.0 Vdc supply voltage

FSAGPDXX010WCAA5
FSA Series force sensor, compensated/amplified, gel coupling, plunger contact element, no diagnostics, 0 N to 10 N force range, compression force type, analog output, 10% to 90% transfer function, 5.0 Vdc supply voltage

FSAGPDXX1.5LC5B5
FSA GPD 1.5 LBS C DIGITAL 5-95% 5.0V

FSAGPNXX001RC4C5
FSA Series force sensor, compensated/amplified, gel coupling, plunger contact element, no diagnostics, 0 lb to 1 lb force range, compression force type, digital I<sup>2</sup>C, address 0x48 output, 20% to 80% transfer function, 5.0 Vdc supply voltage

FSAGPNXX003LCAC5
FSA Series force sensor, compensated/amplified, gel coupling, plunger contact element, no diagnostics, 0 lb to 3 lb force range, compression force type, analog output, 10% to 90% transfer function, 5.0 Vdc supply voltage

FSAGPNXX010WC2C3
FSA Series force sensor, compensated/amplified, gel coupling, plunger contact element, no diagnostics, 0 N to 10 N force range, compression force type, digital I<sup>2</sup>C, address 0x28 output, 20% to 80% transfer function, 5.0 Vdc supply voltage

FSAGPNXX1.5LCAC5
FSA Series force sensor, compensated/amplified, gel coupling, plunger contact element, no diagnostics, 0 lb to 1.5 lb force range, compression force type, analog output, 20% to 80% transfer function, 5.0 Vdc supply voltage