Bipolar Position Sensor ICs
SS30AT, SS40A, SS50AT
Low-cost bipolar Hall-effect digital sensor ICs. SOT-23 (SS30AT), flat TO-92-style (SS40A), SOT-89B (SS50AT) packages. Digital sinking output
Overview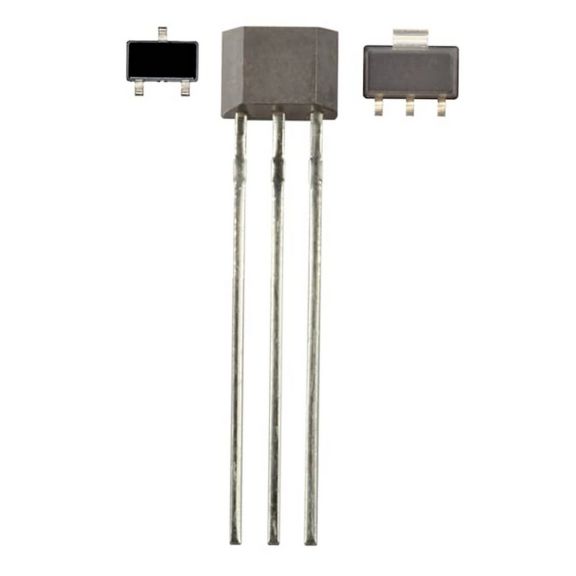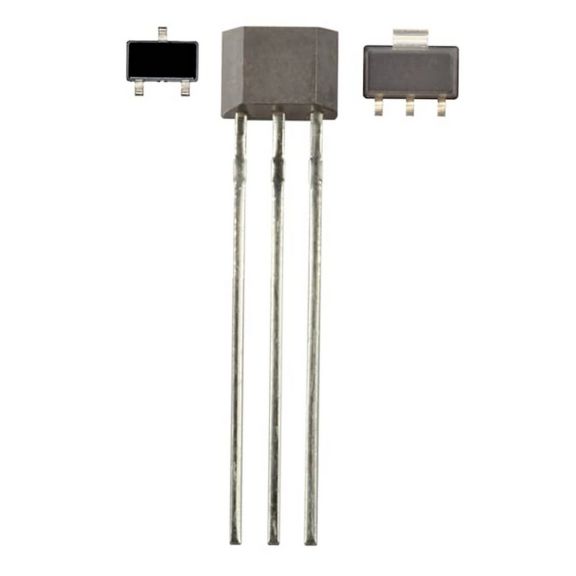 The SS30AT/SS40A/SS50AT Series sensors are versatile, bipolar, Hall-effect sensors. These sensitive magnetic sensors offer reverse polarity protection and deliver stable output over a -40 °C to 125 °C [-40 °F to 257 °F] temperature range. Operation from any dc supply voltage from 4.5 Vdc to 24.0 Vdc is acceptable.
The SS30AT/SS40A/SS50AT Series sensors build upon Honeywell's popular magnetic position sensors and offer several advantages. These sensors have been designed with the latest technologies to provide reliable, cost-effective solutions to many commercial, computer, medical, and/or consumer applications requiring motor control and RPM sensing.
These products are available in three package styles to suit a variety of applications. The SS40A in the leaded, flat TO-92 style package can be supplied in bulk (1000 pieces per bag) or on tape in an "Ammopack" (fan-fold) format. The SS30AT in the subminiature SOT-23 surface-mount package, and the SS50AT in the small SOT-89B surface-mount package, are both supplied on tape and reel for use in automated pick-and-place equipment.
The surface mount versions are mounted directly on the electrical traces on a printed circuit board (PCB). They are attached by an automatic solder reflow operation which requires no hole, so it may help reduce the cost of the PCB.
Data Sheet
Manuals and Guides
Installation Instructions
CAD Model
Brochure
Technical Note
Application Note
eBook
Product Photo
Name
Description
File Size
Date
Size
Name
Description
File Size
Date
Size

SS30AT
SS30AT Hall-effect digital position sensor IC, bipolar, SOT-23, pocket tape and reel, 3000 units/reel

SS40A
SS40A Hall-effect digital position sensor IC, bipolar, flat TO-92-style package, straight standard leads, 1000 units/bag

SS40A-T3
SS40A-T3 Hall-effect digital position sensor IC, bipolar, flat TO-92-style package, straight standard leads, 5000 units/ammopack tape-in-box

SS50AT
SS50AT Hall-effect sensor IC, SOT-89B, bipolar, 1000 units/pocket tape and reel

SS30AT
SS30AT Hall-effect digital position sensor IC, bipolar, SOT-23, pocket tape and reel, 3000 units/reel

SS40A
SS40A Hall-effect digital position sensor IC, bipolar, flat TO-92-style package, straight standard leads, 1000 units/bag

SS40A-T3
SS40A-T3 Hall-effect digital position sensor IC, bipolar, flat TO-92-style package, straight standard leads, 5000 units/ammopack tape-in-box

SS50AT
SS50AT Hall-effect sensor IC, SOT-89B, bipolar, 1000 units/pocket tape and reel