Latching Position Sensor ICs
SS400 Series, SS500 Series
Low, medium, & high Gauss unipolar Hall-effect digital sensor ICs. Flat TO-92-style, SOT-89B packages. Digital sinking output
Overview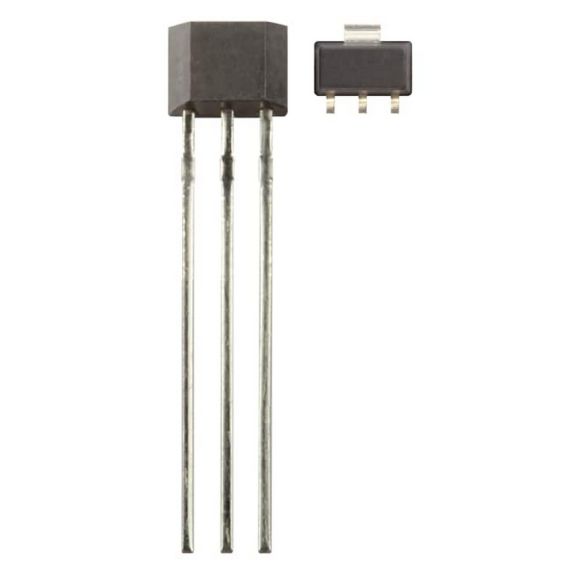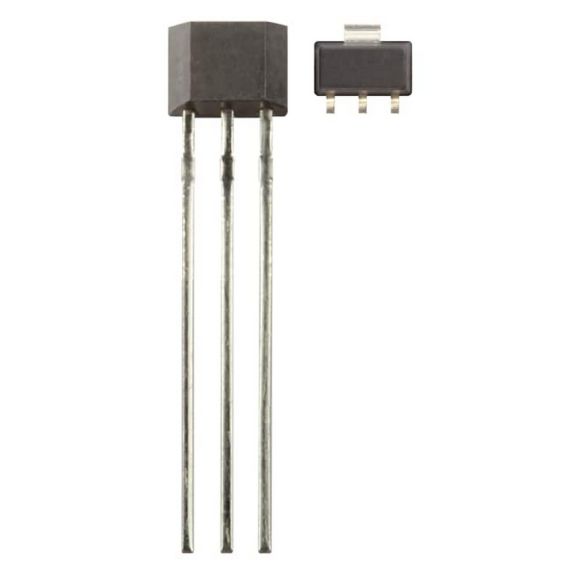 The SS400 Series sensor ICs are small, versatile, digital Hall-effect devices that are operated by the magnetic field from a permanent magnet or an electromagnet, and are designed to respond to alternating North and South poles or to a South pole only. Bipolar, latching and unipolar magnetics are available.
Band gap regulation provides stable operation over 3.8 Vdc to 30 Vdc supply voltage range. These sensors are capable of continuous 20 mA sinking output and may be cycled as high as 50 mA max. Its 3.8 V capability allows for use in many potential low voltage applications.
The digital, open collector sinking-type output is easily interfaced with a wide variety of electronic circuits.
To provide reliable products and consistent quality, the SS400 Series are tested at both 25 °C [75 °F] and 125 °C [257 °F]. All catalog listings in this series are qualified for operation up to 150 °C [302 °F].
For design flexibility, the lead and packaging options are:
Straight leads, 14,99 mm [0.59 in] long, in bulk or ammopak tape-in-box packaging
Straight leads, 18,7 mm [0.735 in] long, in bulk packaging
Formed leads, 14,99 mm [0.59 in] long, in bulk or ammopak tape-in-box packaging
Data Sheet
Manuals and Guides
Installation Instructions
CAD Model
Brochure
Technical Note
White Paper
Application Note
eBook
Product Photo
Name
Description
File Size
Date
Size
Name
Description
File Size
Date
Size

SS441A
SS400 Series Hall-effect digital position sensor IC, unipolar, low Gauss, flat TO-92-style package, straight standard leads, bulk pack, 1000 units/bag

SS441A-L
SS400 Series Hall-effect digital position sensor IC, unipolar, low Gauss, flat TO-92-style, straight long leads, bulk pack, 1000 units/bag

SS443A
SS400 Series Hall-effect digital position sensor IC, unipolar, medium Gauss, flat TO-92-style package, straight standard leads, bulk pack, 1000 units/bag

SS443A-S
SS400 Series Hall-effect digital position sensor IC, unipolar, medium Gauss, flat TO-92-style, surface mount, bulk pack, 1000 units/bag

SS443A-T2
SS400 Series Hall-effect digital position sensor IC, unipolar, medium Gauss, flat TO-92-style, formed leads, ammopack tape-in-box, 5000 units/box

SS443A-T3
SS400 Series Hall-effect digital position sensor IC, unipolar, medium Gauss, flat TO-92-style package, straight standard leads, ammopack tape-in-box, 5000 units/box

SS449A
SS400 Series Hall-effect digital position sensor IC, unipolar, high Gauss, flat TO-92-style package, straight standard leads, bulk pack, 1000 units/bag

SS449A-T2
SS400 Series Hall-effect digital position sensor IC, unipolar, high Gauss, flat TO-92-style, formed leads, ammopack tape-in-box, 5000 units/box

SS461A
SS400 Series Hall-effect digital position sensor IC, latching, low Gauss, flat TO-92-style package, straight standard leads, bulk pack, 1000 units/bag

SS461A-S
SS400 Series Hall-effect digital position sensor IC, latching, low Gauss, flat TO-92-style, surface mount, bulk pack, 1000 units/bag

SS441A
SS400 Series Hall-effect digital position sensor IC, unipolar, low Gauss, flat TO-92-style package, straight standard leads, bulk pack, 1000 units/bag

SS441A-L
SS400 Series Hall-effect digital position sensor IC, unipolar, low Gauss, flat TO-92-style, straight long leads, bulk pack, 1000 units/bag

SS443A
SS400 Series Hall-effect digital position sensor IC, unipolar, medium Gauss, flat TO-92-style package, straight standard leads, bulk pack, 1000 units/bag

SS443A-S
SS400 Series Hall-effect digital position sensor IC, unipolar, medium Gauss, flat TO-92-style, surface mount, bulk pack, 1000 units/bag

SS443A-T2
SS400 Series Hall-effect digital position sensor IC, unipolar, medium Gauss, flat TO-92-style, formed leads, ammopack tape-in-box, 5000 units/box

SS443A-T3
SS400 Series Hall-effect digital position sensor IC, unipolar, medium Gauss, flat TO-92-style package, straight standard leads, ammopack tape-in-box, 5000 units/box

SS449A
SS400 Series Hall-effect digital position sensor IC, unipolar, high Gauss, flat TO-92-style package, straight standard leads, bulk pack, 1000 units/bag

SS449A-T2
SS400 Series Hall-effect digital position sensor IC, unipolar, high Gauss, flat TO-92-style, formed leads, ammopack tape-in-box, 5000 units/box

SS461A
SS400 Series Hall-effect digital position sensor IC, latching, low Gauss, flat TO-92-style package, straight standard leads, bulk pack, 1000 units/bag

SS461A-S
SS400 Series Hall-effect digital position sensor IC, latching, low Gauss, flat TO-92-style, surface mount, bulk pack, 1000 units/bag