Latching Position Sensor ICs
VF360NT, VF360ST, VF460S
High sensitivity latching Hall-effect digital sensor ICs. SOT-23, flat TO-92-style packages. AEC-Q100 qualified for transportation applications
Overview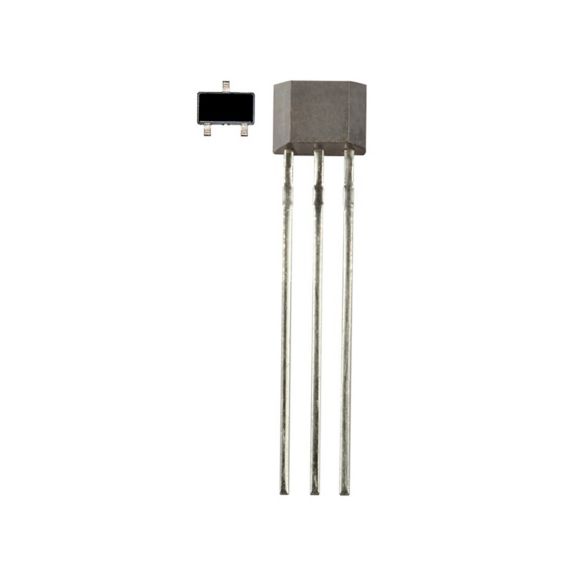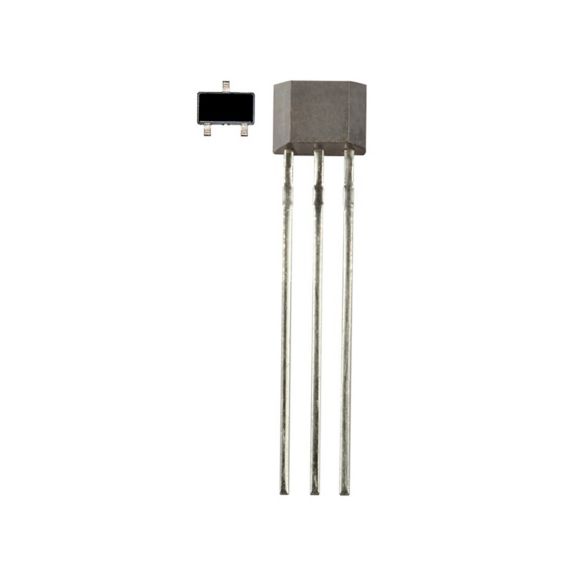 The VF360NT, VF360ST, and VF460S High Sensitivity Latching Digital Hall-Effect Sensor ICs are small, sensitive and versatile devices that are operated by the magnetic field from a permanent magnet or an electromagnet. They are designed to respond to alternating North and South poles. The VF360NT is turned ON by a North pole, while the VF360ST and VF460S are turned ON by a South pole. This sensor IC does not use chopper stabilization on the Hall element, providing a clean output signal and a faster latch response time when compared to competitive high sensitivity Hall-effect latching sensor ICs which do use chopper stabilization.
These product are available in two package styles:
VF360NT, VF360ST: Subminiature SOT-23 surface-mount package on pocket tape and reel which allows for compact design with automated component placement.
VF460S : Flat TO-92-style package with straight leads in bulk packaging which allows for a compact PC board layout.
Value to Customers
AEC-Q100 qualification provides enhanced reliability and quality of electronic components. Components meeting these specifications are often suitable for use in harsh automotive environments without the customer's need for additional component-level qualification testing.
Designed to provide reliable, consistent performance and a fast response time, enhancing efficiency in brushless dc motor (BLDC) applications.
Designed to provide a wide supply voltage range and no chopper delay, allowing for potential use in a variety of applications.
Designed to provide a clean output signal without the customer having to include additional circuitry to achieve noise suppression due to chopper stabilization.
Differentiators
Honeywell VF360NT, VF360ST, and VF460S AEC-Q100-qualified latching sensor ICs offer better performance than many competitive sensor ICs that employ chopper stabilization techniques.
Response time: Honeywell device provides a fast response time, enabling efficiency in BLDC motors.
No noise generation: Honeywell device utilizes a resistor-capacitor (RC) circuit to enable noise suppression required for chopper stabilized sensors.
Data Sheet
Manuals and Guides
Installation Instructions
CAD Model
Brochure
Technical Note
Application Note
eBook
Product Photo
Name
Description
File Size
Date
Size
Name
Description
File Size
Date
Size

VF360NT
VF360NT Hall-effect digital position sensor IC, latching, high sensitivity, AEC-Q100 qualification, North pole activated, SOT-23, pocket tape and reel, 3000 units/reel

VF360ST
VF360ST Hall-effect digital position sensor IC, latching, high sensitivity, AEC-Q100 qualification, South pole activated, SOT-23, pocket tape and reel, 3000 units/reel

VF460S
VF460S Hall-effect digital position sensor IC, latching, high sensitivity, AEC-Q100 qualification, South pole activated, flat TO-92-style package, straight standard leads, 1000 units/bag

VF360NT
VF360NT Hall-effect digital position sensor IC, latching, high sensitivity, AEC-Q100 qualification, North pole activated, SOT-23, pocket tape and reel, 3000 units/reel

VF360ST
VF360ST Hall-effect digital position sensor IC, latching, high sensitivity, AEC-Q100 qualification, South pole activated, SOT-23, pocket tape and reel, 3000 units/reel

VF460S
VF460S Hall-effect digital position sensor IC, latching, high sensitivity, AEC-Q100 qualification, South pole activated, flat TO-92-style package, straight standard leads, 1000 units/bag