Value-added Packaged Sensors
SR16/SR17 Series
Low-cost Hall-effect vane sensors. Plastic dual tower, plastic side-mount wire exit packages. Digital sinking output
Overview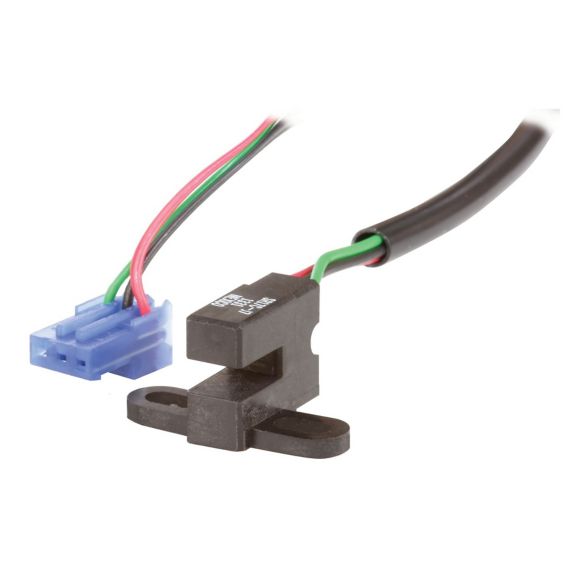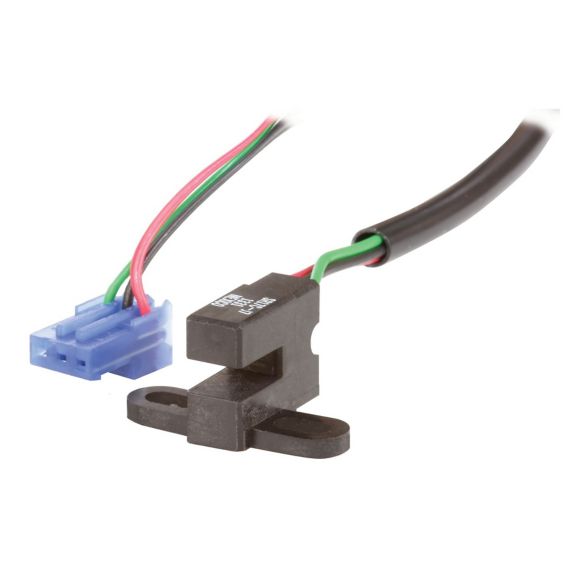 The SR16 Series Hall effect vane sensors are designed for position and speed sensing and are available in three termination variations. The cost effective SR16 Series sensors are tailored for fitness and information technology applications. They are well suited for use in moderate electrical, chemical, and mechanical environments.
The SR16 Series sensors contain an internal magnet and Hall effect sensor mounted in a twin tower configuration. In application, a customer supplied ferrous target passes between the tower gap, interrupts the magnetic field, and switches the digital state of the sensor.
These robust solid state Hall effect sensors are housed in an environmentally sealed plastic package. The Hall effect sensors provide highly accurate and repeatable performance in environments in which dirt, dust, or stray IR light might affect the performance of optical solutions. The sensor package is constructed of rugged polyphthalamide material and is mechanically interchangeable with our standard optical sensors.
Data Sheet
Name
Description
File Size
Date
Size
SR 16/17 Series Hall Effect Vane Sensor
application/pdf 452.07 KB
7/22/2021
452.07 KB
Manuals and Guides
Name
Description
File Size
Date
Size
Transportation Range Guide
application/pdf 18.57 MB
10/4/2021
18.57 MB
Position Sensors Product Range Guide
application/pdf 4.85 MB
10/4/2021
4.85 MB
Catalog
Name
Description
File Size
Date
Size
Building Value-Added Solutions: Magnetic Sensing Technologies
application/pdf 5.49 MB
7/22/2021
5.49 MB
Application Note
Name
Description
File Size
Date
Size
Defence Ground Vehicles -
application/pdf 872.87 KB
6/14/2023
872.87 KB
All-Terrain Vehicle Solutions
application/pdf 803.57 KB
12/20/2022
803.57 KB
Platform Vehicles
application/pdf 628.05 KB
12/20/2022
628.05 KB
Forestry Vehicles
application/pdf 1.05 MB
12/20/2022
1.05 MB
Construction Vehicles -
application/pdf 984.29 KB
12/20/2022
984.29 KB
Sensors and Switches: Solutions for Medical Applications
application/pdf 1.34 MB
5/18/2023
1.34 MB
Solutions For Healthier Air & HVAC Systems
application/pdf 3.88 MB
5/31/2022
3.88 MB
Agricultural Vehicles -
application/pdf 1.11 MB
10/25/2022
1.11 MB
eBook
Name
Description
File Size
Date
Size
Redefining Road Rail & Rugged Applications
application/pdf 28.35 MB
12/20/2022
28.35 MB
Name
Description
File Size
Date
Size
Name
Description
File Size
Date
Size
SR 16/17 Series Hall Effect Vane Sensor
452.07 KB
7/22/2021
Transportation Range Guide
18.57 MB
10/4/2021
Position Sensors Product Range Guide
4.85 MB
10/4/2021
Building Value-Added Solutions: Magnetic Sensing Technologies
5.49 MB
7/22/2021
Defence Ground Vehicles -
872.87 KB
6/14/2023
All-Terrain Vehicle Solutions
803.57 KB
12/20/2022
Platform Vehicles
628.05 KB
12/20/2022
Forestry Vehicles
1.05 MB
12/20/2022
Construction Vehicles -
984.29 KB
12/20/2022
Sensors and Switches: Solutions for Medical Applications
1.34 MB
5/18/2023
Solutions For Healthier Air & HVAC Systems
3.88 MB
5/31/2022
Agricultural Vehicles -
1.11 MB
10/25/2022
Redefining Road Rail & Rugged Applications
28.35 MB
12/20/2022

SR16C-J4
SR16 Series Cost Effective Digital Vane Sensor; Hall-effect technology; twin tower configuration; sinking output; 3.8 to 30 Vdc supply voltage

SR16C-J5
SR16 Series Cost Effective Digital Vane Sensor; Hall-effect technology; twin tower configuration; sinking output; 3.8 to 30 Vdc supply voltage

SR16C-J6
SR16 Series Cost Effective Digital Vane Sensor; Hall-effect technology; twin tower configuration; sinking output; 3.8 to 30 Vdc supply voltage

SR16C-N
SR16 Series Cost Effective Digital Vane Sensor; Hall-effect technology; twin tower configuration; sinking output; 3.8 to 30 Vdc supply voltage

SR17C-J6
SR17 Series Cost Effective Digital Vane Sensor; side looker mounting; wire leads parallel to mounting plane; sinking output; 3.8 to 30 Vdc supply voltage

SR17C-J7
SR17 Series Cost Effective Digital Vane Sensor; side looker mounting; wire leads parallel to mounting plane; sinking output; 3.8 to 30 Vdc supply voltage

SR16C-J4
SR16 Series Cost Effective Digital Vane Sensor; Hall-effect technology; twin tower configuration; sinking output; 3.8 to 30 Vdc supply voltage

SR16C-J5
SR16 Series Cost Effective Digital Vane Sensor; Hall-effect technology; twin tower configuration; sinking output; 3.8 to 30 Vdc supply voltage

SR16C-J6
SR16 Series Cost Effective Digital Vane Sensor; Hall-effect technology; twin tower configuration; sinking output; 3.8 to 30 Vdc supply voltage

SR16C-N
SR16 Series Cost Effective Digital Vane Sensor; Hall-effect technology; twin tower configuration; sinking output; 3.8 to 30 Vdc supply voltage

SR17C-J6
SR17 Series Cost Effective Digital Vane Sensor; side looker mounting; wire leads parallel to mounting plane; sinking output; 3.8 to 30 Vdc supply voltage

SR17C-J7
SR17 Series Cost Effective Digital Vane Sensor; side looker mounting; wire leads parallel to mounting plane; sinking output; 3.8 to 30 Vdc supply voltage