RTD Sensors
HEL-700 Series
100 Ohm or 1000 Ohm platinum RTD. -75°C to 500°C. TFE Teflon or fiberglass alumina tube with leadwires
Overview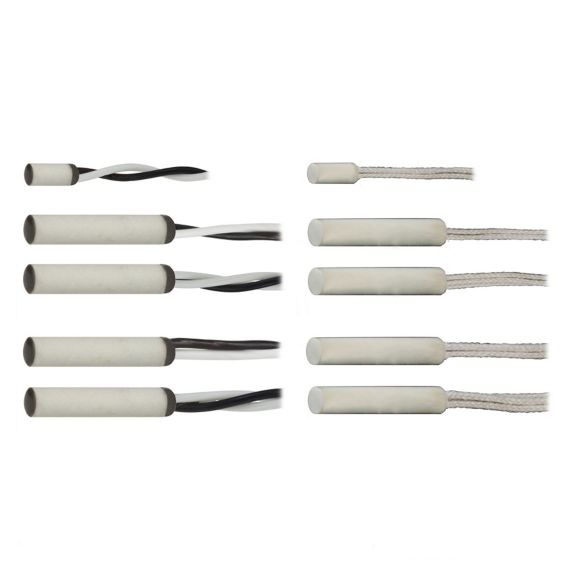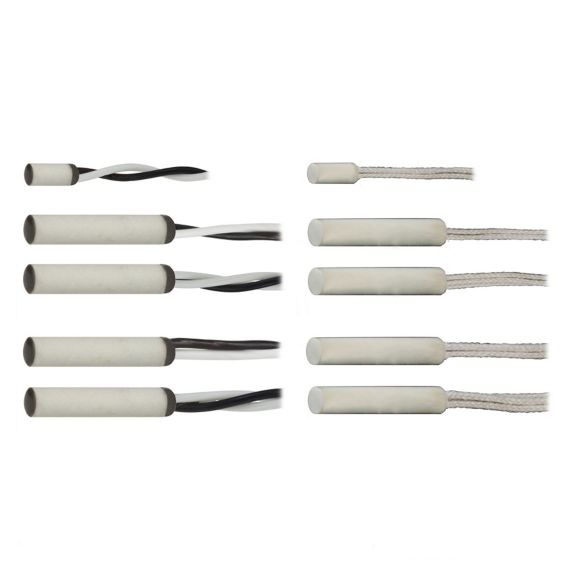 The HEL-700 Series Thin Film Platinum RTDs (Resistance Temperature Detectors) are designed to monitor or control critical temperatures in industrial applications. They provide a linear change in resistance versus temperature, combining high linearity, stability, accuracy, and wide temperature range in a small, fast-response package.
The HEL-700 Series is designed to measure temperatures from -75 °C to 540 °C [-100 °F to 1000 °F] with high accuracy. These fully-assembled elements are ready-to-use in probe assemblies, without the need for fragile splices to extension leads.
These products are manufactured using a thin layer of platinum deposited on an alumina substrate and are laser trimmed to a resistance interchangeability of a standard ±0.2% (±0.5 °C accuracy) or optional ±0.1% (±0.3 °C accuracy). The sensor chip is then glassed, wired and potted or ceramic fired to result in a cylindrical alumina package with either TFE Teflon®- or fiberglass-insulated lead wires.
Data Sheet
Name
Description
File Size
Date
Size
HEL-700 Series Thin Film Platinum RTDs
application/pdf 816.1 KB
7/22/2021
816.1 KB
Manuals and Guides
Name
Description
File Size
Date
Size
Temperature Sensors Line Guide
application/pdf 293.8 KB
7/22/2021
293.8 KB
application/pdf 11.1 MB
7/22/2021
11.1 MB
Technical Note
Name
Description
File Size
Date
Size
Platinum RTDs Temperature Sensors Resistance and Accuracy Tables
application/pdf 93.84 KB
7/22/2021
93.84 KB
Platinum RTDs Temperature Sensors Heat Conduction Equation and RTD Self Heating
application/pdf 127.71 KB
7/22/2021
127.71 KB
Platinum RTDs Temperature Sensors Hot Film Anemometry
application/pdf 128.9 KB
7/22/2021
128.9 KB
Platinum RTDs Temperature Sensors Circuits and Switches
application/pdf 126.89 KB
7/22/2021
126.89 KB
Application Note
Name
Description
File Size
Date
Size
Agricultural Vehicles -
application/pdf 1.11 MB
10/25/2022
1.11 MB
Construction Vehicles -
application/pdf 984.29 KB
12/20/2022
984.29 KB
Name
Description
File Size
Date
Size
Name
Description
File Size
Date
Size
HEL-700 Series Thin Film Platinum RTDs
816.1 KB
7/22/2021
Temperature Sensors Line Guide
293.8 KB
7/22/2021
Platinum RTDs Temperature Sensors Resistance and Accuracy Tables
93.84 KB
7/22/2021
Platinum RTDs Temperature Sensors Heat Conduction Equation and RTD Self Heating
127.71 KB
7/22/2021
Platinum RTDs Temperature Sensors Hot Film Anemometry
128.9 KB
7/22/2021
Platinum RTDs Temperature Sensors Circuits and Switches
126.89 KB
7/22/2021
Agricultural Vehicles -
1.11 MB
10/25/2022
Construction Vehicles -
984.29 KB
12/20/2022

HEL-705-T-0-12-00
HEL-700 Series temperature sensor, platinum RTD, ceramic case, leadwires

HEL-705-T-1-12-00
HEL-700 Series temperature sensor, platinum RTD, ceramic case, leadwires

HEL-705-U-0-12-00
HEL-700 Series temperature sensor, platinum RTD, ceramic case, leadwires

HEL-705-U-1-12-00
HEL-700 Series temperature sensor, platinum RTD, ceramic case, leadwires

HEL-707-T-0-12-00
HEL-700 Series temperature sensor, platinum RTD, ceramic case, leadwires

HEL-707-U-0-12-00
HEL-700 Series temperature sensor, platinum RTD, ceramic case, leadwires

HEL-707-U-1-12-00
HEL-700 Series temperature sensor, platinum RTD, ceramic case, leadwires

HEL-711-T-0-12-00
HEL-700 Series temperature sensor, platinum RTD, ceramic case, leadwires

HEL-711-T-1-12-00
HEL-700 Series temperature sensor, platinum RTD, ceramic case, leadwires

HEL-711-U-0-12-00
HEL-700 Series temperature sensor, platinum RTD, ceramic case, leadwires

HEL-705-T-0-12-00
HEL-700 Series temperature sensor, platinum RTD, ceramic case, leadwires

HEL-705-T-1-12-00
HEL-700 Series temperature sensor, platinum RTD, ceramic case, leadwires

HEL-705-U-0-12-00
HEL-700 Series temperature sensor, platinum RTD, ceramic case, leadwires

HEL-705-U-1-12-00
HEL-700 Series temperature sensor, platinum RTD, ceramic case, leadwires

HEL-707-T-0-12-00
HEL-700 Series temperature sensor, platinum RTD, ceramic case, leadwires

HEL-707-U-0-12-00
HEL-700 Series temperature sensor, platinum RTD, ceramic case, leadwires

HEL-707-U-1-12-00
HEL-700 Series temperature sensor, platinum RTD, ceramic case, leadwires

HEL-711-T-0-12-00
HEL-700 Series temperature sensor, platinum RTD, ceramic case, leadwires

HEL-711-T-1-12-00
HEL-700 Series temperature sensor, platinum RTD, ceramic case, leadwires

HEL-711-U-0-12-00
HEL-700 Series temperature sensor, platinum RTD, ceramic case, leadwires