Large Basic Switches
BE Series
25 A (UL, CSA). SPDT. Variety of actuators & terminations. 25,4 mm centers side mount or panel mount
Overview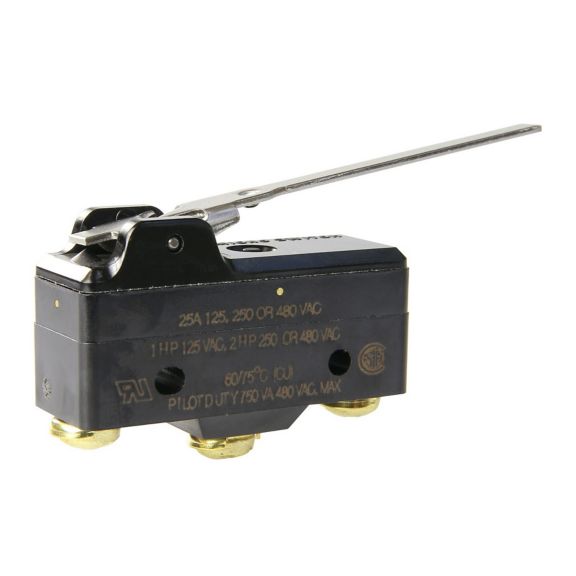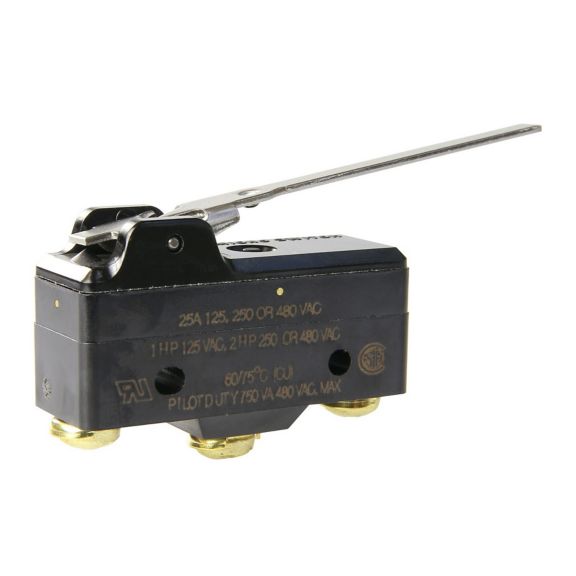 Accurate, reliable, and repeatable, MICRO SWITCH BZ/BA/BM/BE/6AS/WZ/YZ/WA/YA Series features precise operating characteristics and enhanced life. These premium, large snap-action switches offer precision operation and sensitive differential travel.
Utilizing state-of-the-art manufacturing processes and quality controls, Honeywell has engineered premium, large snap-action switches that meet various international agency requirements. Some models have military qualifications. These Series are often used for precision on/off applications, as well as end of limit, presence/absence, and manual operator interface functions.
Their engineered design is suitable for various application needs. Configured options provide a wide variety of operating and interface characteristics. The MICRO SWITCH 6AS Series consists of two large premium BZ/BA/BM/BE snap-action switches ganged together and actuated by a single actuator. Field adjustable operating point is an option for one or both switches.
Data Sheet
Manuals and Guides
Brochure
Technical Note
Application Note
eBook
Product Photo
Name
Description
File Size
Date
Size
Name
Description
File Size
Date
Size

BE-1RV320-A4
BE Series Standard Basic Switch, Single Pole Double Throw Circuitry, 25 A at 250 Vac, Straight Lever Actuator, 0,97 N [10 oz] Operating Force, Screw Termination, Silver Contacts, UL, CSA, Rigid Lever

BE-2R
BE Series Standard Basic Switch, Single Pole Double Throw Circuitry, 25 A at 250 Vac, Pin Plunger Actuator, 3,89 N to 6,12 N [14.0 oz to 22.0 oz] Operating Force, Silver Contacts, Solder Termination, UL, CSA

BE-2R-A4
BE Series Standard Basic Switch, Single Pole Double Throw Circuitry, 25 A at 250 Vac, Pin Plunger Actuator, 3,89 N to 6,12 N [14.0 oz to 22.0 oz] Operating Force, Silver Contacts, Screw Termination, UL, CSA

BE-2R-P4
BE Series Standard Basic Switch, Single Pole Double Throw Circuitry, 25 A at 250 Vac, Pin Plunger Actuator, 3,89 N to 6,12 N [14.0 oz to 22.0 oz] Operating Force, Silver Contacts, Screw Termination, UL, CSA

BE-2R2425
BE Series Standard Basic Switch, Single Pole Double Throw Circuitry, 25 A at 250 Vac, Pin Plunger Actuator, 6,95 N [25.0 oz] Operating Force, Silver Cadmium Oxide Contacts, Solder Termination, UL, CSA, High Temperature

BE-2R25-A4
BE Series Standard Basic Switch, Single Pole Double Throw Circuitry, 25 A at 250 Vac, Pin Plunger Actuator, 3,89 N to 6,12 N [14.0 oz to 22.0 oz] Operating Force, Silver Contacts, Screw Termination, UL, CSA

BE-2RB
BE Series Standard Basic Switch, Single Pole Double Throw Circuitry, 25 A at 250 Vac, Overtravel Pin Plunger Actuator, 3,89 N to 6,12 N [14.0 oz to 22.0 oz] Operating Force, Silver Contacts, Solder Termination, UL, CSA

BE-2RB-A2
BE Series Standard Basic Switch, Single Pole Double Throw Circuitry, 25 A at 250 Vac, Overtravel Pin Plunger Actuator, 3,89 N to 6,12 N [14.0 oz to 22.0 oz] Operating Force, Silver Contacts, Screw Termination, UL, CSA

BE-2RB-A4
BE Series Standard Basic Switch, Single Pole Double Throw Circuitry, 25 A at 250 Vac, Overtravel Pin Plunger Actuator, 3,89 N to 6,12 N [14.0 oz to 22.0 oz] Operating Force, Silver Contacts, Screw Termination, UL, CSA

BE-2RL-A4
BE Series Standard Basic Switch, Single Pole Double Throw Circuitry, 25 A at 250 Vac, Flexible Leaf Actuator, 2,5 N [9.0 oz] Operating Force, Screw Termination, Silver Contacts, UL, CSA

BE-1RV320-A4
BE Series Standard Basic Switch, Single Pole Double Throw Circuitry, 25 A at 250 Vac, Straight Lever Actuator, 0,97 N [10 oz] Operating Force, Screw Termination, Silver Contacts, UL, CSA, Rigid Lever

BE-2R
BE Series Standard Basic Switch, Single Pole Double Throw Circuitry, 25 A at 250 Vac, Pin Plunger Actuator, 3,89 N to 6,12 N [14.0 oz to 22.0 oz] Operating Force, Silver Contacts, Solder Termination, UL, CSA

BE-2R-A4
BE Series Standard Basic Switch, Single Pole Double Throw Circuitry, 25 A at 250 Vac, Pin Plunger Actuator, 3,89 N to 6,12 N [14.0 oz to 22.0 oz] Operating Force, Silver Contacts, Screw Termination, UL, CSA

BE-2R-P4
BE Series Standard Basic Switch, Single Pole Double Throw Circuitry, 25 A at 250 Vac, Pin Plunger Actuator, 3,89 N to 6,12 N [14.0 oz to 22.0 oz] Operating Force, Silver Contacts, Screw Termination, UL, CSA

BE-2R2425
BE Series Standard Basic Switch, Single Pole Double Throw Circuitry, 25 A at 250 Vac, Pin Plunger Actuator, 6,95 N [25.0 oz] Operating Force, Silver Cadmium Oxide Contacts, Solder Termination, UL, CSA, High Temperature

BE-2R25-A4
BE Series Standard Basic Switch, Single Pole Double Throw Circuitry, 25 A at 250 Vac, Pin Plunger Actuator, 3,89 N to 6,12 N [14.0 oz to 22.0 oz] Operating Force, Silver Contacts, Screw Termination, UL, CSA

BE-2RB
BE Series Standard Basic Switch, Single Pole Double Throw Circuitry, 25 A at 250 Vac, Overtravel Pin Plunger Actuator, 3,89 N to 6,12 N [14.0 oz to 22.0 oz] Operating Force, Silver Contacts, Solder Termination, UL, CSA

BE-2RB-A2
BE Series Standard Basic Switch, Single Pole Double Throw Circuitry, 25 A at 250 Vac, Overtravel Pin Plunger Actuator, 3,89 N to 6,12 N [14.0 oz to 22.0 oz] Operating Force, Silver Contacts, Screw Termination, UL, CSA

BE-2RB-A4
BE Series Standard Basic Switch, Single Pole Double Throw Circuitry, 25 A at 250 Vac, Overtravel Pin Plunger Actuator, 3,89 N to 6,12 N [14.0 oz to 22.0 oz] Operating Force, Silver Contacts, Screw Termination, UL, CSA

BE-2RL-A4
BE Series Standard Basic Switch, Single Pole Double Throw Circuitry, 25 A at 250 Vac, Flexible Leaf Actuator, 2,5 N [9.0 oz] Operating Force, Screw Termination, Silver Contacts, UL, CSA