Systems
System Compact CL Set
CL compact set
Overview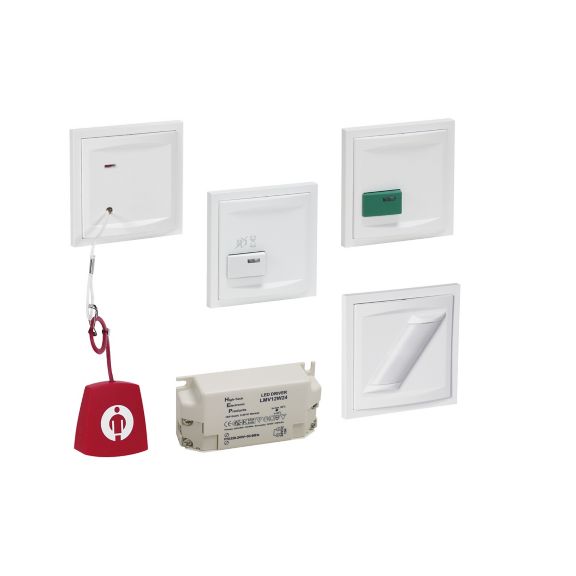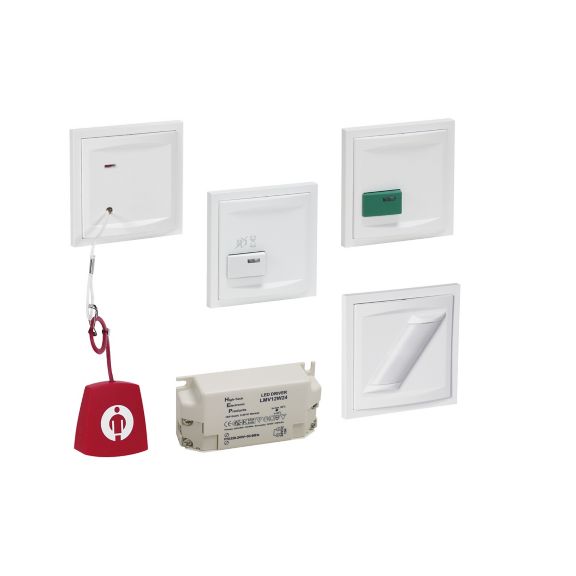 Part Number: 76910D1
CL compact set comprised of:
1 cord-pull switch with red LED reassurance lamps and 2 m PVC cord, incl. cover plate, cover plate frame and seal kit
1 cancel button with green cancel button and LED reminder lamp - green, incl. cover plate and cover plate frame,
1 office display unit with LED control lamp, red, sound transmitter and button with acknowledgement function, incl. cover plate and cover plate frame
1 CL electronic module with integrated room signal LED and control electronics, as well as relay contact to control the building management system
1 safety power supply unit
1 operating instructions
Additional information
Unlike the alarm kit for public washrooms (Part-No. 76910C1), the CL series is not expandable!
Others
Color

white, similar to RAL 9016 (cover plate / cover frame)

Operation temperature
Operating voltage (A)
Rated voltage (V)
Rated frequency
Dimensions

D: 25 mm

W: 71 mm H: 10 mm D: 71 mm (electronic modules)

W:86 mm H: 41 mm D: 22 mm (power suplly)
Others
Color

white, similar to RAL 9016 (cover plate / cover frame)

Dimensions

D: 25 mm

W: 71 mm H: 10 mm D: 71 mm (electronic modules)

W:86 mm H: 41 mm D: 22 mm (power suplly)
Color : white, similar to RAL 9016 (cover plate / cover frame)
Operation temperature : Power supply max. 50 °C
Operating voltage (A) : 24 V DC
Rated voltage (V) : 230 V AC
Rated frequency : 50 Hz ... 60 Hz
Dimensions : D: 25 mm|W: 71 mm H: 10 mm D: 71 mm (electronic modules)|W:86 mm H: 41 mm D: 22 mm (power suplly)
Data Sheet
Name
Description
File Size
Date
Size
System compact CL
application/pdf 36.49 KB
11/4/2022
36.49 KB
Name
Description
File Size
Date
Size
System compact CL
36.49 KB
11/4/2022
36.49 KB
Name
Description
File Size
Date
Size