Room Units
Systevo Com IP based patient handset with telephone function
Patient handset Systevo Com with ergonomic shape, adapted to be simple and user-friendly.
Overview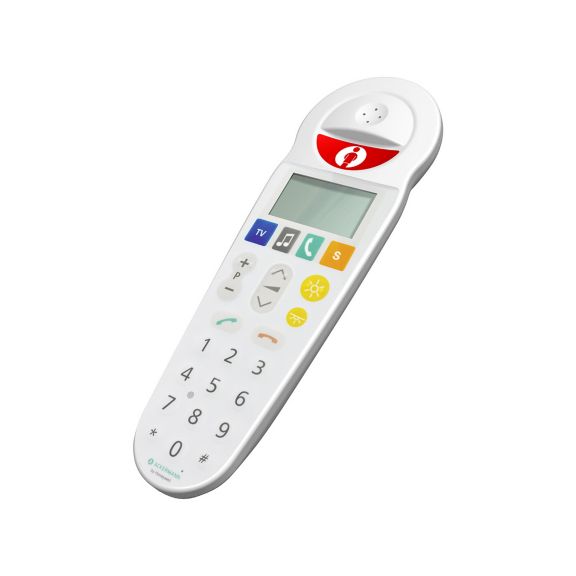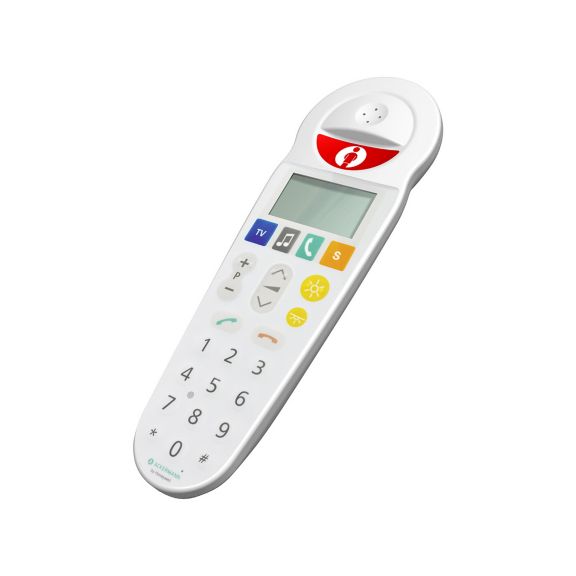 This product is no longer available
Part Number: 74137A1
Patient handset Systevo Com with ergonomic shape, adapted to be simple and user-friendly.
It has different control functions for the telephony, TV / radio functions, etc. and for accounting services. Designed with a multi-line LC display including an illuminated background and an integrated RFID card reader, the patient handset enables patients to make calls, control device functions in their immediate area (light, blinds) as well as conduct simple voice communication with the nursing staff. The patient handset can be used as a fully-functional telephone.
The patient handset has an easy-to-clean surface and is ergonomic to hold thanks to the all-round rubber seal; the housing is coated with an anti-microbial substance to reduce existing bacteria and prevent them from multiplying. The keyboard is fitted with color-coded function keys (TV, radio, telephone, service), additional keys (channel selection, volume, lighting buttons) and a clear telephone keyboard.
The integrated speakers also act as a receiver for the TV audio; alternatively the audio signal can be transmitted via the headphone socket (3.5 mm jack plug). The data from the patient card are fed in and user-specific device functions activated via the RFID card reader (patient, alternatively staff). This enables the available services to be clearly assigned and facilitates billing of the telephone and TV functions and additional services. It is prepared for future firmware updates subject to license to enable the use of additional service features. The handset is placed in a purpose-built bracket which can be located either on the wall or on the bedside table.
Features
Graphic LC display for displaying patient-relevant data
Various national languages (D/GB/F/I/ESP/NL/user-specific)
Short-dial keys for TV, Radio, Telephone, Service functions
Call button - red - with LED reassurance light and locating light in accordance with DIN VDE 0834-1: 2016-06
Control of light sources
Channel selection button for TV/Radio
Control unit, for switching on/off and switching over
Function keys for adjusting the local audio volume
Telephone keypad 0-9, #, * and color-coordinated keys for starting/cancelling the call
Control electronics for HMI (operation), integrated device functions and safety-relevant services
Telephone (VoIP) for the operation on an extension system, SIP-compatible
Contactless RFID card reader for reading chip cards for the invoicing and authentication functions (users, personnel) and for use with services with user-dependent authorisations
Integrated microphone for call function (call system / telephony) in discrete or free mode
Jack socket 3.5 mm for connection to headphones
Power cable 3 m, with self-releasing plug, k-coded
Mechanical structure:
Plastic housing in antimicrobial design, color RAL 9016
Front call button with pictogram
Membrane keypad color-coordinated with the operating functions with pressure point and back-lighting
Design in IP54
Rubber surround with shock protection and safe handling for the user
Replaceable power cable
Replaceable housing
Additional information
Compatibility with PBX systems on request.
Accessories
74137Z4 - Mounting bracket for patient handset.
Others
Color

white, similar to RAL9016

Quiescent current @ 24 V DC
Operating voltage (A)
Storage Temperature
Current consumption
Ambient Temperature
Type of protection
Air humidity
Weight (g)
Dimensions

W: 65 mm H: 33 mm L: 200 mm

Material
Others
Color

white, similar to RAL9016

Quiescent current @ 24 V DC

Dimensions

W: 65 mm H: 33 mm L: 200 mm
Color : white, similar to RAL9016
Quiescent current @ 24 V DC : approx. 50 mA
Operating voltage (A) : 24 V DC +/-10 %
Storage Temperature : 0 °C ... 60 °C
Current consumption : max. 100 mA ampere
Ambient Temperature : 5 °C ... 40 °C
Type of protection : IP54
Weight (g) : approx. 190 g gram
Dimensions : W: 65 mm H: 33 mm L: 200 mm
Data Sheet
Name
Description
File Size
Date
Size
Systevo Com IP based patient handset with telephone function
application/pdf 39.56 KB
11/4/2022
39.56 KB
Name
Description
File Size
Date
Size
Systevo Com IP based patient handset with telephone function
39.56 KB
11/4/2022
39.56 KB
Name
Description
File Size
Date
Size
Systevo Com IP based patient handset with telephone function
39.56 KB
11/4/2022