Systevo Room Units
Systevo Call Smart
Systevo Call Smart patient handset with ergonomic design, for easy operation by patients and residents in care facilities.
Overview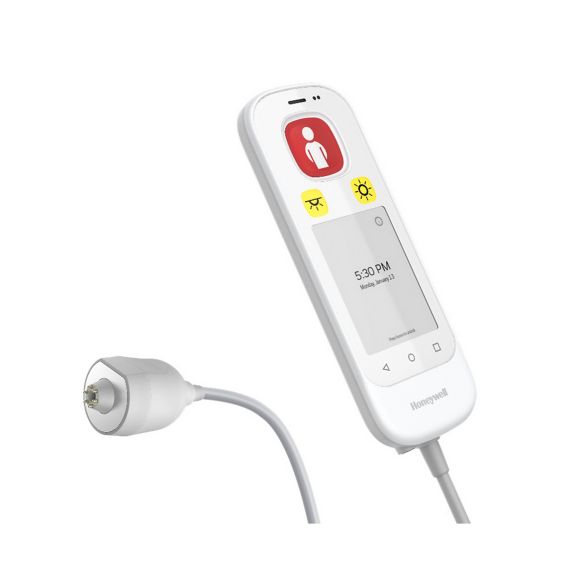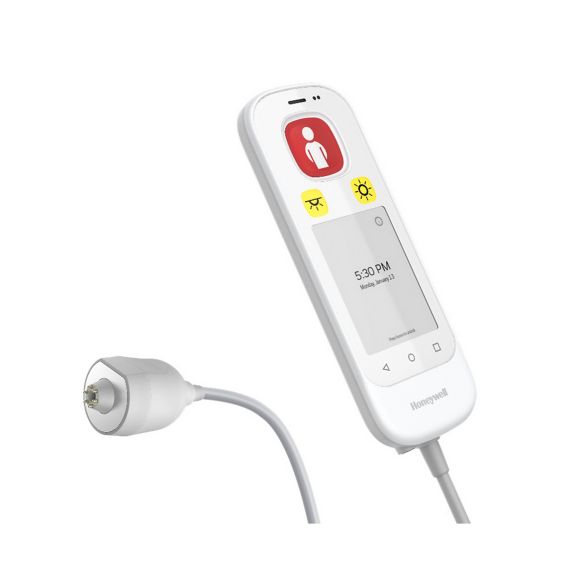 Part Number: 74170A9
Systevo Call Smart patient handset with ergonomic design, for easy operation by patients and residents in care facilities. Designed with high-quality color touch graphic display (2.8 inch) incl. backlight for controlling of individual devices in the patient room (2 x light sources, TV-set, blinds).
User-guided voice communication with caregivers in hands-free mode or discrete voice mode.
Equipped with large call button with easily recognizable as well as tactile pressure point is the device prepared for safe call initiation.
Ergonomic design of the device for easy handling by different user groups and age groups.
User guidance via the touch display by using configurable display elements, services and visualisation of icons for intuitive handling by users in care facilities.
Transmission of the TV sound via the integrated loudspeaker or headphones.
Monitoring/synchronisation of data tranmission and audio connections (conversations) by the master room controller, incl. managing of configuration data.
Upgradable to future system firmware thanks to advanced flash storage technologies. Includes the option for automated software update during operation. Fulfilment of cyber security requirements of modern data bus infrastructures.
System functions requiring a license are provided by corresponding software licenses.
Equipped with plug for magnetic auto-release plug system:
by exceeding the predefined pulling force, the system plug is automatically disconnected from the bed unit to prevent mechanical damages (bed unit, cable).
Housings without dust edges for avoiding the deposition of bacteria or dirt elements and with easy to be cleaned and disinfected surface to fulfill the highest hygienic requirements in care facilities. Equipped with anti-microbial compound for reduction of existing bacteria or preventing their reproduction.
Suitable for cleaning or wipe disinfection according to specifications of quality systems of care facilities. Tested by hygiene labs and approved for the usage of listed disinfectants (alcohols, aldehydes Quaternary ammonium compounds).
Robust housing with surrounding rubber coating for shock protection and safe handling during daily usage.
Accessories:
Suspension of the patient handset in an associated bracket on the wall or at the bedside table. Attachment with a clip on the blanket or on the garment of the patient / resident.
Features
Plastic housing in antimicrobial compound, colored in white, IP54
Front call button with pictogram and LED reassurance light / finding light in accordance with VDE 0834
Touch graphic display (2.8 inch) with capacitive touch operation
Color-coded light touch buttons
Control of light sources
Menu and function selection keys for TV control via IR transmitter
Integrated microphone for intercom in discrete or handsfree mode
Earphone capsule / hands-free loudspeaker
Surrounding rubber coating for shock-proof and safe handling
Plug for magnetic auto-release plug system
Special material properties:
High quality plastic compound with antimicrobial surface for reduction of microorganisms and to inhibiting the growth of germs.
Good mechanical properties with high resistance to the daily stress (operation, cleaning, disinfection, shocks etc.).
Suitable for use in care facilities with high Requirements for hygiene, stability, Longevity and durability.
Plastic compound (PC + ABS-FR)
UV-resistant
Matt finish
Antimicrobial surface
impact resistance
heat resistance
Strength
longevity
durability
Flame protection (fire protection class V0)
Halogen free
System infrastructure:
Processor/OS: Embedded µC System
Cyber Security: Firewall, protected Boot-Loader function
Configuration: using databus-service
Additional information
Product available from September 2021.
Others
Color

front in white, similar to RAL 9003

housing back in gray, light gray cable

Storage Temperature
Ambient Temperature
Type of protection
Weight (g)
Dimensions

W: 60 mm H: 160 mm D: 23 mm

Material
Others
Color

front in white, similar to RAL 9003

housing back in gray, light gray cable

Dimensions

W: 60 mm H: 160 mm D: 23 mm
Color : front in white, similar to RAL 9003|housing back in gray, light gray cable
Storage Temperature : 0 °C ... 50 °C
Ambient Temperature : 10 °C ... 40 °C
Type of protection : IP 54
Weight (g) : approx. 350 g gram
Dimensions : W: 60 mm H: 160 mm D: 23 mm
Material : PC+ABS-FR (AM, UV)
Data Sheet
Name
Description
File Size
Date
Size
Systevo Call Smart
application/pdf 38.99 KB
11/4/2022
38.99 KB
Name
Description
File Size
Date
Size
Systevo Call Smart
38.99 KB
11/4/2022
38.99 KB
Name
Description
File Size
Date
Size