Systevo Components For Duty Room
Systevo Care View IP station with 7" Display
Optimized as all-in-one command center, the desktop IP-device is designed for duty rooms in care facilities.
Overview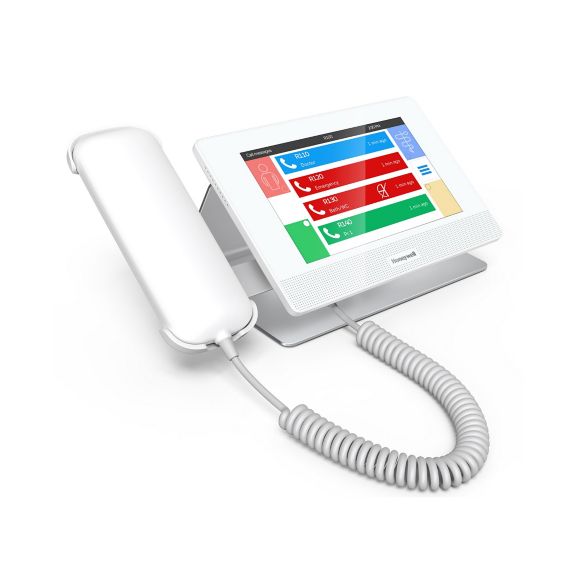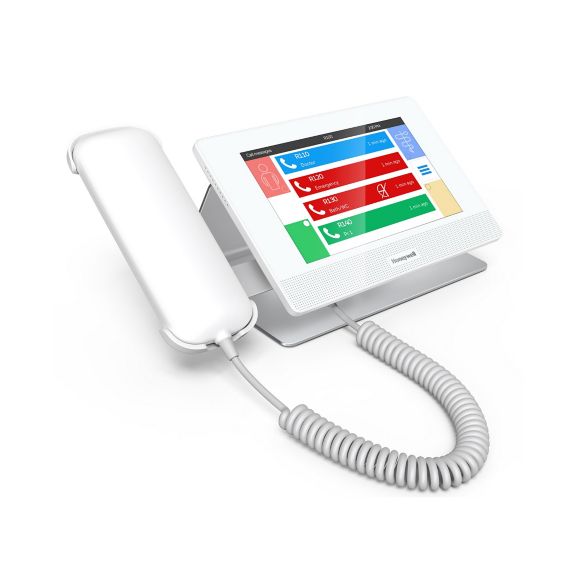 Part Number: 79CM407
Optimized as all-in-one command center, the desktop IP-device is designed for duty rooms in care facilities. It is equipped with a 7" touch display, supports hands-free full duplex voice communication and discrete intercom using the handset, including optimized echo cancellation. Intuitive handling via the convenient operating interface to support the daily care processes in care facilities. Robust touch terminal with backlit display, a high color brilliance and good readability even in different ambient conditions (brightness, distance). User-friendly display and design of runtime-critical and relevant data and process flows, for user groups such as nursing staff and medical service to reduce travel times, optimize productivity and a efficient flow of information for processing upcoming events. Use of RFID technology/PIN code for audit-proof authentication, timely registration of processes and for access control according to GDPR requirements, depending on the requirement in care facilities, allowing access to the duty room specific functions. Herewith, the efficient process of workflows helps to relieve the workload of routine tasks and supports the daily care processes in a suitable manner. With set presence, system messages (alarms, calls and presence etc. ) are displayed with the highest priority on top, in color and prioritized sequence. Set presence enables acoustic call forwarding and the possibility of triggering additional calls and escalation. Support of workflow-relevant processes by displaying as well as selecting/deselecting services (interconnections/zone linkage), for extending call forwarding and escalation to other wards. "One touch" speech intercom between care staff and patients, for querying calls or addressed communication, in free two-way communication (full duplex) either hands-free or in discrete mode via the integrated handset (switching between modes is possible). Selective addressing of rooms/beds for communication (without call/presence) via preconfigured rooms/beds list. In addition, there's also option to prioritize rooms/beds to adjust the escalation workflows of incoming alarm messages. Announcement function (send/receive) via IP communication or bus technology, as well as connection with VoIP/SIP interface (ETH, WIFI), for communication via the PBX. It includes as a telephony client (SIP) for duty rooms and nurse stations.
Security features:
Monitoring/synchronization of all data traffic as well as audio communication (conversations, announcements) to other rooms within the organizational unit, coordination of communication with the central units and other IP participants via IP interface (ETH-LAN, WIFI). The configuration data of a room is managed via the management server, made available through the use of standardized web services and stored locally. Support of the cyber security requirements of modern IT infrastructures. Upgradable to future system firmware thanks to future-oriented flash memory technology to ensure automated software updates during operation. Multi-stage security concept enables local call signalling in case of missing communication with the central unit of the system. Activation of licensed system functions by separate software licenses required: RFID funct., IP funct. (ETH-LAN/WIFI/BT), care documentation (HIS interface required).
Features
High-quality, hardened mineral glass with its surface integrated into the device housing (flat surface, without gaps nor dust edges) for easy cleaning/disinfection of the device.
Plastic surface with antimicrobial compound for reduction of existing microorganisms and prevent their reproduction.
Good mechanical properties with high resistance to daily use (operation, cleaning, disinfection, impacts, etc.).
Suitable for use in care facilities with high standards of hygiene, stability, longevity and durability.
Temporary switch-off of the touch display for cleaning mode to disinfect the surface / the housing
Plastic (PC + ABS-FR), matt
UV-resistant, impact-resistant
Heat-resistant, stability
Longevity, durability, Halogen-free
Flame protection (fire protection class V0)
System architecture:
Processor: Cortex A53 Quad-Core, 1.2GHz
Memory: 1GB DDR3, 8 GB Flash
Operating system: Linux
Cyber Security: Firewall, VNC (SSH), secured boot-loader function
VoIP/SIP: Digital, Codec G.711, P2P
Configuration: via web service
LAN: RJ45, 10/100Base-TX/IEEE 802.3
ETH for digital data/audio (WIFI opt.)
Control element (touch display):
Panel size: 17 cm, 16:9
Technology: TFT LCD, LED lighting
Resolution: 1024x600, 16.7 million colors
Touch technology: capacitive, multi
glass: hardened mineral glass/hardness 7 H
Cleaning mode for 10 s activatable
Loudspeaker/Acoustics:
Output power: 2W (normal), 2,5W (max.)
Frequency range: 380Hz-20kHz
Additional information
Operation either on fieldbus or IP infrastructure
Accessories
73091G Systevo Connection Unit for SCVIP
88885G3 Cover plate for Systevo Connection Unit for SCVIP
Others
Color

white (frame)

white, similar to RAL 9016 (front)

Operating voltage (A)
Storage Temperature
Ambient Temperature
Type of protection
Power Consumption
Air humidity
Weight (g)
Dimensions

W: 313 mm H: 130 mm D: 134 mm

Material

PC+ABS-FR (housing frame)

mineral glass 7H (front)
Others
Color

white (frame)

white, similar to RAL 9016 (front)

Dimensions

W: 313 mm H: 130 mm D: 134 mm

Material

PC+ABS-FR (housing frame)

mineral glass 7H (front)
Color : white (frame)|white, similar to RAL 9016 (front)
Operating voltage (A) : 24 V DC|PoE
Storage Temperature : -20 °C ... 70 °C
Ambient Temperature : 5 °C ... 40 °C
Type of protection : IP 20
Power Consumption : 5 W max. 7,2 W Watt
Weight (g) : approx. 2040 g gram
Dimensions : W: 313 mm H: 130 mm D: 134 mm
Material : PC+ABS-FR (housing frame)|mineral glass 7H (front)
Data Sheet
Name
Description
File Size
Date
Size
Systevo Care View IP station with 7" Display
application/pdf 43.59 KB
11/4/2022
43.59 KB
Name
Description
File Size
Date
Size
Systevo Care View IP station with 7" Display
43.59 KB
11/4/2022
43.59 KB
Name
Description
File Size
Date
Size
Systevo Care View IP station with 7" Display
43.59 KB
11/4/2022