Sistemi di Ancoraggio (Söll)
Söll Vi-Go sistema verticale a cavo
I sistemi di sicurezza Söll Vi-Go per la salita su scale offrono il massimo della sicurezza con una protezione anticaduta continua su scale fisse. Un sistema di corde verticali in acciaio ergonomico e versatile con protezione anticaduta integrata.
Panoramica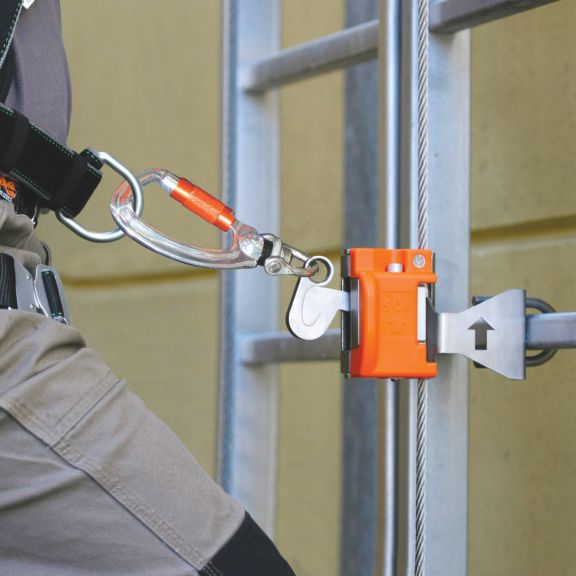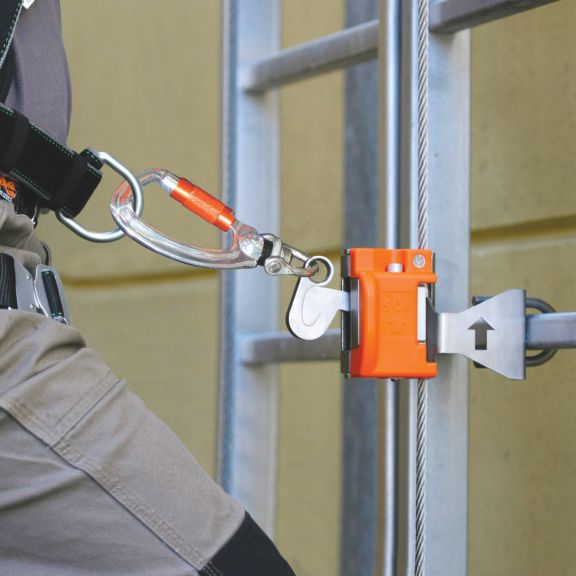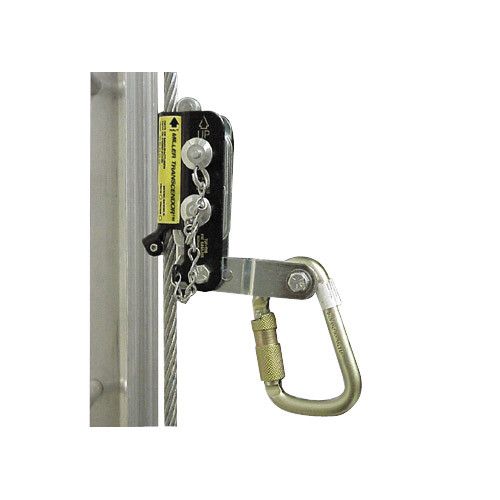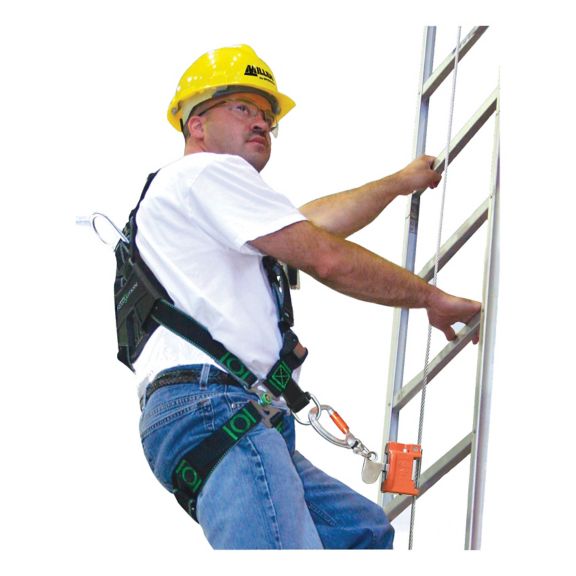 Punti di forza
La versione italiana sarà disponibile a breve.
The user wears a full body harness (EN 361 compliant) and fastens the karabiner hook of the Söll Vi-Go shuttle to the fall protection/fall arrest attachment ring of a harness. Users can start climbing or descending once the shuttle has been fixed to the rope.
Söll Vi-Go Continuous Ladder Climbing Safety Systems with Automatic Pass-Through
Uninterrupted fall protection – Uniquely-designed Vi-Go Cable Sleeve automatically bypasses intermediate cable guides, keeping both hands free for climbing; travels smoothly along cable and locks instantly in the event of a fall.
Easy, one-hand operation for attachment/detachment from the system. No pins/chains or external parts to lose or damage.
Automatic pass-through cable guides secure lifeline to prevent cable wear and enable the system to accommodate curves.
Withstand harsh environments – The Vi-Go Cable Sleeve is constructed with durable, corrosion-resistant aluminum and stainless steel components.
Attachment mechanism engineered to prevent incorrect installation, ensuring greater safety. Unit will not open if attached incorrectly.
Cable sleeve integrated shock-absorbing element – Provides a "dual shock-absorbing system" to further reduce fall forces. Protects the system and ladder from damage. – Once a fall occurs, the deployed shock absorber indicates the unit must be taken out of service. 
Accommodate 5/16-inch (8mm) or 3/8-inch (10mm) cable.
Automatic Pass-Through Cable Guides
Söll Vi-Go automatic pass-through cable sleeve glides easily through intermediate cable guides uninterrupted. Hands and feet are free for climbing.
Söll Vi-Go Ladder Climbing Safety Systems with Manual Pass-Through
Require manual removal/insertion of cable with intermediate guides.
Cable guides secure lifeline to prevent cable wear.
Manual Vi-Go Cable Sleeve follows the worker while ascending and descending.
Cable sleeve locks instantly in the event of a fall. • Accommodate 3/8-inch (10mm) cable.
A cushioning element on each sleeve reduces the load on the cable fixings when there are several users.   
Versatile system
System components are readily available in different models or materials.
The users can choose between prefabricated or flexible system components. 
The selection of system components made of galvanised or stainless steel enables to adapt to environmental conditions
Raccomandazioni / settore industriale
Other
Industria chimica
Edilizia
Produzione
Settore minerario
Municipalizzate
Oil & Gas
Trasporti
Azienda di servizi pubblici
Nucleare
Energia del Vento
Rischi
Normative
Meets EN 353-1 standard (and all applicable OSHA, ANSI and CSA standards)
Avviso
We sincerely believe that our fall protection equipment is the best in the world. Our products endure rigorous test to ensure that the fall protection equipment you trust is manufactured to the highest standards. Miller fall protection products are tested to withstand normal wear and tear, but are not indestructible and can be damaged by misuse. Our Limited Lifetime Warranty does not apply to normal wear and tear or abusive treatment of the product. In the unlikely event that you should discover defects in either workmanship or materials, under our Limited Lifetime Warranty, we will repair or replace the product at our expense. Should a product issue surface, contact us at +33 248 53 08 97 (France, Spain, Portugal, North Africa) or +49 9281 8302 0 (Northern and Central Europe, Italy). Manufacturing specifications are subject to change without notice.
Scheda Tecnica
Nome
Descrizione
Dimensione file
Data
Dimensione
Vi-Go Automatic Pass-Through Cable Sleeve Data Sheet
application/pdf 44.64 KB
9/17/2021
44.64 KB
Vi-Go Data Sheet
application/pdf 96.36 KB
9/17/2021
96.36 KB
Manuali e Guide
Nome
Descrizione
Dimensione file
Data
Dimensione
Vi-Go User Manual
application/pdf 1.58 MB
9/17/2021
1.58 MB
Vi-Go Cable Sleeves User Manual
application/pdf 1.65 MB
9/17/2021
1.65 MB
Opuscolo
Nome
Descrizione
Dimensione file
Data
Dimensione
Fall Miller Top Ladder Bracket System Brochure
application/pdf 2.08 MB
9/17/2021
2.08 MB
Vi-Go Brochure
application/pdf 3.92 MB
9/17/2021
3.92 MB
Vi-Go e-Learning Brochure
application/pdf 701.41 KB
9/17/2021
701.41 KB
Nome
Descrizione
Dimensione file
Data
Dimensione
Nome
Descrizione
Dimensione file
Data
Dimensione