Portables
ToxiRAE Pro CO2
Personal wireless carbon dioxide monitor
Overview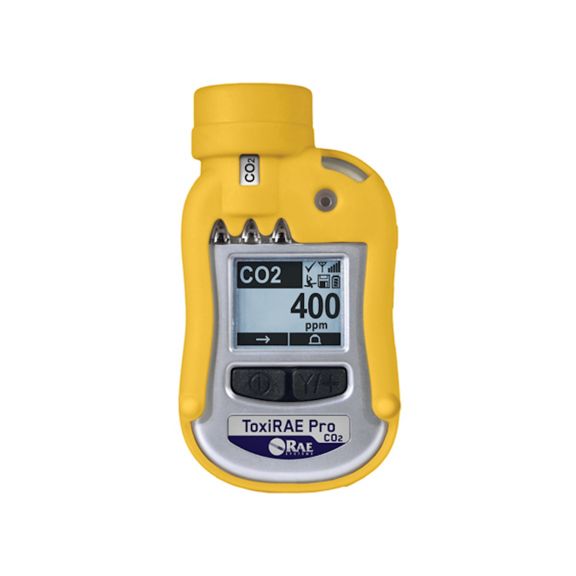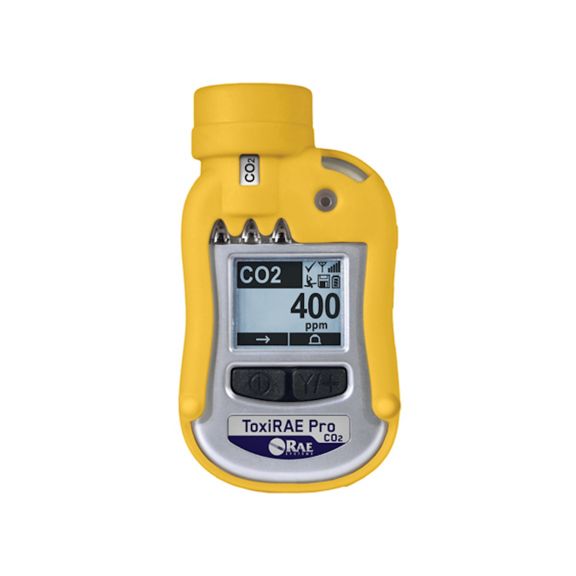 Increase worker safety and improve incident response during compliance-related procedures and periodic testing with this rugged, easy-to-maintain device. The ToxiRAE Pro CO2 is the only wireless CO2 single gas monitor available on the market. The ToxiRAE Pro CO2 is a personal detector that keeps people aware of carbon dioxide levels and facilitates remote monitoring of those readings from a central command station. The ToxiRAE Pro CO2 includes a replaceable filter and sensor, rechargeable lithium-ion battery, and automated bump testing and calibration to make it easy to use and maintain.
Features and Benefits:
First of its kind wireless personal carbon dioxide monitor
Wireless remote access for centralized monitoring
Built-in man down alarm
Rechargeable lithium-ion battery
Automatic bump testing and calibration with AutoRAE 2
5-way local and remote alarm capabilities
Large display​​​​
Readily enables to communicate with Motorola MOTOTRBO
Application:
Emergency Response
Indoor Air Quality
Plant Shutdown & Turn-Around
Worker Exposure
Even the best products deserve expert maintenance!
Elevate your gas detectors' potential with Honeywell's expert maintenance services! Maximize uptime, eliminate costs, and ensure on-time, on-budget project completion.
Explore our fixed, portable, and high-tech support services now!
Data Sheet
Name
Description
File Size
Date
Size
ToxiRAE Pro CO2 Datasheet - EN
application/pdf 105.45 KB
10/7/2021
105.45 KB
Manuals and Guides
Name
Description
File Size
Date
Size
ToxiRAE Pro CO2 User Guide - English
application/pdf 1.78 MB
10/7/2021
1.78 MB
ToxiRAE Pro CO2 Manual RevB
application/pdf 1.68 MB
10/7/2021
1.68 MB
ToxiRAE Pro CO2 QuickStart Guide
application/pdf 291.55 KB
10/7/2021
291.55 KB
ToxiRAE Pro CO2 User Guide
application/pdf 1.68 MB
10/7/2021
1.68 MB
Firmware
Name
Description
File Size
Date
Size
ToxiRAE Pro CO2/LEL/EC/PID V1.86
application/zip 413.87 KB
1/10/2023
413.87 KB
Brochure
Name
Description
File Size
Date
Size
MSI-Honeywell Connected Safety Solution
application/pdf 441.3 KB
10/7/2021
441.3 KB
Technical Note
Name
Description
File Size
Date
Size
Technical Note 114 Sensor Specifications and Cross-Sensitivities
application/pdf 795.02 KB
10/7/2021
795.02 KB
Technical Note 161 Intrinsic Safety And Hazardous Locations
application/pdf 884.37 KB
10/7/2021
884.37 KB
Application Note
Name
Description
File Size
Date
Size
Application Note 222: Carbon Monoxide & Natural Gas Detection For Fire Department Engine Companies
application/pdf 1.17 MB
10/7/2021
1.17 MB
Application Note 218: Measurement Of Fumigants In The Food Storage Industry
application/pdf 901.23 KB
10/7/2021
901.23 KB
Name
Description
File Size
Date
Size
Name
Description
File Size
Date
Size
ToxiRAE Pro CO2 Datasheet - EN
105.45 KB
10/7/2021
ToxiRAE Pro CO2 User Guide - English
1.78 MB
10/7/2021
ToxiRAE Pro CO2 Manual RevB
1.68 MB
10/7/2021
ToxiRAE Pro CO2 QuickStart Guide
291.55 KB
10/7/2021
ToxiRAE Pro CO2 User Guide
1.68 MB
10/7/2021
ToxiRAE Pro CO2/LEL/EC/PID V1.86
413.87 KB
1/10/2023
MSI-Honeywell Connected Safety Solution
441.3 KB
10/7/2021
Technical Note 114 Sensor Specifications and Cross-Sensitivities
795.02 KB
10/7/2021
Technical Note 161 Intrinsic Safety And Hazardous Locations
884.37 KB
10/7/2021
Application Note 222: Carbon Monoxide & Natural Gas Detection For Fire Department Engine Companies
1.17 MB
10/7/2021
Application Note 218: Measurement Of Fumigants In The Food Storage Industry
901.23 KB
10/7/2021

G02-0009-000
ToxiRAE Pro CO2 NDIR Sensor (200 - 50,000ppm, 100ppm res.) / Datalogging / Wireless (900 MHz)

G02-0009-000
ToxiRAE Pro CO2 NDIR Sensor (200 - 50,000ppm, 100ppm res.) / Datalogging / Wireless (900 MHz)