Harnesses, Belts & Accessories
Miller AirCore (Steel) Harnesses
The most unique and innovative fall protection, this lightweight full-body harness is designed with breathable, open-core padding technology that provides optimal air flow, while reducing heat and moisture entrapment, keeping worker drier and cooler.
Overview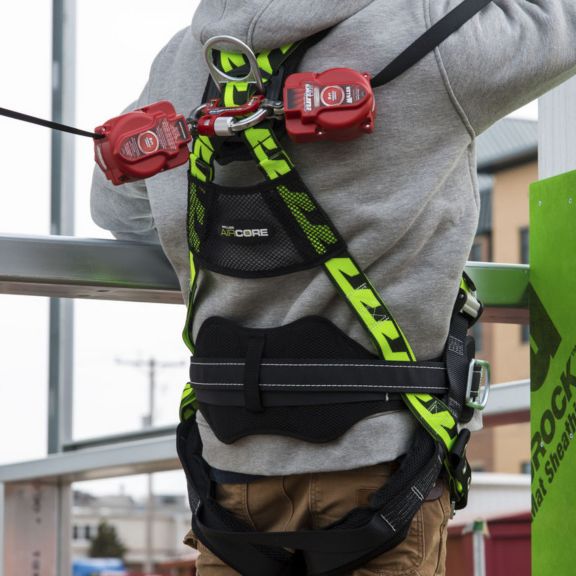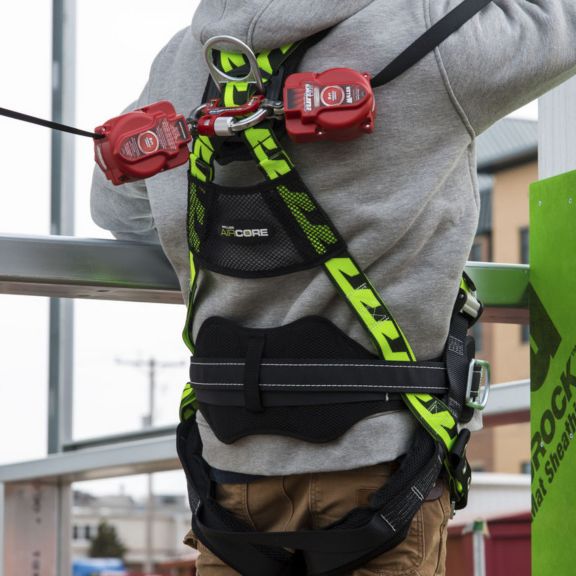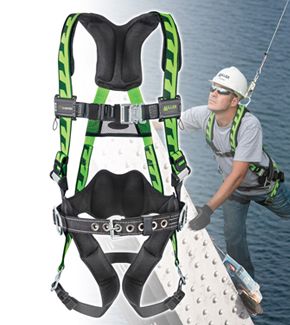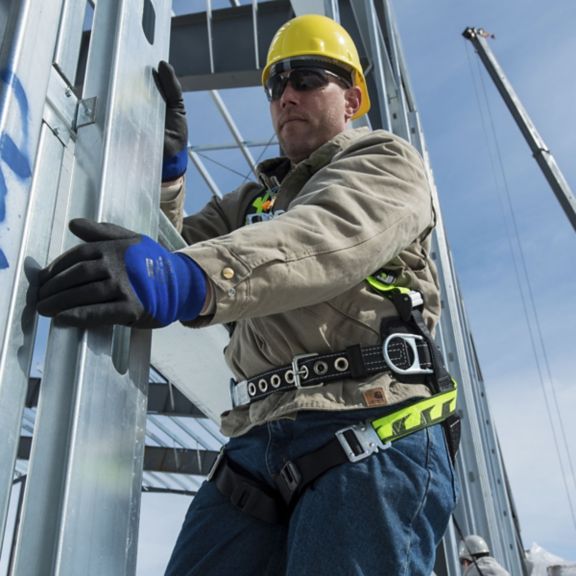 Key Features
COMFORT
Unique breathable, open-core padding technology provides optimal airflow and reduces heat and moisture build-up; up to 16% less surface area than other padding used on the market
 Contoured ergonomic padding design minimizes contact around a worker's neck, lower back and inner thighs to reduce chafing and irritation
Patented DuraFlex stretchable webbing provides greater flexibility
EASY ADJUSTABILITY
Cam buckles provide easy one-hand adjustment; hold webbing firmly in place with no readjusting required
Stand-up back D-ring easily adjusts, simplifies attachment
Quick-connect buckles for easy donning
LIGHTWEIGHT
Materials and components selected to reduce fatigue for all-day endurance and increased productivity; up to 10% lighter than similar competitive harnesses
STYLISH DESIGN  
High-visibility color for greater safety
Unique and vibrant patterned webbing for easy identification

Recommended Industries/Use

Hazards
Confined Space
Fall from height

Regulations
Meets all applicable OSHA and ANSI standards

Warranty Information
We sincerely believe that our fall protection equipment is the best in the world. Our products endure rigorous test to ensure that the fall protection equipment you trust is manufactured to the highest standards. Miller fall protection products are tested to withstand normal wear and tear, but are not indestructible and can be damaged by misuse. Our Limited Lifetime Warranty does not apply to normal wear and tear or abusive treatment of the product. In the unlikely event that you should discover defects in either workmanship or materials, under our Limited Lifetime Warranty, we will repair or replace the product at our expense. If a replacement is necessary and your product is no longer available, a comparable product will be substituted. Should a product issue surface, contact us at 800/873-5242. Manufacturing specifications are subject to change without notice.
Data Sheet
Name
Description
File Size
Date
Size
Miller Aircore Steel Harnesses Datasheet
application/pdf 195.92 KB
10/26/2021
195.92 KB
Aircore Harness Data Sheet
application/pdf 553.39 KB
10/21/2021
553.39 KB
Manuals and Guides
Name
Description
File Size
Date
Size
Harness & Body Belt User Manual
application/pdf 2 MB
10/21/2021
2 MB
Brochure
Name
Description
File Size
Date
Size
Miller Aircore Steel Harnesses Literature
application/pdf 232.71 KB
10/26/2021
232.71 KB
AirCore Harness Brochure
application/pdf 1.69 MB
10/21/2021
1.69 MB
Others
Name
Description
File Size
Date
Size
AirCore Front D-Ring Harness FAQ'S
application/pdf 304.06 KB
10/21/2021
304.06 KB
Name
Description
File Size
Date
Size
Name
Description
File Size
Date
Size