Electric Vehicles Sensors
CSHV Series
Current Sensors. Current measurement for battery management systems in electrified vehicles (EV, HEV, PHEV, BEV). Current leakage detection and fault isolation in battery charging systems
Overview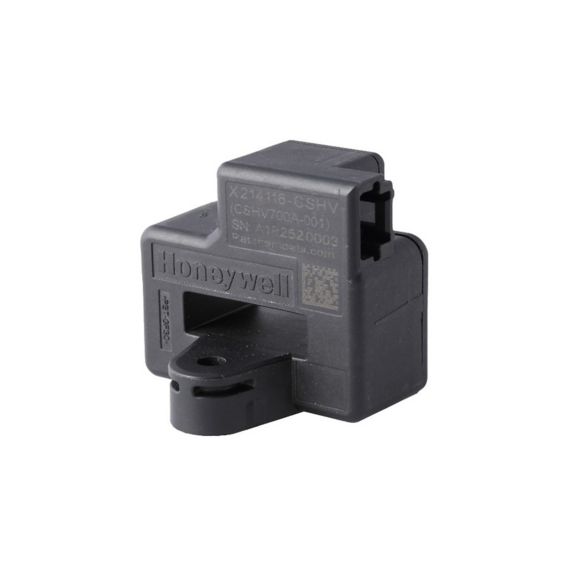 The CSHV Series are open loop current sensors that use Hall-effect sensing and patented Honeywell technology to bring the best combination of performance and reliability for current sensing applications.
These products are non-intrusive and electrically isolated from the monitored circuit. This ensures a simple sensing method. They are rated for a primary current measurement range of ±100 A to ±1500 A dc.
The CSHV Series is AEC-Q100 qualified to meet higher quality and reliability. For motor control applications, the current measurement is directly proportional to the motor torque. Current measurement can also be used to determine the speed at which the motor is turning. Such speed information can be calculated by understanding how the control algorithm affects the current level.
FEATURES
Active open loop current sensing using Hall-effect technology
High accuracy and low temperature drift
Operating temperature of -40°C to 125°C [-40°F to 257°F]
Analog voltage output
CE and UKCA certification; REACH and RoHS compliant
AEC-Q100 qualified for higher reliability
DIFFERENTIATION
Accuracy: Hall-effect sensing and stable amplification circuitry for improved accuracy over the full operating temperature range.
Magnetic immunity: Optimized magnetic circuit allows for excellent performance in diverse magnetic environments.
Flexible: Customizable to meet specific application requirements.
VALUE TO CUSTOMERS
Accurate: Designed to enable precise battery state measurement for improved user experience. Accurate current sensing enables precise and smooth motor control
Fast Response Time: Fast response time allows fault detection and asset protection before catastrophic failure.
Ease of use: Magnetic immunity allows for easy integration into different magnetic environments.
Easy system integration: Analog voltage output may be used by battery management system.
APPLICATIONS
Current measurement for battery management systems in electrified vehicles (EV, HEV, PHEV, BEV)
Current leakage detection and fault isolation in battery charging systems
Current measurement in energy storage systems
Fault detection in heavy industrial equipment
Data Sheet
Name
Description
File Size
Date
Size
CSHV Series - Open Loop Current Sensors
application/pdf 633.11 KB
11/16/2022
633.11 KB
CAD Model
Name
Description
File Size
Date
Size
CSHV Series CAD Models
application/zip 431.78 KB
11/16/2022
431.78 KB
Brochure
Name
Description
File Size
Date
Size
Sensing and Safety Solutions for Electric Vehicles
application/pdf 3.41 MB
12/14/2022
3.41 MB
Name
Description
File Size
Date
Size
CSHV Series - Open Loop Current Sensors
633.11 KB
11/16/2022
633.11 KB
CSHV Series CAD Models
431.78 KB
11/16/2022
431.78 KB
Sensing and Safety Solutions for Electric Vehicles
3.41 MB
12/14/2022
3.41 MB
Name
Description
File Size
Date
Size
CSHV Series - Open Loop Current Sensors
633.11 KB
11/16/2022
CSHV Series CAD Models
431.78 KB
11/16/2022
Sensing and Safety Solutions for Electric Vehicles
3.41 MB
12/14/2022