Electric Vehicles Sensors
CSNV700 Series
Current Sensors. High accuracy and low temperature drift. Operating temperature of -40°C to 85°C [-40°F to 185°F]. Digital output: CAN bus output with configurable ID
Overview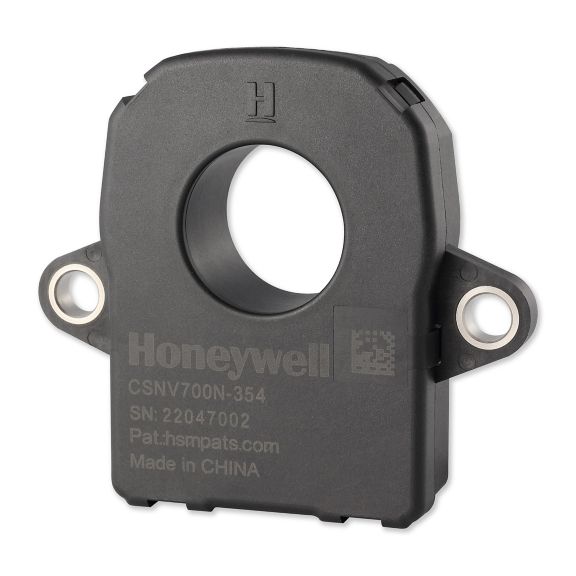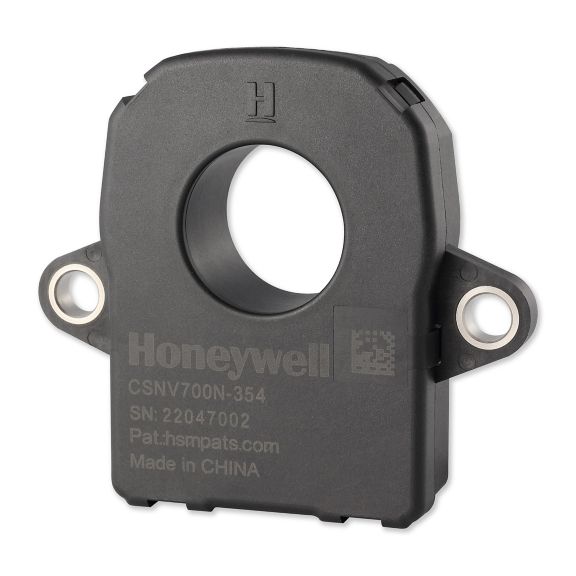 The CSNV700 Series are advanced flux gate current sensors that use Honeywell's patented technology to bring the best combination of performance and reliability. They are non-intrusive and electrically isolated from the monitored circuit. This ensures a simple and reliable structure without loss of power to the monitored circuit.
The CSNV700 Series are rated for a primary current measurement range of ±700 A dc. They are calibrated and temperature compensated for improved accuracy using multi-point temperature characterization. The CSNV700 is AEC-Q100 qualified to meet higher quality and reliability.
FEATURES
Active flux gate current sensing
Utilizes proprietary Honeywell technology for temperature compensation
High accuracy and low temperature drift
Operating temperature of -40°C to 85°C [-40°F to 185°F]
Digital output: CAN bus output with configurable ID
Internal diagnostic function
Different configuration options: Mounting type, baud rate, CAN ID
UL, CE, UKCA certifications; REACH and RoHS compliant
AEC-Q100 qualified for higher reliability
DIFFERENTIATION
Accuracy: Multi-point temperature characterization and calibration for improved accuracy over temperature range.
Magnetic immunity: Flux gate configuration and optimized magnetic circuit allow for excellent performance in diverse magnetic environments.
Flexible: Customizable on-board firmware to meet specific application requirements.
VALUE TO CUSTOMERS
Accurate: Designed to enable precise battery state measurement for improved user experience.
Ease of use: Magnetic immunity allows for easy integration into different magnetic environments.
Easy system integration: CAN communication is transmitted using international road vehicle standard ISO 11898. CAN 2.0B is the default protocol, CAN 2.0A is available as a custom variant.
APPLICATIONS
Current measurement for battery management systems in electrified vehicles (EV, HEV, PHEV or BEV)
Current leakage detection and fault isolation in charging systems
Current measurement in energy storage systems
Fault detection in heavy industrial equipment
CUSTOMIZATION
The CSNV700 Series may be customized to meet application needs. Solutions may be tailored to exact specifications for improved time to market, lower total system costs and enhanced reliability. For technical assistance, we provide global engineering and service support for your needs.
Data Sheet
Name
Description
File Size
Date
Size
application/pdf 598.01 KB
12/14/2022
598.01 KB
CAD Model
Name
Description
File Size
Date
Size
CSNV700 Series CAD Models
application/zip 267.3 KB
11/16/2022
267.3 KB
Brochure
Name
Description
File Size
Date
Size
Sensing and Safety Solutions for Electric Vehicles
application/pdf 3.41 MB
12/14/2022
3.41 MB
Name
Description
File Size
Date
Size
598.01 KB
12/14/2022
598.01 KB
Sensing and Safety Solutions for Electric Vehicles
3.41 MB
12/14/2022
3.41 MB
CSNV700 Series CAD Models
267.3 KB
11/16/2022
267.3 KB
Name
Description
File Size
Date
Size
CSNV700 Series CAD Models
267.3 KB
11/16/2022
Sensing and Safety Solutions for Electric Vehicles
3.41 MB
12/14/2022