Portables
AreaRAE Plus
Transportable area monitor for multiple threat detection
Overview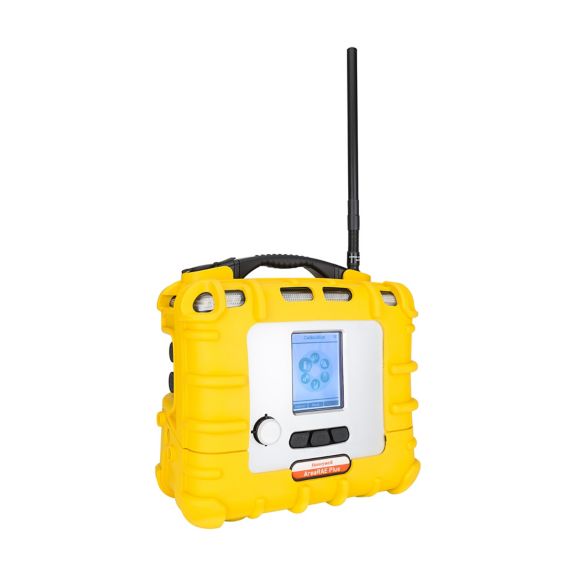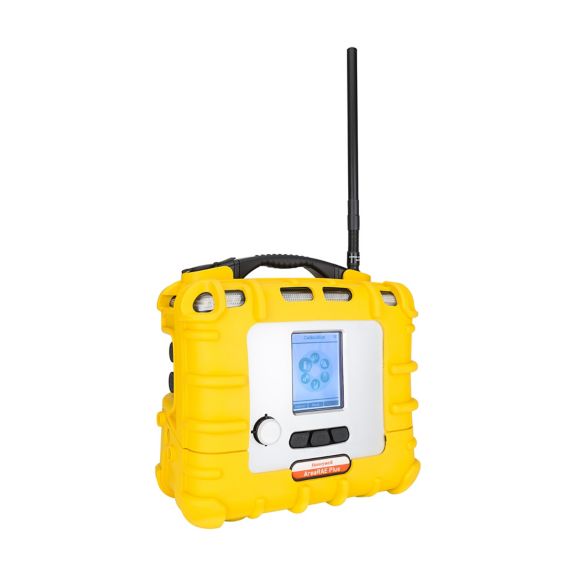 The AreaRAE Plus provides superior detection of toxic and combustible gases, VOCs and wind speed, direction and humidity—all in one easy-to configure device. Plus, you'll have vital details about threats happening in real-time—arming you with the information you need to act quickly.
Features and Benefits:
Monitors up to seven threats, including VOCs, combustibles, Toxics and Oxygen
Optional meteorological sensor for tracking toxic plumes
7R+ photoionization detector (PID) for monitoring VOCs at parts per million
Secondary radio module (Mesh) act as an communication Hub for other wireless devices
Ruggedized, portable, and weather-resistant design for harsh environments
Part of ConneXt Safety Solutions with ISM and Wi-Fi wireless configurations
Application:
Confined Space Entry
Environmental Cleanups/ Remediation
Fence Line Monitoring
Leak Detection
Plant Shutdown & Turn-Around
Even the best products deserve expert maintenance!
Elevate your gas detectors' potential with Honeywell's expert maintenance services! Maximize uptime, eliminate costs, and ensure on-time, on-budget project completion.
Explore our fixed, portable, and high-tech support services now!
Range
Humidity Range
Sensor Range

VOC (0-2000ppm), LEL (0-100%LEL), CO2 (0-50000ppm), NH3 (0-100ppm), CO (0-2000ppm), Cl2 (0-50ppm), ETO (0-500ppm), H2 (0-2000ppm), HCL (0-15ppm), HCN (0-50ppm), HF (0.5-10ppm), H2S (0-1000ppm), O2 (0-30%), SO2 (0-20ppm), NO (0-250ppm), NO2 (0-20ppm), PH3 (0-20ppm)
Alarm
Alarm Type

Visual, Audible, Vibrating
Certifications
Standards

US / Canada: Class 1, Division 2 Groups A, B, C, D
Datalogging
Datalogging

Continuous data logging (90 days for 7 gas sensors, 1 Gamma
Features & Benefits
Benefits

Delivers real-time readings to Honeywell's
Options
User Options

3 operation and programming keys
Warranty
Warranty

Four years for O2 Liquid Oxygen sensors
Additional Specifications
Ingress Protection
Gas Type

VOC, LEL, CO2, NH3, CO, Cl2, ETO, H2, HCL, HCN, HF, H2S, O2, SO2, NO, NO2, PH3
Range
Sensor Range

VOC (0-2000ppm), LEL (0-100%LEL), CO2 (0-50000ppm), NH3 (0-100ppm), CO (0-2000ppm), Cl2 (0-50ppm), ETO (0-500ppm), H2 (0-2000ppm), HCL (0-15ppm), HCN (0-50ppm), HF (0.5-10ppm), H2S (0-1000ppm), O2 (0-30%), SO2 (0-20ppm), NO (0-250ppm), NO2 (0-20ppm), PH3 (0-20ppm)
Alarm
Alarm Type

Visual, Audible, Vibrating
Certifications
Standards

US / Canada: Class 1, Division 2 Groups A, B, C, D
Datalogging
Datalogging

Continuous data logging (90 days for 7 gas sensors, 1 Gamma
Features & Benefits
Benefits

Delivers real-time readings to Honeywell's
Options
User Options

3 operation and programming keys
Warranty
Warranty

Four years for O2 Liquid Oxygen sensors
Additional Specifications
Gas Type

VOC, LEL, CO2, NH3, CO, Cl2, ETO, H2, HCL, HCN, HF, H2S, O2, SO2, NO, NO2, PH3
Sub-Category : Transportable
Instrument Size : 12.36" x 12.04" x 6.53"
Humidity Range : 0%-95% percent
Sensor Range : VOC (0-2000ppm), LEL (0-100%LEL), CO2 (0-50000ppm), NH3 (0-100ppm), CO (0-2000ppm), Cl2 (0-50ppm), ETO (0-500ppm), H2 (0-2000ppm), HCL (0-15ppm), HCN (0-50ppm), HF (0.5-10ppm), H2S (0-1000ppm), O2 (0-30%), SO2 (0-20ppm), NO (0-250ppm), NO2 (0-20ppm), PH3 (0-20ppm)
Alarm Type : Visual, Audible, Vibrating
Battery Run Time : 20 Hours hours
Standards : US / Canada: Class 1, Division 2 Groups A, B, C, D
Datalogging : Continuous data logging (90 days for 7 gas sensors, 1 Gamma
Benefits : Delivers real-time readings to Honeywell's
User Options : 3 operation and programming keys
Warranty : Four years for O2 Liquid Oxygen sensors
Wireless Technology : BLE, MESH, WiFi, LORA
Ingress Protection : IP65
Gas Type : VOC, LEL, CO2, NH3, CO, Cl2, ETO, H2, HCL, HCN, HF, H2S, O2, SO2, NO, NO2, PH3
Data Sheet
Manuals and Guides
Firmware
Brochure
Technical Note
White Paper
Certificate
Application Note
Name
Description
File Size
Date
Size
Name
Description
File Size
Date
Size