Portables
GasAlertQuattro
GasAlertQuattro
Overview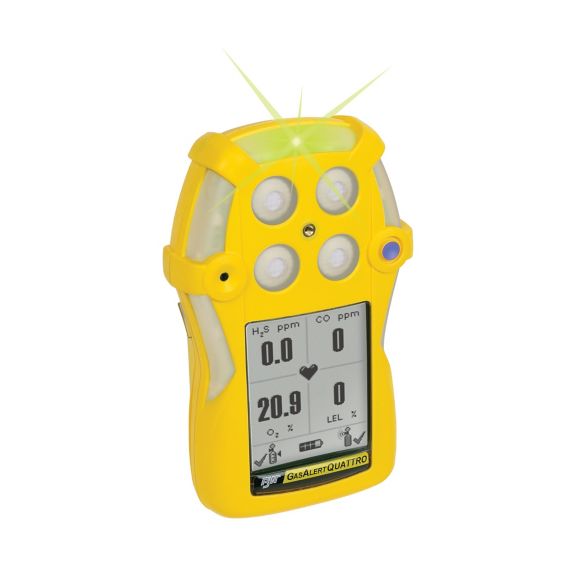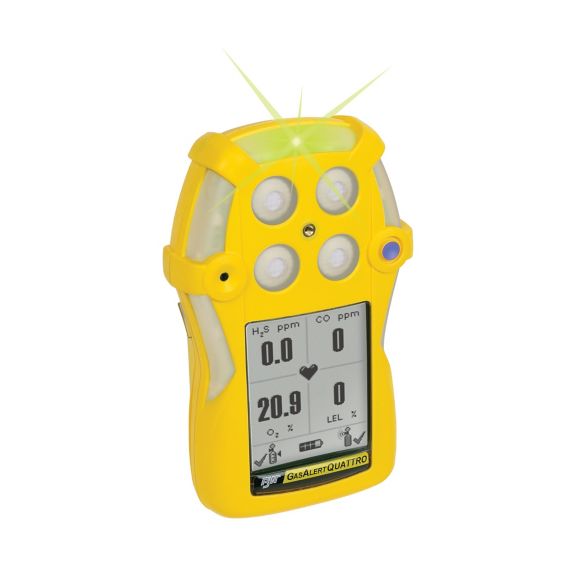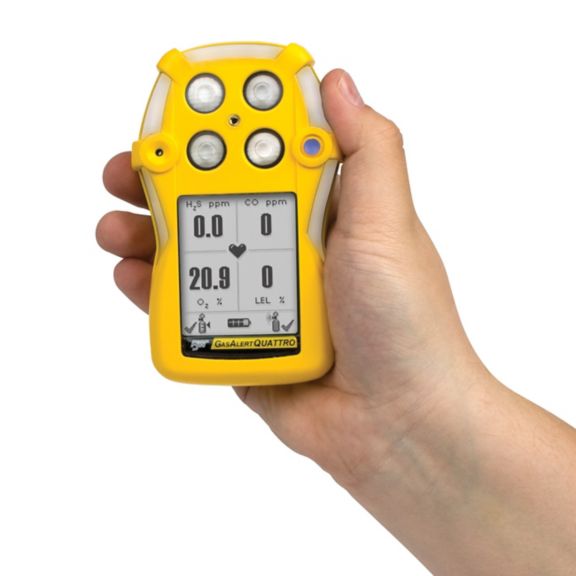 Rugged and reliable, the GasAlertQuattro four-gas detector combines a comprehensive range of features with simple one-button operation.
Product Overview:
With flexible power options, the GasAlertQuattro is always ready. The graphic LCD displays easy to identify icons that indicate operational information, such as bump test and calibration status for simplified onsite auditing. IntelliFlash provides continuous visual confirmation of detector operation and compliance. Suited to a wide range of industrial applications including confined space entry.
Additional GasAlertQuattro features:
Interchangeable rechargeable battery pack or alkaline pack with 3 AA batteries
Comprehensive datalogging and event logging capacity
IntelliFlash verifies operation and compliance to user and supervisors from up to 20 ft. / 6.1 m
Field-proven SureCell sensors offer an unprecedented performance in even the harshest environments.
Features & Benefits:
Compact and lightweight design makes it comfortable to wear
Simple one-button operation for ease of use
Compatible with MicroDock II
Quick Specs:
Size: 5.1 x 3.2 x 1.9 in. / 13.0 x 8.1 x 4.7 cm
Temperature: -4 to +122°F / -20 to +50°C
Enhanced resistance to common industrial cross sensitive gases such as methanol and ethanol (CO and H2S sensors)
Even the best products deserve expert maintenance!
Elevate your gas detectors' potential with Honeywell's expert maintenance services! Maximize uptime, eliminate costs, and ensure on-time, on-budget project completion.
Explore our fixed, portable, and high-tech support services now!
Features & Benefits
Features

Compact and lightweight design makes it comfortable to wear

Compatible with MicroDock II

Simple one-button operation for ease of use
Features & Benefits
Features

Compact and lightweight design makes it comfortable to wear

Compatible with MicroDock II

Simple one-button operation for ease of use
Features : Compact and lightweight design makes it comfortable to wear|Compatible with MicroDock II|Simple one-button operation for ease of use
Data Sheet
Manuals and Guides
Brochure
Certificate
Others
Name
Description
File Size
Date
Size
Name
Description
File Size
Date
Size

128816-L3

128817-L3

128818-L3

128823-L3

128824-L3

128825-L3

128836-L3

128837-L3
Gasalertquattro O2 Lel H2S Co W Batt

128838-L3
GASALERTQUATTRO O2 LEL H2S CO W BATT

128843-L3

128816-L3

128817-L3

128818-L3

128823-L3

128824-L3

128825-L3

128836-L3

128837-L3
Gasalertquattro O2 Lel H2S Co W Batt

128838-L3
GASALERTQUATTRO O2 LEL H2S CO W BATT

128843-L3