Portables
Honeywell BW™ Clip4
Honeywell BW™ Clip4
Overview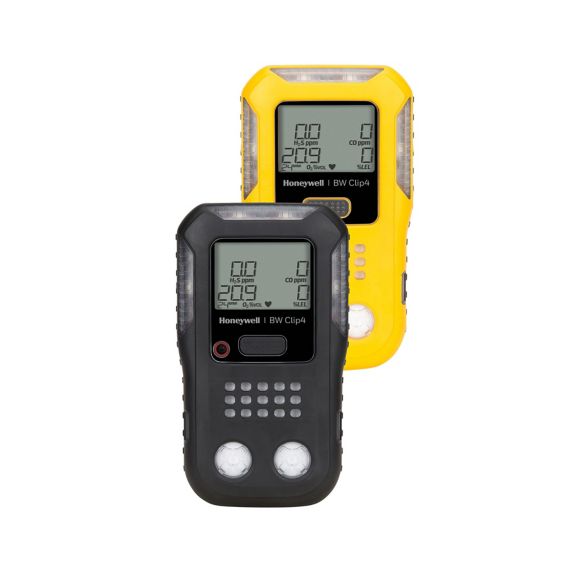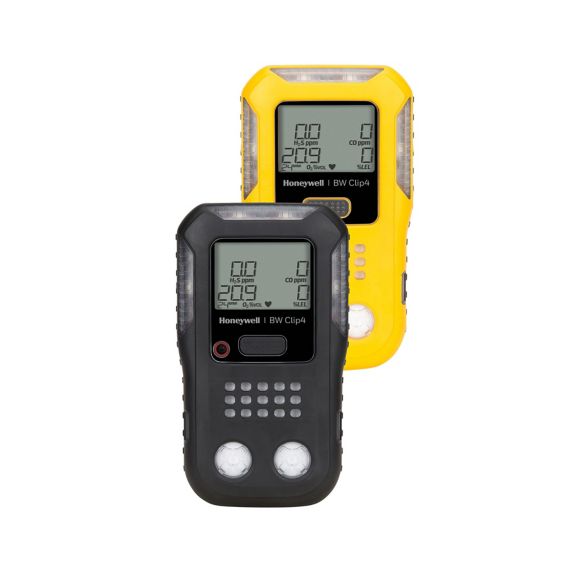 The latest in wearable 4-gas detection. Just clip it on and get the job done. Because for 2 years, you know – IT'S ON.
Product Overview:
When you've got your hands full in the field, you need no hassle gas detection you can count on: The Honeywell BW™ Clip4 four-gas detector
Wearable, easy multi-gas detection that's always on. No charging, no battery replacement, no hassle. Simpler, low cost of ownership guaranteed by the Honeywell commitment to quality, and backed by a full ecosystem of supporting technologies. When you clip on the Honeywell BW™ Clip4 you know – it's on. Always On: 2-Year Continuous Runtime. Once activated, you can rest assured that the Honeywell BW™ Clip4 is always on. The Honeywell BW™ Clip4 is easy to wear and use. Lower your maintenance costs with two years of continuous runtime without charging and no battery or sensor replacements. Simply turn your new detector on and then after two years replace it for a new one.
Features & Benefits:
2 year continuous runtime
It's always on
Simple one-button operation
Low cost of ownership
Quick Specs:
H2S, CO, LEL, O2
No hassle
No charging
No sensor/battery replacements
IntelliDoX compatible
Even the best products deserve expert maintenance!
Elevate your gas detectors' potential with Honeywell's expert maintenance services! Maximize uptime, eliminate costs, and ensure on-time, on-budget project completion.
Explore our fixed, portable, and high-tech support services now!
Features & Benefits
Features

2 year continuous runtime. It's always on

Low cost of ownership.

Simple one-button operation
Features & Benefits
Features

2 year continuous runtime. It's always on

Low cost of ownership.

Simple one-button operation
Battery Run Time : 2 hours
Features : 2 year continuous runtime. It's always on|Low cost of ownership.|Simple one-button operation
Data Sheet
Name
Description
File Size
Date
Size
Honeywell BW™ Clip4 Data Sheet
application/pdf 290.88 KB
7/27/2021
290.88 KB
Manuals and Guides
Name
Description
File Size
Date
Size
Fleet Manager II 4.1 Operator Manual
application/postscript 9.78 MB
7/27/2021
9.78 MB
Honeywell BW Clip4 Certificate - Dutch
application/pdf 3.14 MB
10/6/2021
3.14 MB
BW™ Clip4 Quick Start Guide
application/pdf 1.22 MB
7/27/2021
1.22 MB
Honeywell BW™ Clip4 Operator Manual
application/pdf 3.14 MB
7/27/2021
3.14 MB
Brochure
Name
Description
File Size
Date
Size
Portable Gas Detection Product Guide
application/pdf 2.5 MB
5/16/2023
2.5 MB
Technical Note
Name
Description
File Size
Date
Size
Honeywell BW™ Clip4 Order Sheet
application/pdf 100.28 KB
7/27/2021
100.28 KB
Certificate
Name
Description
File Size
Date
Size
BW™ Clip4 IECEx Certificate of Conformity
application/pdf 200.95 KB
7/27/2021
200.95 KB
BW™ Clip4 Atex Declaration of Conformity
application/pdf 370.86 KB
7/27/2021
370.86 KB
Honeywell BW™ Clip4 Atex Type Examination Certificate
application/pdf 360.63 KB
7/27/2021
360.63 KB
BW™ Clip4 CSA Certificate of Compliance
application/pdf 96.52 KB
7/27/2021
96.52 KB
Honeywell BW Clip4 Certificate - Dutch
application/pdf 2.79 MB
10/6/2021
2.79 MB
Name
Description
File Size
Date
Size
Name
Description
File Size
Date
Size
Honeywell BW™ Clip4 Data Sheet
290.88 KB
7/27/2021
Fleet Manager II 4.1 Operator Manual
9.78 MB
7/27/2021
Honeywell BW Clip4 Certificate - Dutch
3.14 MB
10/6/2021
BW™ Clip4 Quick Start Guide
1.22 MB
7/27/2021
Honeywell BW™ Clip4 Operator Manual
3.14 MB
7/27/2021
Portable Gas Detection Product Guide
2.5 MB
5/16/2023
Honeywell BW™ Clip4 Order Sheet
100.28 KB
7/27/2021
BW™ Clip4 IECEx Certificate of Conformity
200.95 KB
7/27/2021
BW™ Clip4 Atex Declaration of Conformity
370.86 KB
7/27/2021
Honeywell BW™ Clip4 Atex Type Examination Certificate
360.63 KB
7/27/2021
BW™ Clip4 CSA Certificate of Compliance
96.52 KB
7/27/2021
Honeywell BW Clip4 Certificate - Dutch
2.79 MB
10/6/2021

BWC4-AG
Replacement alligator clip for BW Clip4

BWC4-B-C

BWC4-B-E
BW Clip4 (O₂, LEL, H₂S, CO), EMEA version, black housing

BWC4-B-N
4-gas detector (O2, LEL, H2S, CO) - black housing, North American version

BWC4-B-R
BW Clip4 (O₂, LEL, H₂S, CO), Customs Union certified, black housing

BWC4-BC
Replacement back case for BW Clip4

BWC4-FCLCD-B
Replacement front case including LCD for BW Clip4 (black)

BWC4-FCLCD-Y
Replacement front case including LCD for BW Clip4 (yellow)

BWC4-SCREW
Replacement screw kit for BW Clip4 (kit of 30)

BWC4-SS
Replacement sensor screens for BW Clip4 (kit of 2)

BWC4-AG
Replacement alligator clip for BW Clip4

BWC4-B-C

BWC4-B-E
BW Clip4 (O₂, LEL, H₂S, CO), EMEA version, black housing

BWC4-B-N
4-gas detector (O2, LEL, H2S, CO) - black housing, North American version

BWC4-B-R
BW Clip4 (O₂, LEL, H₂S, CO), Customs Union certified, black housing

BWC4-BC
Replacement back case for BW Clip4

BWC4-FCLCD-B
Replacement front case including LCD for BW Clip4 (black)

BWC4-FCLCD-Y
Replacement front case including LCD for BW Clip4 (yellow)

BWC4-SCREW
Replacement screw kit for BW Clip4 (kit of 30)

BWC4-SS
Replacement sensor screens for BW Clip4 (kit of 2)