Portables
MiniRAE Lite +
Handheld VOC monitor
Overview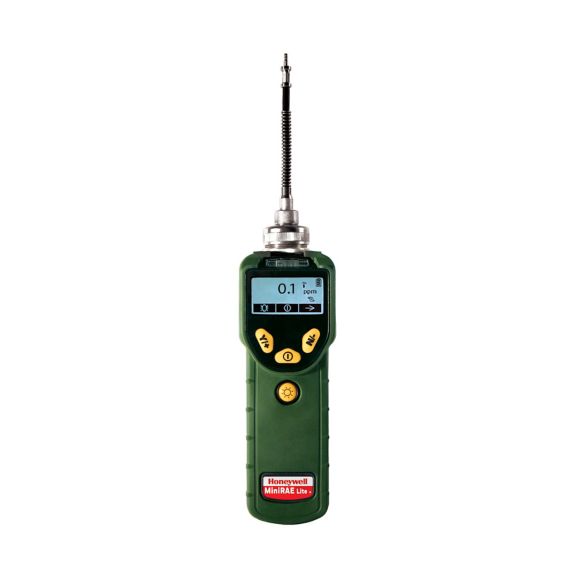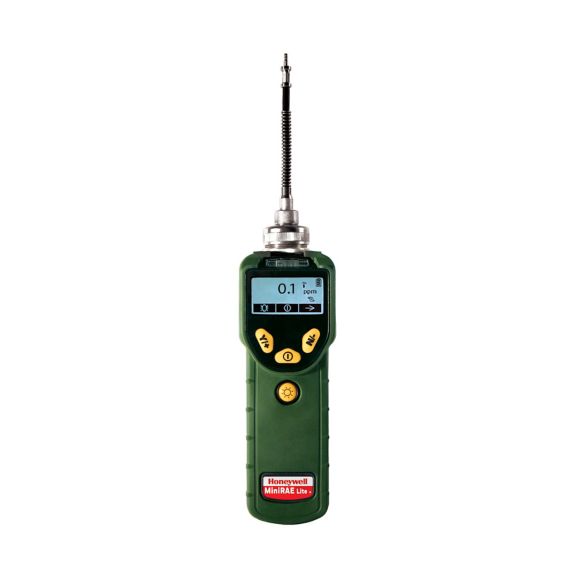 This affordable hand-held monitor for VOCs provides superior reliability for leak detection and environmental cleanup and remediation. With a photoionization detector that measures from 0-5,000 ppm, a built-in flashlight, and a rugged housing designed for harsh environments, it's perfect for a range of applications and approved for safe area use in North America. The pump draws samples from up to 100 feet away, and with a 3-second response time, the MiniRAE Lite + can detect a leak before it can cause harm. This device supports more than 10 languages, and includes a large display and large keys that can be operated with up to three layers of gloves.
MiniRAE Lite+ can also be solution oriented through its optional BLE module and dedicated mobile APP has been developed for survey applications.
Features and Benefits:
Portable handheld VOC monitor
PID measures from 0-5,000 ppm
3-second response time
Humidity compensation
Built-in flashlight
Rugged housing for harsh environments
Simple maintenance
Multi-language capability – up to 10 languages
10.6 lamps for TVOC
Logs up to 6 months of data at 1-minute intervals
Optional BLE moduel
Application:
Environmental Cleanups/ Remediation
Leak Detection
Even the best products deserve expert maintenance!
Elevate your gas detectors' potential with Honeywell's expert maintenance services! Maximize uptime, eliminate costs, and ensure on-time, on-budget project completion.
Explore our fixed, portable, and high-tech support services now!
Data Sheet
Manuals and Guides
Technical Note
Certificate
Application Note
Others
Name
Description
File Size
Date
Size
Name
Description
File Size
Date
Size

059-9100-100

059-A100-000
MiniRAE LITE/PID10.6/ALK/NO-ATX

059-A100-300
MiniRAE LITE/PID10.6/ALK/NO-ATX

059-A100-400
MiniRAE LITE/PID10.6/ALK/NO-ATX

059-A100-500
MiniRAE LITE/PID10.6/ALK/NO-ATX

059-A106-000
MiniRAE LITE/PID10.6/ALK/ATEX

059-A106-300
MiniRAE LITE/PID10.6/ALK/ATEX

059-A106-400
MiniRAE LITE/PID10.6/ALK/ATEX

059-A106-500
MiniRAE LITE/PID10.6/ALK/ATEX

059-A110-000
MiniRAE Lite+, No Certification of Intrinsic Safety, PID 10.6 eV lamp 1/2″, Rechargeable Li-Ion battery, universal adapter, travel charger - NOT ATEX CERTIFIED!, Monitor only

059-9100-100

059-A100-000
MiniRAE LITE/PID10.6/ALK/NO-ATX

059-A100-300
MiniRAE LITE/PID10.6/ALK/NO-ATX

059-A100-400
MiniRAE LITE/PID10.6/ALK/NO-ATX

059-A100-500
MiniRAE LITE/PID10.6/ALK/NO-ATX

059-A106-000
MiniRAE LITE/PID10.6/ALK/ATEX

059-A106-300
MiniRAE LITE/PID10.6/ALK/ATEX

059-A106-400
MiniRAE LITE/PID10.6/ALK/ATEX

059-A106-500
MiniRAE LITE/PID10.6/ALK/ATEX

059-A110-000
MiniRAE Lite+, No Certification of Intrinsic Safety, PID 10.6 eV lamp 1/2″, Rechargeable Li-Ion battery, universal adapter, travel charger - NOT ATEX CERTIFIED!, Monitor only