Portables
UltraRAE 3000 +
The most advanced wireless handheld VOC monitor with parts per million measurement
Overview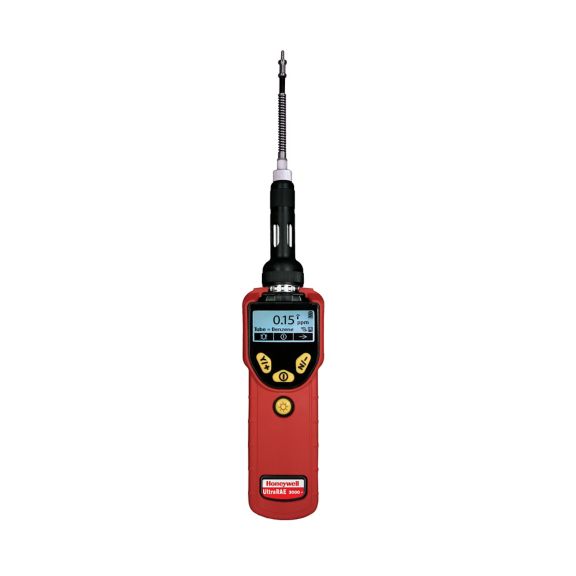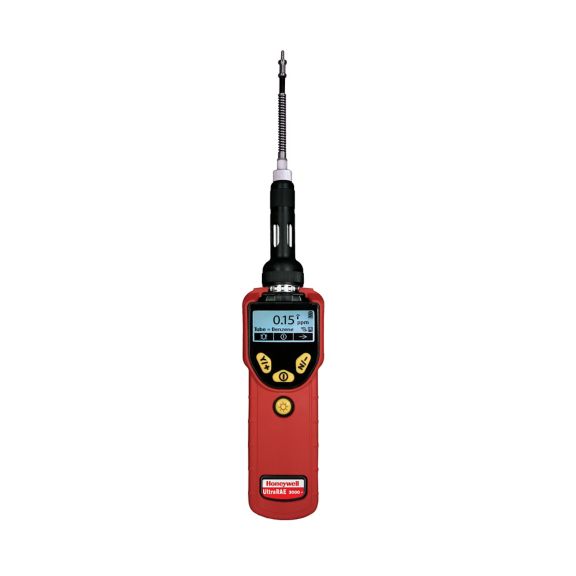 The UltraRAE 3000 is the most advanced Compound-Specific Monitor on the market. Its Photoionization Detector's (PID)extended range of 0.01 to 10,000 ppm in VOC mode and 10 ppb to 200 ppm in benzene-specific mode makes it an ideal instrument for applications, from entry pre-screening during refinery and plant maintenance to hazardous material response, marine spill response and refinery down-stream monitoring.
Dual detection mode for total benzene exposure assessment: 60-second snapshot or 15-minute STEL measurement
High sensitivity to benzene (as low as 10 ppb) provides a lower detection range for future benzene exposure limits
Lower risk of false alarms through advanced speciation method
Total VOC measurement mode with extended range of 0.05 to 10,000 ppm
Key Features:
Proven PID technology
3-second response in VOC mode or 60 seconds in compound-specific mode
Extended range up to 10,000 ppm (in VOC mode) with improved linearity
Built-in humidity sensor
Automatic temperature-controlled sampling time calculation
Highly specific readings, combining a 9.8eV UV lamp and RAE-Sep™ benzene tube
New sampling probe design provides instant tube-breakthrough visibility
Versatile VOC or Benzene-Specific modes
Real-time wireless with built-in Bluetooth and optional RAELink3 portable modem
Integrated RAE Systems Correction Factors list for more than 200 compounds
Easy to Use:
Large graphic display
Multi-language support
Easy access to lamp, sensor and battery in seconds without tools
Low Cost of Ownership:
Inexpensive analysis using low-cost RAE-Sep tubes
Applications:
Confined space entry pre-screening during refinery and plant maintenance
Hazardous material response
Marine spill response
Refinery down-stream monitoring
Plant overhaul
Monitor Only Includes:
UltraRAE 3000 Monitor, Model PGM-7360
Wireless communication module built-in
Datalogging with ProRAE Studio II Package for Windows® XP, Windows® Vista, or Windows® 7
Travel Charger
RAE UV lamp and RAE-Sep™ Tubes
Flex-I-Probe™ and short probe
External filter
Red rubber boot
Alkaline battery adapter
Lamp-cleaning kit
Tool kit
Lithium-ion (Li-Ion) battery with universal AC/DC charger and international plug kit
Operation CD-ROM
Operation & Maintenance manual
Soft leather carrying case
Even the best products deserve expert maintenance!
Elevate your gas detectors' potential with Honeywell's expert maintenance services! Maximize uptime, eliminate costs, and ensure on-time, on-budget project completion.
Explore our fixed, portable, and high-tech support services now!
Data Sheet
Manuals and Guides
Technical Note
Certificate
Application Note
Others
Name
Description
File Size
Date
Size
Name
Description
File Size
Date
Size

059-9160-100

059-D310-000

059-D310-200

059-9160-100

059-D310-000

059-D310-200