Specialty Gloves
CHAINEXTEND
Stainless steel chainmail (4mm) apron or tunic. Protection level 2. Food contact.
Overview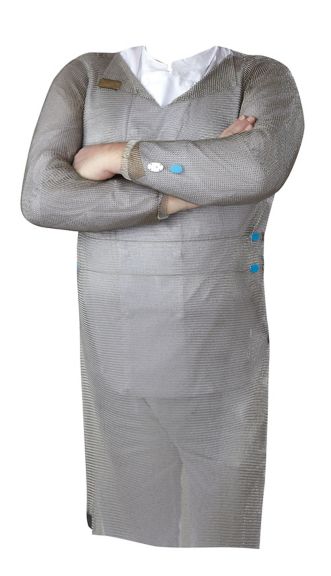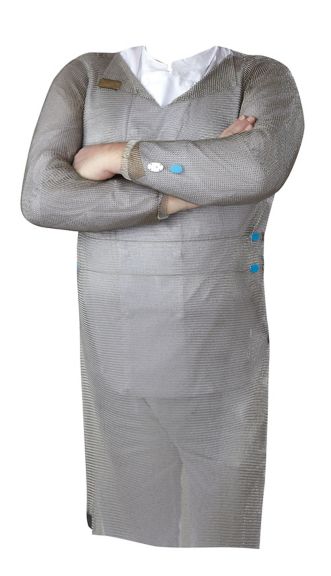 Key Features
The Chainextend line features stainless steel metal mesh tunic (Level 2 to EN 13998). Arm (wrist to shoulder) is protection level 1 to EN 13998 and EN 1082-1
COMFORT


Despite the tight mesh, the tunic 's weight is quite moderate with a good
weight distribution

on

the

shoulders

.

No pressure is

exerted by the weight

of the

chainmail

on

the

neck of the user

.
Reversible
, suitable for
left and right handed
.
RESISTANCE


The outstanding quality of CHAINEX chainmail is an added guarantee of durability.
SAFETY
Tight mesh approved for Level 2 protection. Offers protection against cuts but not accidental perforations.
HYGIENE
Compatible with food contact.
Recommended Industries/Use
Food Services
Manufacturing
Hazards
Regulations
Category 2 : Intermediate risks.
EN 13998 level 1 & 2 - Aprons, trousers and vests protecting against cuts and stabs by hand knives.
Food contact -
Historical Brand
Chainex
Warranty Information
Honeywell warrants that it's Honeywell Protective Gloves are free from defects in material and workmanship. This limited warranty does not cover any product or component found to have been altered, misused, abused, tampered with or improperly maintained or to have deteriorated due to aging of any component made of rubber or any other elastomer. The limited warranty does not cover any damage, loss or expense due to damage caused by accident, abuse, improper maintenance, use or misuse of the product.
Data Sheet
Name
Description
File Size
Date
Size
Chainextend - Datasheet
application/pdf 1.95 MB
6/16/2021
1.95 MB
Chainextend Data Sheet - Nordics
application/pdf 1.94 MB
1.94 MB
Manuals and Guides
Name
Description
File Size
Date
Size
Chainextend - Literature
application/pdf 1.22 MB
6/16/2021
1.22 MB
Name
Description
File Size
Date
Size
Chainextend - Datasheet
1.95 MB
6/16/2021
1.95 MB
Chainextend Data Sheet - Nordics
1.94 MB
1.94 MB
Chainextend - Literature
1.22 MB
6/16/2021
1.22 MB
Name
Description
File Size
Date
Size
Chainextend - Datasheet
1.95 MB
6/16/2021
Chainextend Data Sheet - Nordics
1.94 MB
Chainextend - Literature
1.22 MB
6/16/2021