Specialty Gloves
CHAINEXTRA
Stainless steel chainmail (4mm) with interchangeable plastic strap. Food contact.
Overview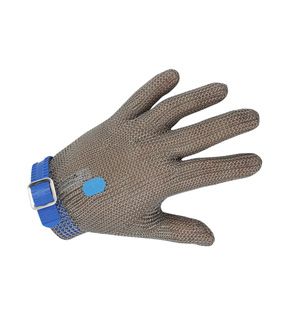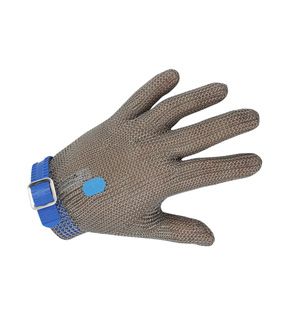 Key Features
The chainextra line features stainless steel metal mesh gloves with interchangeable plastic strap.

COMFORT

The plastic strap is very flexible and adapts to all wrist sizes to ensure comfort. This reversible model can be worn on the left or the right hand (just turn it inside-out).

SAFETY

The plastic strap of CHAINEXTRA is notched to avoid the adjusting buckle sliding to provide better protection for the user.

HYGIENE

An anti-bacterial agent is used in the manufacture of the plastic strap to help avoid contamination. The stainless steel and the plastic straps are approved for use in contact with food.

Recommended Industries/Use
Hazards
Regulations
Gant de protection EPI Catégorie 2 (Directive européenne 89/686/CEE) -
Standards EN 1082 - Gloves and arm guards protection against cuts and stabs by hand knives
Food contact -
Historical Brand
Chainex
Warranty Information
Honeywell warrants that it's Honeywell Protective Gloves are free from defects in material and workmanship. This limited warranty does not cover any product or component found to have been altered, misused, abused, tampered with or improperly maintained or to have deteriorated due to aging of any component made of rubber or any other elastomer. The limited warranty does not cover any damage, loss or expense due to damage caused by accident, abuse, improper maintenance, use or misuse of the product.
Data Sheet
Name
Description
File Size
Date
Size
Chainextra Data Sheet - Nordics
application/pdf 133.62 KB
133.62 KB
Chainextra - Datasheet
application/pdf 112.27 KB
5/31/2021
112.27 KB
Brochure
Name
Description
File Size
Date
Size
Chainextra Brochure - Nordics
application/pdf 71.33 KB
71.33 KB
Name
Description
File Size
Date
Size
Chainextra Data Sheet - Nordics
133.62 KB
133.62 KB
Chainextra - Datasheet
112.27 KB
5/31/2021
112.27 KB
Chainextra Brochure - Nordics
71.33 KB
71.33 KB
Name
Description
File Size
Date
Size
Chainextra Data Sheet - Nordics
133.62 KB
Chainextra - Datasheet
112.27 KB
5/31/2021
Chainextra Brochure - Nordics
71.33 KB