Face Shields
Honeywell Bionic
2784 possible adjustement positions, 15 design patents, one revolutionnary face shield. The Bionic shield is designed for rugged jobs: it's tough where it has to be, yet extremely lightweigt and balanced to provide all day comfort.
Overview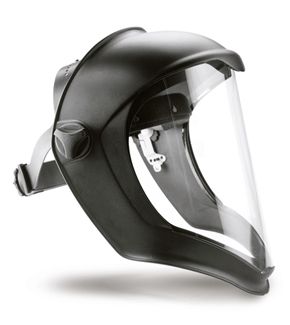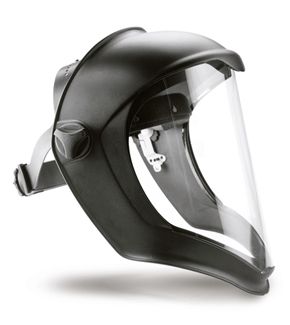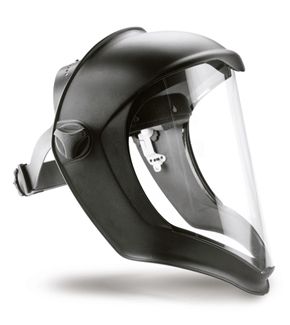 Advanced ergonomic design with 2,784 possible positions, extended chin and top-of-head protection, and a ratcheting headgear mechanism for a secure and comfortable fit. Hard Hat Adapter available.
Features & Benefits:
Superior protection.
Integral face protection, from crown to chin.
Superior quality panoramic vizor, for maximum visibility.
Wide range of easy to replace vizors available in a range of materials, shades and finishes to meet every need.
Compatible with most spectacles, goggles and respirator masks.
Locking mechanism for total security.
100% dielectric.
Excellent optics for increased visibility.
Unequalled comfort.
2,784 possible combinations.
Click-lock mechanism for precise headgear adjustment.
Multi-position visor and ratchet locking system.
Breathable, removable, washable headband.
Comfortable cell foam on back of headgear.
Recommended Industries:
Agriculture
Chemical
Forestry
Steel and Metals
Wind Energy
Hazards
:
Abrasion
Airborne
Particulates
Biohazard
Chemical
Gas, Vapors, Smoke
Impact
Splash
Others
Dielectric
Lens Coating
Accessories

Replacement Sweatband, Bionic Visor Protectors, Bionic Hard Hat Adapter
Others
Accessories

Replacement Sweatband, Bionic Visor Protectors, Bionic Hard Hat Adapter
Lens Coating : Uncoated & Fog Ban
Accessories : Replacement Sweatband, Bionic Visor Protectors, Bionic Hard Hat Adapter
Data Sheet
Name
Description
File Size
Date
Size
Honeywell Bionic - Datasheet
217.45 KB
5/27/2021
217.45 KB
Honeywell Bionic - Datasheet
217.45 KB
5/31/2021
217.45 KB
Honeywell Bionic Data Sheet - Nordics
180.25 KB
10/19/2021
180.25 KB
Name
Description
File Size
Date
Size
Honeywell Bionic - Datasheet
217.45 KB
5/27/2021
Honeywell Bionic - Datasheet
217.45 KB
5/31/2021
Honeywell Bionic Data Sheet - Nordics
180.25 KB
10/19/2021

1011623
Bionic face screen with ,uncoated polycarbonate screen Clear

1011624
Bionic face screen with polycarbonate screen Clear Anti-scratch/Fogban

1011625
Bionic replacement screens Uncoated polycarbonate screen Clear

1011626
Bionic replacement screens Uncoated acetate screen Clear

1011627
Bionic replacement screens Polycarbonate screen Clear Anti-scratch/Fogban

1011628
Bionic replacement screens Uncoated polycarbonate screen IR 3

1011629
Bionic replacement screens Uncoated polycarbonate screen IR 5

1011933
Bionic face screen with uncoated acetate screen Clear

1011934
Bionic Hygienic protective band

1015113
Bionic shell (without suspension)

1011623
Bionic face screen with ,uncoated polycarbonate screen Clear

1011624
Bionic face screen with polycarbonate screen Clear Anti-scratch/Fogban

1011625
Bionic replacement screens Uncoated polycarbonate screen Clear

1011626
Bionic replacement screens Uncoated acetate screen Clear

1011627
Bionic replacement screens Polycarbonate screen Clear Anti-scratch/Fogban

1011628
Bionic replacement screens Uncoated polycarbonate screen IR 3

1011629
Bionic replacement screens Uncoated polycarbonate screen IR 5

1011933
Bionic face screen with uncoated acetate screen Clear

1011934
Bionic Hygienic protective band

1015113
Bionic shell (without suspension)