Face Shields
Honeywell Supervizor
A range of robust face screens, for intensive use, compatible with the use of hearing protectors.
Overview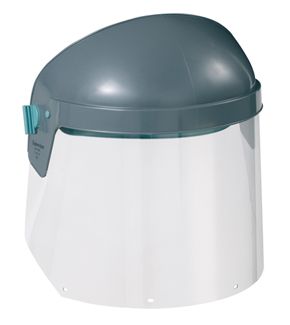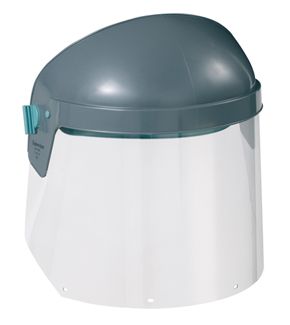 Compatible with a wide range of helmet types (size, shape and geometry).
Secure screen attachment system for easy visor replacement.
Integral facial protection: versions with chin guard option for extra protection.
The screen is shaped at the sides to follow the shape of the face and to allow unhindered head movement.
The design allows the screen to be raised without disturbing the hearing protectors and facilitates the use of noise-reduction helmets without compromising their performance, whilst maintaining maximum facial protection.
Wide range of screens for every hazard: mechanical, chemical, thermal etc.
Portfolio compatible with our range of hearing protectors and is suitable for use with safety helmets.
Data Sheet
Name
Description
File Size
Date
Size
Honeywell Supervizor - Datasheet
application/pdf 172.01 KB
5/27/2021
172.01 KB
Honeywell Supervizor Data Sheet - Nordics
application/pdf 204.83 KB
10/19/2021
204.83 KB
Name
Description
File Size
Date
Size
Honeywell Supervizor - Datasheet
172.01 KB
5/27/2021
172.01 KB
Honeywell Supervizor Data Sheet - Nordics
204.83 KB
10/19/2021
204.83 KB
Name
Description
File Size
Date
Size
Honeywell Supervizor - Datasheet
172.01 KB
5/27/2021
Honeywell Supervizor Data Sheet - Nordics
204.83 KB
10/19/2021

1002295
Supervizor Chin guard VS7 for 1002310 and 1002309 screens

1002297
Supervizor SB600 Headgear with adjustable strap

1002302
SA660 Helmet -Mounted Visor Holder (Plastic 125 g)

1002304
Supervizor SA66M Anodised aluminium screen mounting, for site safety helmets

1002305
Supervizor SA66 Anodised aluminium screen mounting, for site safety helmets

1002307
SV9AC Clear Acetate Visor (200mm)

1002308
SV9EK Clear Acetate Visor for electrical hazards (200mm)

1002309
SV9AC/CG Clear Acetate Visor to suit Chinguard (200mm)

1002310
Supervizor SV9PC/CG Clear polycarbonate screen with chin guard mounting (200 mm)

1002312
Supervizor SV9PC Clear polycarbonate screen (230 mm)

1002295
Supervizor Chin guard VS7 for 1002310 and 1002309 screens

1002297
Supervizor SB600 Headgear with adjustable strap

1002302
SA660 Helmet -Mounted Visor Holder (Plastic 125 g)

1002304
Supervizor SA66M Anodised aluminium screen mounting, for site safety helmets

1002305
Supervizor SA66 Anodised aluminium screen mounting, for site safety helmets

1002307
SV9AC Clear Acetate Visor (200mm)

1002308
SV9EK Clear Acetate Visor for electrical hazards (200mm)

1002309
SV9AC/CG Clear Acetate Visor to suit Chinguard (200mm)

1002310
Supervizor SV9PC/CG Clear polycarbonate screen with chin guard mounting (200 mm)

1002312
Supervizor SV9PC Clear polycarbonate screen (230 mm)