Face Shields
Honeywell Turboshield
Together, we are changing the face of safety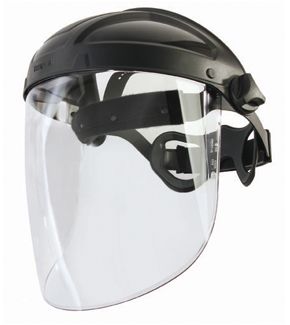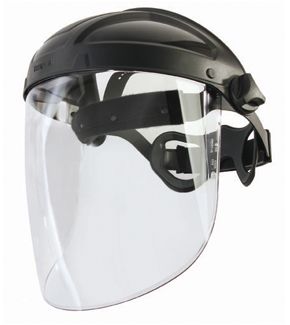 • Superior comfort:
Flexible head-cushioning suspension cradle provides 300% greater contact area than traditional suspensions to eliminate pressure points for all-day wear.
• Easy visor exchange:
Simple push-button release system allows for easy visor exchange in seconds.
• Improved protection:
Feel safer with 50% more chin coverage compared to traditional visors, without the need for bulky accessories.
• Personalized, comfortable fit:
Control knobs are large and ergonomically designed for easy adjustment — even while wearing gloves.
• Better balance:
Visor slides back 170mm, improving balance and weight distribution when worn with the Turboshield Hard Hat Adapter.
• Enhanced clearance:
Dual-hinge hard hat adapter design increases clearance by as much as 100mm and keeps accessory slots open for compatibility with other PPE.
Data Sheet
Name
Description
File Size
Date
Size
Honeywell Turboshield - Datasheet
application/pdf 173.18 KB
5/31/2021
173.18 KB
Honeywell Turboshield Data Sheet - Nordics
application/pdf 189.03 KB
10/19/2021
189.03 KB
Honeywell Turboshield - Datasheet
application/pdf 173.18 KB
5/27/2021
173.18 KB
Manuals and Guides
Name
Description
File Size
Date
Size
Honeywell Turboshield - Literature
application/pdf 733.5 KB
5/31/2021
733.5 KB
Brochure
Name
Description
File Size
Date
Size
Honeywell Turboshield - Brochure
application/pdf 733.5 KB
5/27/2021
733.5 KB
Honeywell Turboshield Brochure - Nordics
application/pdf 1.14 MB
10/19/2021
1.14 MB
Name
Description
File Size
Date
Size
Name
Description
File Size
Date
Size

1031740
Turboshield Ratcheted Headgear, Black HON 166 3 9 BT

1031740
Turboshield Ratcheted Headgear, Black HON 166 3 9 BT

1031743
Clear PC Turboshield Replacement Visor Uncoated

1031743
Clear PC Turboshield Replacement Visor Uncoated

1031744
Clear PC Turboshield Replacement Visor Hardcoat/Anti-Fog

1031744
Clear PC Turboshield Replacement Visor Hardcoat/Anti-Fog

1031745
Grey PC Turboshield Replacement Visor Uncoated

1031746
Grey PC Turboshield Replacement Visor Hardcoat/Anti-Fog

1031747
UV/IR Shade 3.0 PC Turboshield Replacement Visor Uncoated

1031747
UV/IR Shade 3.0 PC Turboshield Replacement Visor Uncoated

1031740
Turboshield Ratcheted Headgear, Black HON 166 3 9 BT

1031740
Turboshield Ratcheted Headgear, Black HON 166 3 9 BT

1031743
Clear PC Turboshield Replacement Visor Uncoated

1031743
Clear PC Turboshield Replacement Visor Uncoated

1031744
Clear PC Turboshield Replacement Visor Hardcoat/Anti-Fog

1031744
Clear PC Turboshield Replacement Visor Hardcoat/Anti-Fog

1031745
Grey PC Turboshield Replacement Visor Uncoated

1031746
Grey PC Turboshield Replacement Visor Hardcoat/Anti-Fog

1031747
UV/IR Shade 3.0 PC Turboshield Replacement Visor Uncoated

1031747
UV/IR Shade 3.0 PC Turboshield Replacement Visor Uncoated