Earplugs
Antimicrobial-Protected HL400 Dispenser for Earplugs
Versatile, portable earplug dispenser
Overview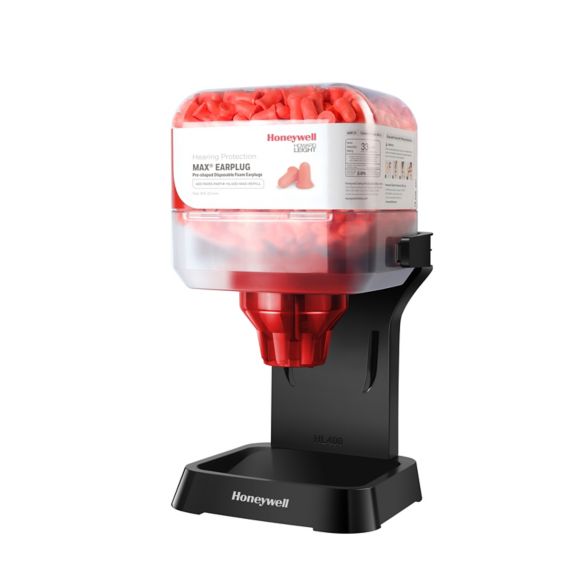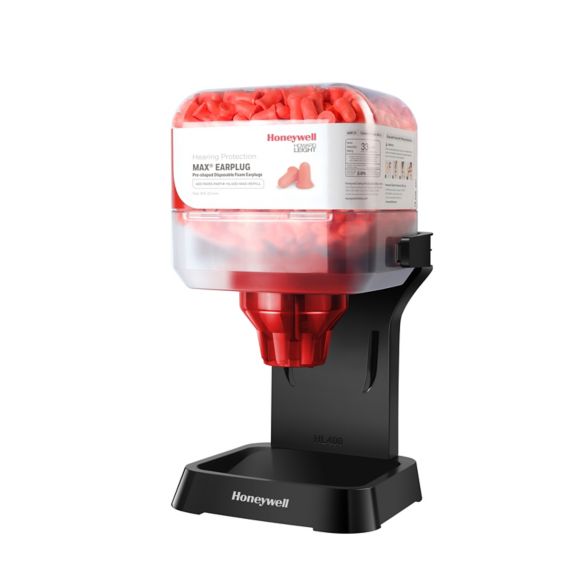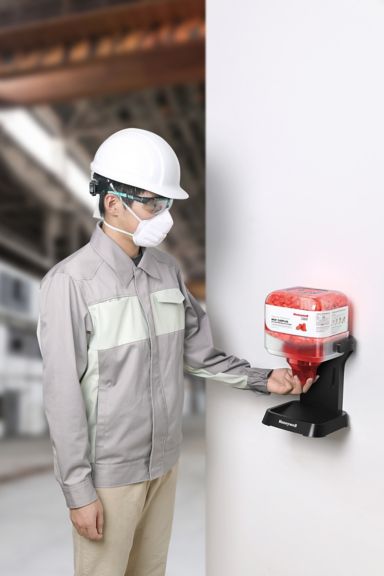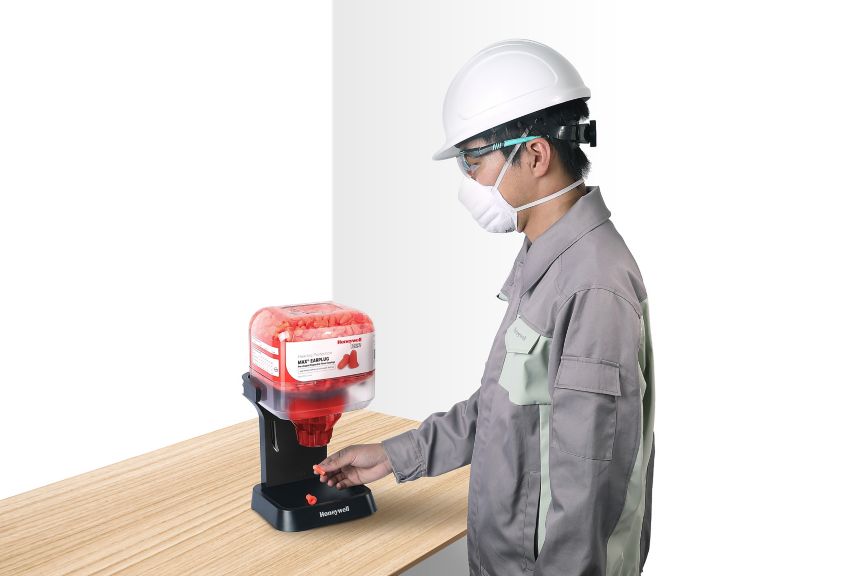 The HL400™AM dispensers for earplugs are designed to meet today's safety needs. The turn knob and catch tray are treated with an antimicrobial additive, making earplug dispensing more hygienic. The antimicrobial additive releases slowly to reduce the bioburden on the turn knob. This way the product remains clean and does not require extra cleaning, thus, driving cost savings. This product does not protect users or others against disease-causing organisms.
Easy to use — workers can access earplugs quickly with easy twist knob
Available with prefilled canister of 400 pairs of earplugs
Compatible with all Howard Leight™ disposable earplugs MAX®, MAXLite®, Laser Lite®, FirmFit®, and Bilsom 303 S/L
Easy to install — Universal hole positions eliminate the need to drill new holes and can be placed on flat surfaces
Durable, recyclable plastic canister — with multiple refill options:
Replace the empty canister with another 400 pair prefilled canister.
Refill the empty canister as needed with a traditional 200 pair refill zip-top bag.
Data Sheet
Name
Description
File Size
Date
Size
Antimicrobial-Protected HL400 Dispensers for Earplugs - Datasheet
application/pdf 280.62 KB
12/14/2021
280.62 KB
Manuals and Guides
Name
Description
File Size
Date
Size
Antimicrobial-Protected HL400 Dispensers for Earplugs - FAQ
application/pdf 126.77 KB
12/14/2021
126.77 KB
Installation Instructions
Name
Description
File Size
Date
Size
Antimicrobial-Protected HL400 Dispensers for Earplugs - User Instruction
application/postscript 7.49 MB
12/14/2021
7.49 MB
Brochure
Name
Description
File Size
Date
Size
Antimicrobial-Protected HL400 Dispensers for Earplugs - Brochure
application/pdf 2.86 MB
12/14/2021
2.86 MB
Poster
Name
Description
File Size
Date
Size
Antimicrobial-Protected HL400 Dispensers for Earplugs - Poster
application/pdf 92.32 KB
1/10/2022
92.32 KB
Name
Description
File Size
Date
Size
Name
Description
File Size
Date
Size

1006186
1 zip top bag of 200 prs. Bilsom 303L earplugs

1006187
1 zip top bag of 200 prs. Bilsom 303S earplugs

1006203-AM
HL400 Lite dispenser (AM) with 400 pairs Bilsom 303L EU / AU

1006204-AM
HL400 Lite dispenser (AM) with 400 pairs Bilsom 303S EU / AU

1006205-AM
HL400 Lite dispenser (AM)with 400 pairs Laser Lite EU / AU

1006206-AM
HL400 Lite dispenser (AM)with 400 pairs Max EU / AU

1006207-AM
HL400 Lite dispenser (AM)with 400 pairs Max Lite EU / AU

1006209-AM
HL400 Lite dispenser (AM) with 400 pairs Firmfit EU / AU

1013046
Refill for Leight Source 1 zip top bag of 200 prs. Max earplugs400 : MAX Box of 200 pairs

1013047
1 zip top bag of 200 prs. Laser Lite earplugs

1006186
1 zip top bag of 200 prs. Bilsom 303L earplugs

1006187
1 zip top bag of 200 prs. Bilsom 303S earplugs

1006203-AM
HL400 Lite dispenser (AM) with 400 pairs Bilsom 303L EU / AU

1006204-AM
HL400 Lite dispenser (AM) with 400 pairs Bilsom 303S EU / AU

1006205-AM
HL400 Lite dispenser (AM)with 400 pairs Laser Lite EU / AU

1006206-AM
HL400 Lite dispenser (AM)with 400 pairs Max EU / AU

1006207-AM
HL400 Lite dispenser (AM)with 400 pairs Max Lite EU / AU

1006209-AM
HL400 Lite dispenser (AM) with 400 pairs Firmfit EU / AU

1013046
Refill for Leight Source 1 zip top bag of 200 prs. Max earplugs400 : MAX Box of 200 pairs

1013047
1 zip top bag of 200 prs. Laser Lite earplugs