Electronic Earmuffs
Impact® Pro
Impact earmuffs enhance the perception of certain sounds through advanced sound amplification technology. Wearers hear important sounds in their environment – co-workers, alarms and warning signals – at a safely amplified level.
Overview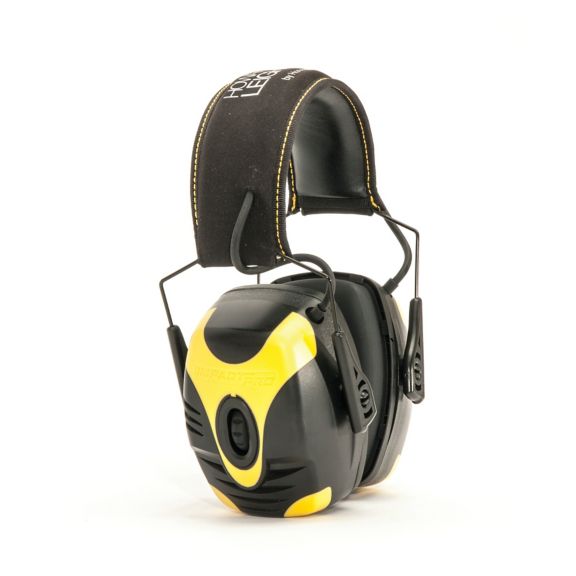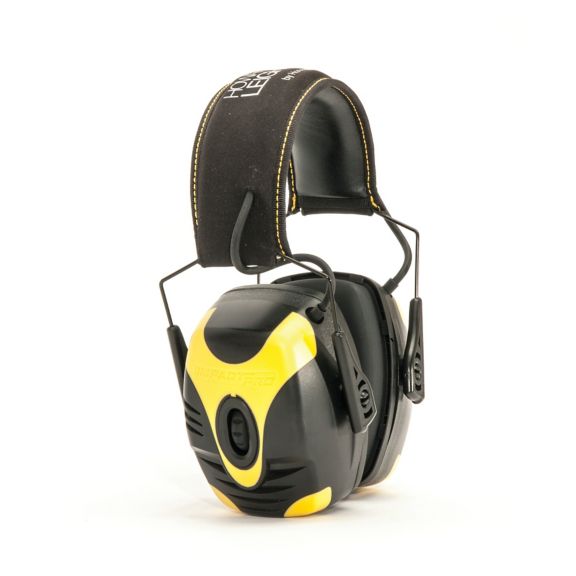 Noise suppression of loud, impact noises down to a safe level of 82dB
Sound amplification allows wearers to hear important communication - alarms/warning signals, co-workers' voices, etc.
Directionally placed stereo microphones enhance sound for natural hearing
All-in-one up and down, on/off and volume control
Non-deforming outer headband withstands rough treatment in the toughest workplaces, while the padding makes it comfortable for all day wear
Features 3.5mm audio jack and cable for connection to personal listening devices
Snap-in ear cushions make replacement quick
NRR: 30, SNR: 33, Canada Class A(L), SLC 80: 31
Earmuff Fitting & Maintenance Recommendations
Selection:
Avoid overprotection in minimal noise environments – in selecting the best earmuff for your situation, consider noise levels and your need to communicate with co-workers or hear warning signals on the job
Inspect & wear:
Read and follow all earmuff fitting instructions
Remove all hair underneath ear cushions.
Hygiene & maintenance:
Regularly inspect earcups and ear cushions for cracks and leaks – discard if earcups are visibly damaged or compromised
Clean earcups and ear cushions regularly with mild soap and water
Replace ear cushions and foam inserts every 6-8 months under normal wear, every 3-4 months with heavy use or in humid/extreme climates
Improper fit of this device will reduce its effectiveness in attenuating noise. Refer to instructions on package for proper fit.
Recommended Industries/Use
Agriculture, Chemical, Construction, Fire Protection, Forestry, Government, Law Enforcement, Manufacturing, Medical, Military, Mining, Municipal Services, Oil and Gas, Pharmaceutical, Steel and Metals, Transportation, Utilities, Welding.
Others
Dielectric
Noise Reduction Rating
Single Number Rating
Care and Maintenance
Ear Shell Material
Headband Material

Steel wire, EVA, PVC, Textile

High Visibility
Product Family
SLC80 Rating
Canada Class
Battery Type
Others
Headband Material

Steel wire, EVA, PVC, Textile
Noise Reduction Rating : 30 decibel
Single Number Rating : 33 dB decibel
Care and Maintenance : see overview tab
Headband Material : Steel wire, EVA, PVC, Textile
Battery Type : 2 AAA batteries included
Data Sheet
Name
Description
File Size
Date
Size
Impact® Pro - Datasheet
application/pdf 127.16 KB
5/31/2021
127.16 KB
Poster
Name
Description
File Size
Date
Size
Occupational Noise Infographic EU
application/postscript 745.23 KB
3/10/2022
745.23 KB
Howard Leight Noise Infographic EU
application/pdf 1.49 MB
3/10/2022
1.49 MB
Name
Description
File Size
Date
Size
Impact® Pro - Datasheet
127.16 KB
5/31/2021
127.16 KB
Occupational Noise Infographic EU
745.23 KB
3/10/2022
745.23 KB
Howard Leight Noise Infographic EU
1.49 MB
3/10/2022
1.49 MB
Name
Description
File Size
Date
Size
Impact® Pro - Datasheet
127.16 KB
5/31/2021
Occupational Noise Infographic EU
745.23 KB
3/10/2022
Howard Leight Noise Infographic EU
1.49 MB
3/10/2022

1034201-IE
SILICONE TIPS BLIST. S/M/L=10prs/size

1034203-IE
SILICONE TIPS S-1boxes x 50prs - 50prs

1034204-IE
SILICONE TIPS M-1boxes x 50prs - 50prs

1034205-IE
SILICONE TIPS L-1boxes x 50prs - 50prs

1034209-IE
DET.SIL.TIPS BLIST. S/M/L=10prs/size

1034211-IE
DET. SILICONE TIPS S- 1 box x 50prs

1034212-IE
DET. SILICONE TIPS M-1 box x 50prs

1034213-IE
DET. SILICONE TIPS L-1 box x 50prs

1034491
Honeywell Howard Leight™ Impact® Pro Industrial Earmuff

1034201-IE
SILICONE TIPS BLIST. S/M/L=10prs/size

1034203-IE
SILICONE TIPS S-1boxes x 50prs - 50prs

1034204-IE
SILICONE TIPS M-1boxes x 50prs - 50prs

1034205-IE
SILICONE TIPS L-1boxes x 50prs - 50prs

1034209-IE
DET.SIL.TIPS BLIST. S/M/L=10prs/size

1034211-IE
DET. SILICONE TIPS S- 1 box x 50prs

1034212-IE
DET. SILICONE TIPS M-1 box x 50prs

1034213-IE
DET. SILICONE TIPS L-1 box x 50prs

1034491
Honeywell Howard Leight™ Impact® Pro Industrial Earmuff