Fit Testing
VeriPRO Earplug Fit Testing
Earplug fit testing system
Overview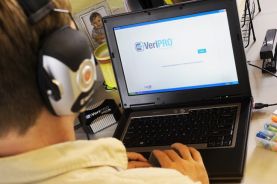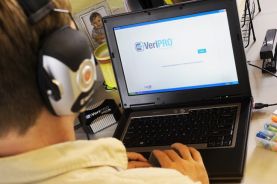 Key Features
VeriPRO makes it easy to get an accurate, real-world picture of your employees' hearing protection. Find out whether your employees are receiving optimal protection, require additional training on how to fit their earplugs, or need to try a different model. VeriPRO uses sophisticated software in a user-friendly format to find out the Personal Attenuation Rating [PAR] your employees are receiving from their earplugs.
Measures real world attenuation by using unmodified earplugs• Simple software installation and hardware set-up
Fast, accurate, easy-to-understand results displayed within minutes
Captures and stores historical information on employee PAR
Fulfills regulatory requirements to "ensure proper initial fitting" of hearing protectors
Works with any earplug
Recommended Industries/Use
Agriculture
Chemical
Construction
Fire Protection
Food Services
Forestry
Government
Law Enforcement
Manufacturing
Medical
Military
Mining
Municipal Services
Oil and Gas
Pharmaceutical
Steel and Metals
Transportation
Utilities
Welding
Hazards
Historical Brand
Howard Leight
Warranty Information
VERIPRO warrants that (a) the SOFTWARE PRODUCT will perform substantially in accordance with the accompanying written materials for a period of ninety (90) days from the date of receipt, and (b) VERIPRO HARDWARE accompanying the SOFTWARE PRODUCT will be free from defects in materials and workmanship under normal use and service for a period of one (1) year from the date of receipt. Some states and jurisdictions do not allow limitations on duration of an implied warranty, so the above limitation may not apply to you. To the extent allowed by applicable law, implied warranties on the SOFTWARE PRODUCT and hardware, if any, are limited to ninety (90) days and one year, respectively.
Data Sheet
Name
Description
File Size
Date
Size
Veripro Earplug Fit Testing Data Sheet - Nordics
application/pdf 153.76 KB
153.76 KB
Veripro Earplug Fit Testing Datasheet - Middle East - India
application/pdf 134.88 KB
12/5/2021
134.88 KB
VeriPRO Fit-Testing System - Datasheet
application/pdf 143.79 KB
5/31/2021
143.79 KB
Manuals and Guides
Name
Description
File Size
Date
Size
HL_veripro_earplug_fit_testing_hl miniguide_2018 final 2-9-18.pdf
application/pdf 1.07 MB
5/5/2021
1.07 MB
VeriPRO Fit-Testing System - Literature
application/pdf 195.51 KB
5/31/2021
195.51 KB
Brochure
Name
Description
File Size
Date
Size
Veripro Earplug Fit Testing Brochure - Nordics
application/pdf 539.2 KB
539.2 KB
HL_veripro_earplug_fit_testing_howardleight_veripro_brochure_batchv4 1_jan2017.pdf
application/pdf 621.11 KB
5/5/2021
621.11 KB
Others
Name
Description
File Size
Date
Size
HL_veripro_earplug_fit_testing_veripro 4 0 installation instructions - jan 2017 rev4 - 2 page version.pdf
application/pdf 564.18 KB
5/5/2021
564.18 KB
HL_veripro_earplug_fit_testing_his_hear_vs100_br_en_us_0219_wr.pdf
application/pdf 1.7 MB
5/5/2021
1.7 MB
HL_veripro_earplug_fit_testing_howardleight_veripro_faq_batchv4 1_jan2017.pdf
application/pdf 306.67 KB
5/5/2021
306.67 KB
HL_veripro_earplug_fit_testing_veripro-earplug-fit-testing.pdf
application/pdf 82.24 KB
5/5/2021
82.24 KB
Name
Description
File Size
Date
Size
Name
Description
File Size
Date
Size