Passive Earmuffs
VeriShield™ 100 Dielectric Series Passive Earmuffs
Verishield 100 - Dielectric version with several models: with adjustable headband, multi-position, for hard hat and foldable. Available in Low, Mid and High attenuation (SNR) levels.
Overview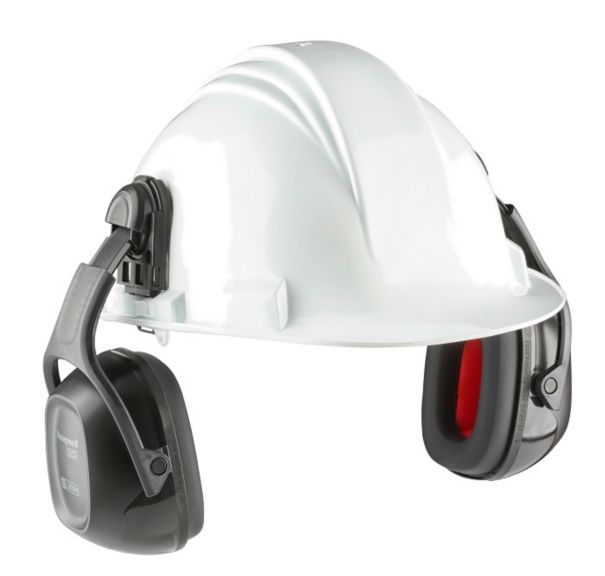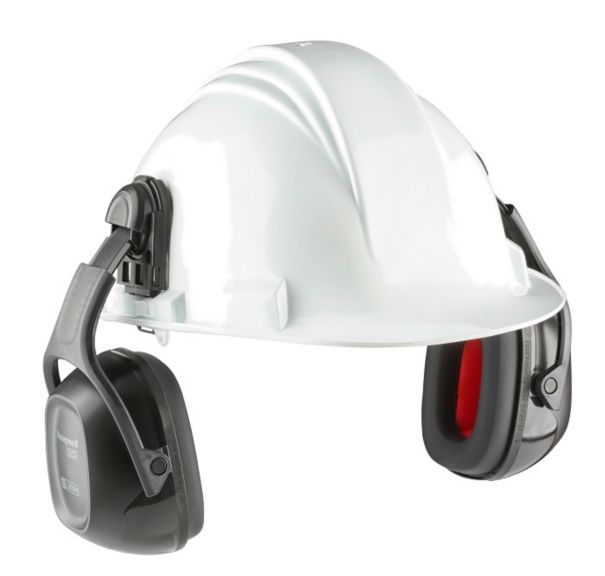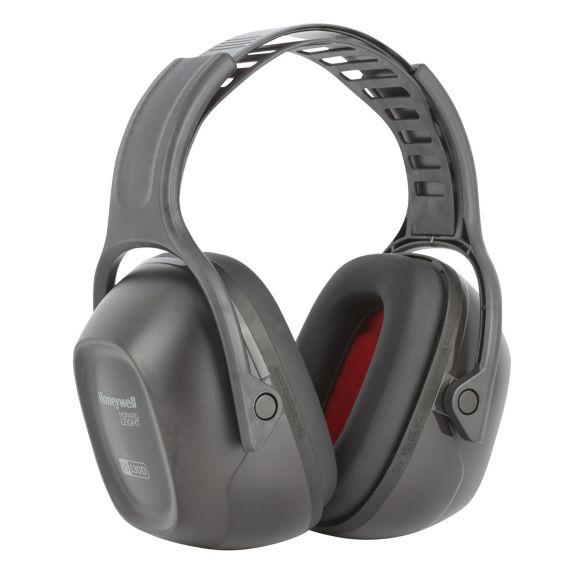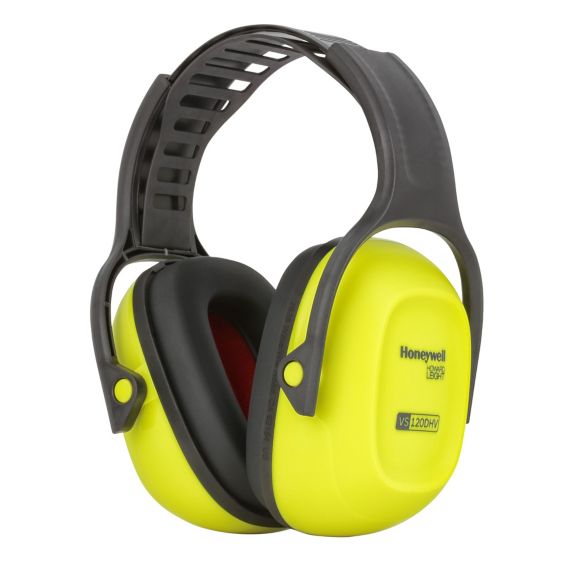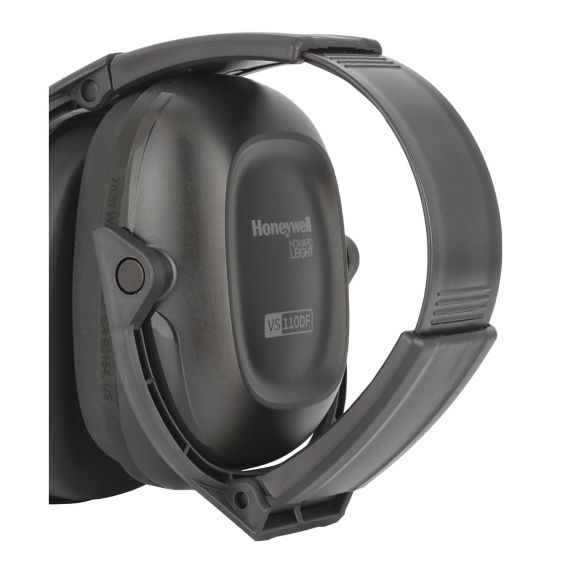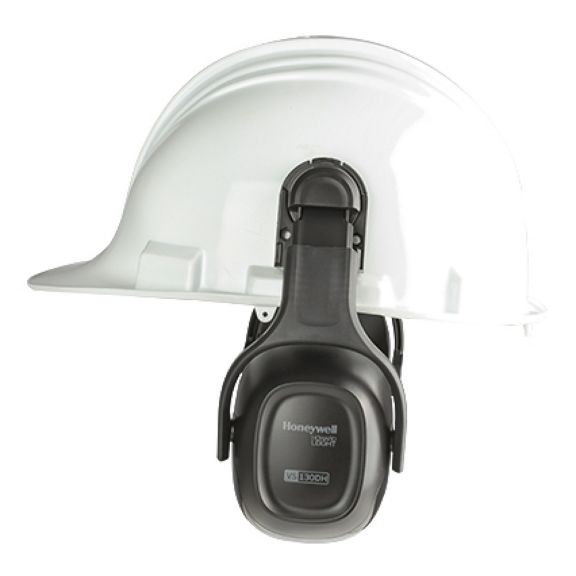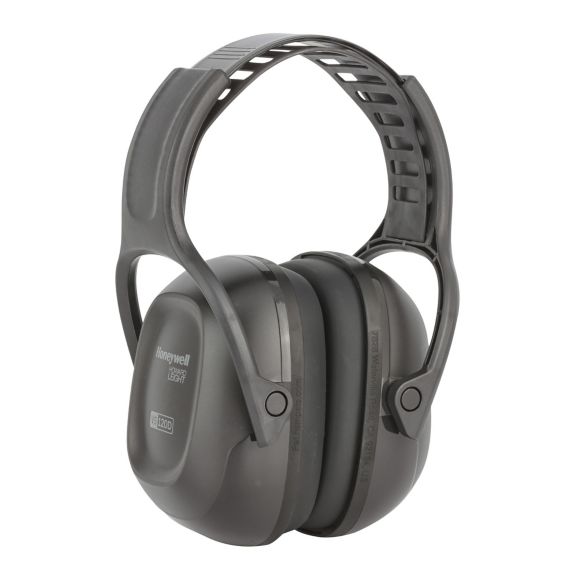 Large dimension range: Comfortably fits a wide range of head sizes. 17% more adjustable than earlier versions
Wide cup opening: Ideal for workers with larger ears: or who wear hearing aids. Opening area of the cup increased by 16% over earlier versions
Lightweight cushioned headband: Plastic headband construction with padded headband and precision micro adjustments designed for just the right fit around the ear
Memory foam ear cushions: New unique memory foam that combines denser and softer foam than previous models: for greater comfort and attenuation
Reduces squeezing pressure on the head and enhances comfort
ABS molded cups with internal baffle design for lighter weight: patent pending
An oil-resistant cup surface to withstand oily, heavy-work environments and frequent cleaning
Air Flow Control Technology; featuring a baseplate chamber and high-tech non-woven layer. Honeywell's Air Flow Control technology controls how sound reaches the ear, ensuring optimum noise attenuation across all frequencies
PPE Integration; easy to use and integrate with Honeywell hard hats and face shields. Can be assembled to a hard hat in approximately 7 seconds
Attenuation rating; the attenuation level of each style is marked on the earmuff cup: for quick and easy on-site identification of the level of hearing protection provided.
Model range available in headband, hi/vis, helmet, folding and behind the neck(multi-position) options.
Earmuff Fitting & Maintenance Recommendations
Selection:
Avoid overprotection in minimal noise environments – in selecting the best earmuff for your situation, consider noise levels and your need to communicate with co-workers or hear warning signals on the job.
Inspect & wear:
Read and follow all earmuff fitting instructions
Remove all hair underneath ear cushions.
Hygiene & maintenance:
Regularly inspect earcups and ear cushions for cracks and leaks – discard if earcups are visibly damaged or compromised
Clean earcups and ear cushions regularly with mild soap and water
Replace ear cushions and foam inserts every 6-8 months under normal wear, every 3-4 months with heavy use or in humid/extreme climates
Improper fit of this device will reduce its effectiveness in attenuating noise. Refer to instructions on package for proper fit.
Recommended Industries/Use
Agriculture, Chemical, Construction, Fire Protection, Forestry, Government, Law Enforcement, Manufacturing, Medical, Military, Mining, Municipal Services, Oil and Gas, Pharmaceutical, Steel and Metals, Transportation, Utilities, Welding.
Others
Dielectric
Care and Maintenance
Headband Material
High Visibility
Product Family
Care and Maintenance : see overview tab
Headband Material : ABS plastic
High Visibility : YES, selected SKUs
Product Family : VERISHIELD™
Data Sheet
Name
Description
File Size
Date
Size
VeriShield™ 100 Dielectric - Datasheet
application/pdf 379.53 KB
5/31/2021
379.53 KB
VeriShield™ 100 Dielectric - Datasheet
application/pdf 1.1 MB
3/1/2022
1.1 MB
Brochure
Name
Description
File Size
Date
Size
VeriShield™ 100 Dielectric - Brochure
application/pdf 1.97 MB
3/1/2022
1.97 MB
Name
Description
File Size
Date
Size
VeriShield™ 100 Dielectric - Datasheet
379.53 KB
5/31/2021
379.53 KB
VeriShield™ 100 Dielectric - Brochure
1.97 MB
3/1/2022
1.97 MB
VeriShield™ 100 Dielectric - Datasheet
1.1 MB
3/1/2022
1.1 MB
Name
Description
File Size
Date
Size
VeriShield™ 100 Dielectric - Datasheet
379.53 KB
5/31/2021
VeriShield™ 100 Dielectric - Datasheet
1.1 MB
3/1/2022
VeriShield™ 100 Dielectric - Brochure
1.97 MB
3/1/2022

1035130-VS
VeriShield™ hard hat adapter 3711VS1

1035131-VS
VeriShield™ hard hat adapter 3712VS1

1035132-VS
VeriShield™ hard hat adapter 3713VS1

1035133-VS
VeriShield™ hard hat adapter 3714VS1

1035134-VS
VeriShield™ hard hat adapter 3718VS1

1035135-VS
VeriShield™ hard hat adapter 3721VS1

1035136-VS
Hygiene kit for 1035105-VS, 1035115-VS, 1035122-VS, 1035189-VS, 1035206-VS, 1035185-VS

1035137-VS
Hygiene kit for 1035107-VS, 1035141-VS, 1035125-VS, 1035128-VS, 1035191-VS, 1035147-VS, 1035208-VS

1035138-VS
Hygiene kit for 1035109-VS, 1035111-VS, 1035117-VS, 1035194-VS, 1035188-VS

1035142-VS
Hygiene kit for 1035101-VS, 1035113-VS

1035130-VS
VeriShield™ hard hat adapter 3711VS1

1035131-VS
VeriShield™ hard hat adapter 3712VS1

1035132-VS
VeriShield™ hard hat adapter 3713VS1

1035133-VS
VeriShield™ hard hat adapter 3714VS1

1035134-VS
VeriShield™ hard hat adapter 3718VS1

1035135-VS
VeriShield™ hard hat adapter 3721VS1

1035136-VS
Hygiene kit for 1035105-VS, 1035115-VS, 1035122-VS, 1035189-VS, 1035206-VS, 1035185-VS

1035137-VS
Hygiene kit for 1035107-VS, 1035141-VS, 1035125-VS, 1035128-VS, 1035191-VS, 1035147-VS, 1035208-VS

1035138-VS
Hygiene kit for 1035109-VS, 1035111-VS, 1035117-VS, 1035194-VS, 1035188-VS

1035142-VS
Hygiene kit for 1035101-VS, 1035113-VS