Shoes
Honeywell Otter Premium Guard Mid S3 HI HRO SRC ESD
Take a Step Ahead in Quality.
Overview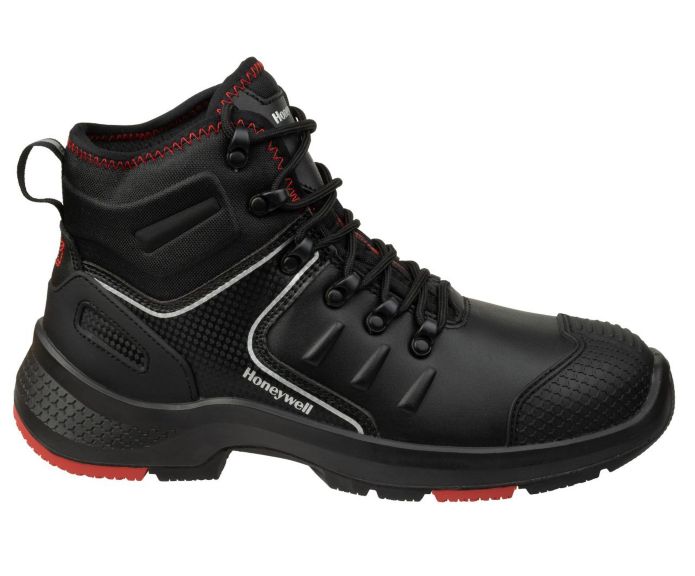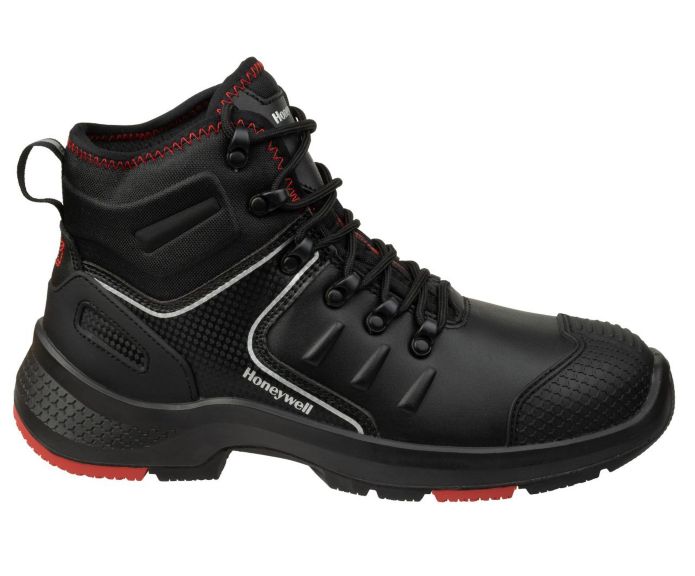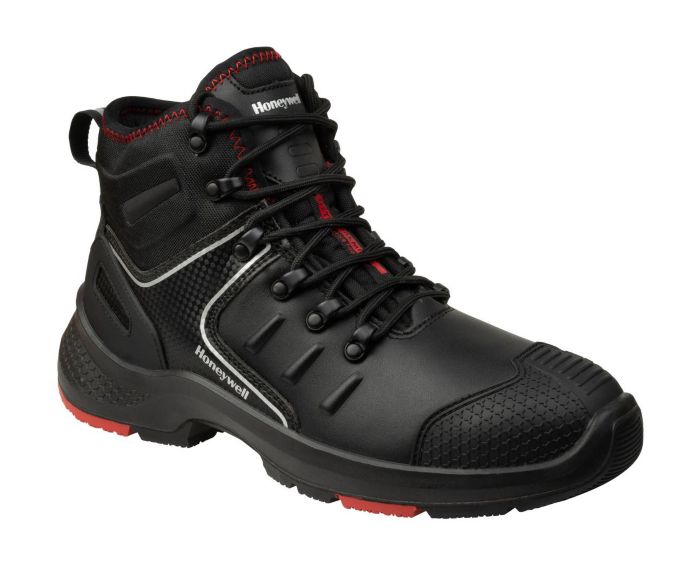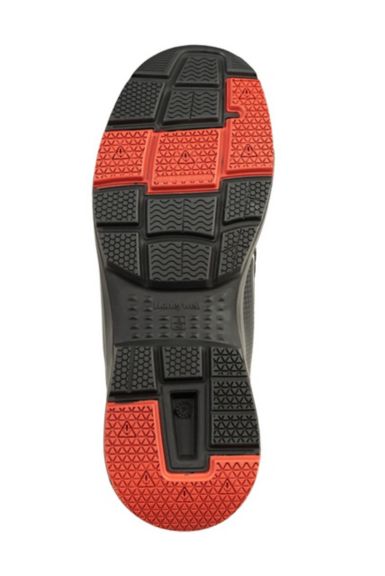 When it comes to safety, always settle for more. A world-renowned leader in safety innovation, Honeywell has joined hands with Otter, respecting its German quality values and committing to taking them further. Honeywell Otter Premium combines the heritages of the two brands, addressing workers in construction, chemical, or industrial maintenance and many other industries who need premium quality protective work shoes with effective performances. With an iconic, traditional design, Honeywell Otter Premium footwear provides increased protection, enhanced stability and improved comfort. Benefit from great slip and anti-puncture protection, high shock absorption, antistatic properties plus high- and low-temperature resistance, being fully aware when your shoes wear off with their unique indicators. Enjoy comfort for long-time use due to Honeywell Otter Premium's modular insole system created to offer a perfect fit for everyone.
GUARD MID
S3 HI HRO SRC ESD
• Extra wide metallic toecap
• TPU overcap
• Mid-cut style
• High quality full grain leather upper
• Black mesh lining with foam
• Stainless steel anti-perforation interlayer
• PU/Nitrile outsole
• Wear off indicators
• HI marking: resistance to inimical environments - heat insulation of the sole complex
• HRO marking: resistance to hot contact
• ESD marking: electrical resistance
• EN ISO 20345:2011 S3 HI HRO SRC ESD
• DGUV 112-191 coming soon
PERFORM BEYOND STANDARDS
After demonstrating compliance with all applicable regulations, Honeywell has gone the extra mile to prove that the Otter Premium range takes you a step ahead of requirements*:
1.
Longitudinal flexibility – strength to bend the sole up to 45°
– The longitudinal flexing compliance of Guard Mid has an average value of 3.17 daN, which translates into excellent flexibility, more comfort and less fatigue.
2.
The breathability of the whole shoe
– The average amount of water (sweat) that evaporates from Guard Mid is of 1.64 grams in one hour, which translates into reduced sweating, improved comfort and high breathability.
3.
Internal torsion rigidity in the waist area
– Tests have shown that Guard Mid provides improved comfort and safety outdoors by preventing foot twisting when walking: 6.8 N.m.
4.
The sole's transfer coefficient
– The impact transmitted through the sole to the wearer shows Guard Mid's impact energy absorption is excellent: the heel absorbs 10% of the impact in the outsole.
5.
The energy return from the sole
– Guard Mid causes less fatigue due to the improved sole, which absorbs, stores and returns kinetic energy to the wearer, supporting the muscles during the natural walking motion:
• the transmitted energy is of 2,580 N
• the restored energy is of 1,714 N
• the percentage of transmitted energy is of 66.5%
*) Test results represent average values.
ALL-ROUND PERFORMANCE – AT YOUR FEET
TOECAP
• Extra wide metallic toecap
• Durable, metallic, anti-perforation interlayer (1,100 N)
SOLE
• 8 wear-off indicators on the outer layer
• Heel shock absorption system
• PU/Nitrile outsole
• On steel floor: 0.16 heel (minimum standard 0.13)
• Flat: 0.18 (minimum standard 0.18)
• On ceramic floor: 0.37 heel (minimum standard 0.28)
• Flat: 0.37 (minimum standard 0.32)
• Energy absorption capacity >20 J
• Abrasion resistance: loss in volume <150 mm3 (under a 10 Newtons (1 kg) load)
- Elongation at break: 650%
- Resistance to repeated flexion optimized: >30,000
• Flexometer tested – standard: >30,000
• Resistance to fuel oil
TECHNICAL SPECIFICATIONS AND STANDARDS:
• European Regulation: (EU) 2016/425*
• Standard: EN ISO 20345:2011**
• Quality assurance: ISO 9001 Version 2015***
• Marking: S3 HI HRO SRC ESD
• Average weight for 1 shoe 42 size: 759 g
*) https://osha.europa.eu/en/safety-and-health-legislation**) https://www.iso.org/home.html***)
https://group.bureauveritas.com/
Others
Shoe Size
Inner Toe Cap Material
Shoe Liner Material
Shoe Closure Type
Outsole Material
Midsole Material
Eyelet Material
Upper Material
Shoe Gender
Inner Toe Cap Material : Metal
Shoe Liner Material : Textile
Shoe Closure Type : Mid-cut
Outsole Material : Rubber
Upper Material : Textile/Leather
Data Sheet
Name
Description
File Size
Date
Size
Otter Premium Guard Mid
application/pdf 298.65 KB
10/6/2021
298.65 KB
Brochure
Name
Description
File Size
Date
Size
Otter Premium
application/pdf 4.84 MB
10/6/2021
4.84 MB
Name
Description
File Size
Date
Size
Otter Premium
4.84 MB
10/6/2021
4.84 MB
Otter Premium Guard Mid
298.65 KB
10/6/2021
298.65 KB
Name
Description
File Size
Date
Size
Otter Premium Guard Mid
298.65 KB
10/6/2021
Otter Premium
4.84 MB
10/6/2021

6551621-36/7
GUARD MID S3 HI HRO SRC 36

6551621-37/7
GUARD MID S3 HI HRO SRC 37

6551621-38/7
GUARD MID S3 HI HRO SRC 38

6551621-39/7
GUARD MID S3 HI HRO SRC 39

6551621-40/7
GUARD MID S3 HI HRO SRC 40

6551621-41/7
GUARD MID S3 HI HRO SRC 41

6551621-42/7
GUARD MID S3 HI HRO SRC 42

6551621-43/7
GUARD MID S3 HI HRO SRC 43

6551621-44/7
GUARD MID S3 HI HRO SRC 44

6551621-45/7
GUARD MID S3 HI HRO SRC 45

6551621-36/7
GUARD MID S3 HI HRO SRC 36

6551621-37/7
GUARD MID S3 HI HRO SRC 37

6551621-38/7
GUARD MID S3 HI HRO SRC 38

6551621-39/7
GUARD MID S3 HI HRO SRC 39

6551621-40/7
GUARD MID S3 HI HRO SRC 40

6551621-41/7
GUARD MID S3 HI HRO SRC 41

6551621-42/7
GUARD MID S3 HI HRO SRC 42

6551621-43/7
GUARD MID S3 HI HRO SRC 43

6551621-44/7
GUARD MID S3 HI HRO SRC 44

6551621-45/7
GUARD MID S3 HI HRO SRC 45