Powered Air Purifying Respirators (PAPR)
Honeywell Primair 100 Series Hoods
Honeywell Primair 100 Series Hoods
Overview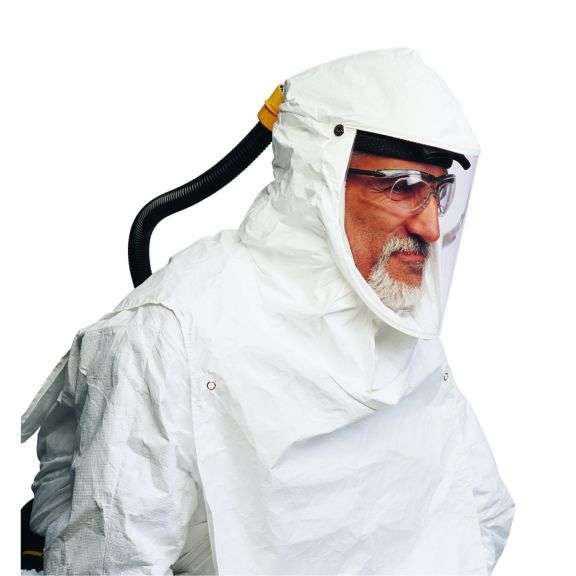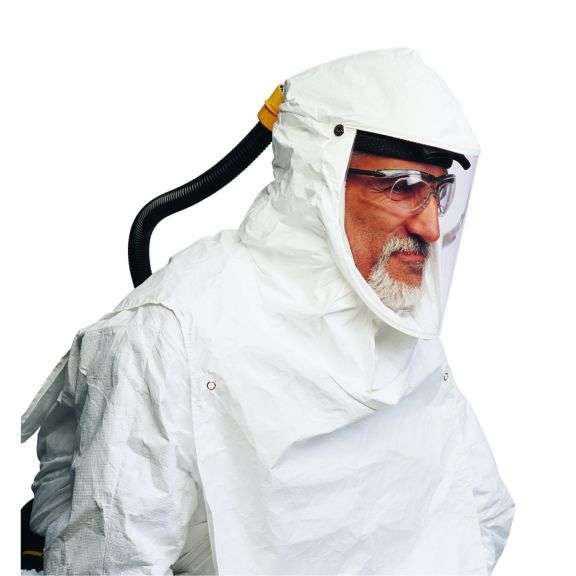 The Primair Plus 100 Series has a range of options that includes loose-fitting head covers, hoods with bibs and hoods with nylon collars, that can be used with the PA500 & PA700 Series PAPR in the UK&I and Europe.
The Primair Plus 100 Series head covers include a fabric head covering and a headgear. The head covering may be a hood with neck seal or hood with bib. The hoods with neck seals and bibs are also available with a coating to protect against chemical splashes. The headgear has three types of adjustments for maximum comfort and fit.
The PA111EU and PA121EU are classified as loose fitting hoods with bibs.
Features & Benefits:
Primair Plus 100 Series head covers and hoods feature a comfortable headgear that directs air over the lens for cooling comfort.
Triple adjustment headgear for a comfortable fit.
Manifold directs air over lens to reduce fogging.
Hoods available with under the chin: nylon collar and full bib versions.
Hoods with collar and full bib have an assigned protection factor (APF) of 1000.
PA121EU is coated for protection from intermittent splash.
Bibbed hood features dual snaps for adjustable bib length.
Data Sheet
Name
Description
File Size
Date
Size
North Compact Air PAPR Technical Data Sheet
application/pdf 93.76 KB
5/5/2021
93.76 KB
Brochure
Name
Description
File Size
Date
Size
North Compact Air Powered Air Purifying Respirators Brochure
application/pdf 774.44 KB
5/5/2021
774.44 KB
Honeywell North APR Cartridge and Filter Reference Chart
application/pdf 879.47 KB
5/5/2021
879.47 KB
Others
Name
Description
File Size
Date
Size
North Compact Air PAPR FAQs
application/pdf 42.86 KB
5/5/2021
42.86 KB
Name
Description
File Size
Date
Size
Name
Description
File Size
Date
Size
SKUs

PA111EU
PRIMAIR PLUS Assembly with bibbed hood, adjustable length, and one package peel-away cover lens

PA112EU
PRIMAIR PLUS Assembly with coated bibbed hood, adjustable length, and one package peel-away cover lens

PA111EU
PRIMAIR PLUS Assembly with bibbed hood, adjustable length, and one package peel-away cover lens

PA112EU
PRIMAIR PLUS Assembly with coated bibbed hood, adjustable length, and one package peel-away cover lens