Interrupteurs à bascule
TP Series
Rectangle. Non-lighted. SPST, SPDT, DPDT. 2- & 3-position. Flush mount & above panel mount. Screw termination
Vue d'ensemble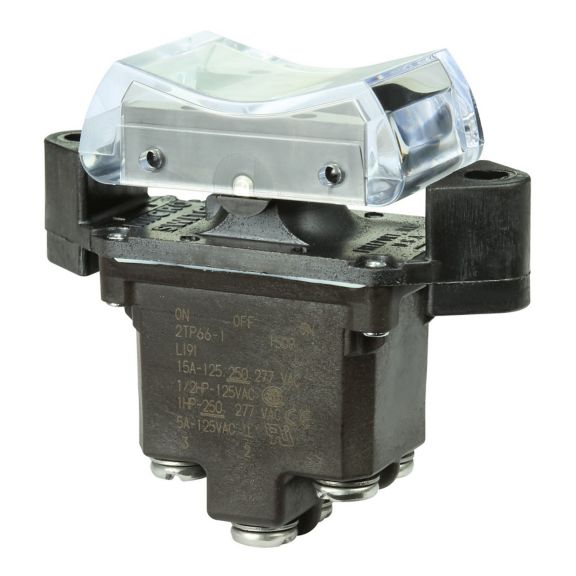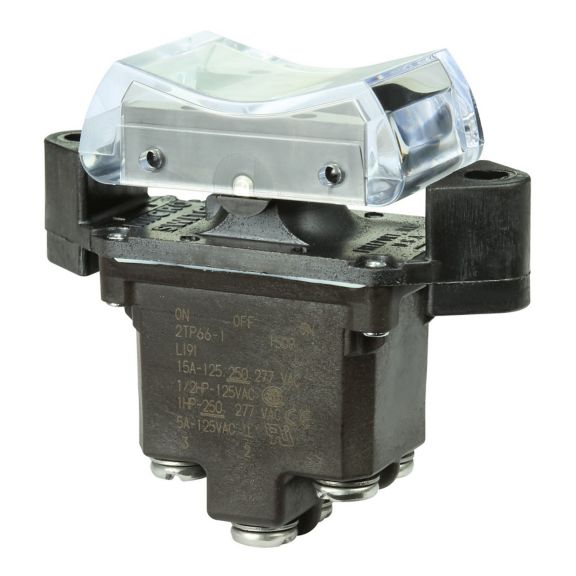 Honeywell MICRO SWITCH TP rocker switches are designed for flush mount to the panel for a low profile button or above panel for a distinctive button appearance. The buttons are removable and interchangeable and are available in either a transparent plastic (to accept legend inserts), or translucent plastic.
Colored opaque buttons are also available for color coding of switch functions, for example, a green button for a "start" or "run" function and a black button for general purpose. The 1-, 2-, or 4-pole rocker switches are furnished with two 6-32 internal locking threads in the rocker cover which will accept 6-32 machine screws for panel mounting.
To maximize applications and minimize inventory, the TP rocker switches are readily available without buttons. Ordering the buttons separately permits them to be paired with switches containing the desired circuitry and number of poles.
Manuels et guides
Nom
La description
Taille du fichier
Date
Taille
Basic, Toggle, and Rocker Switches Range Guide -
application/pdf 6.48 MB
10/25/2022
6.48 MB
Note d'application
Nom
La description
Taille du fichier
Date
Taille
Forestry Vehicles
application/pdf 1.05 MB
12/21/2022
1.05 MB
All-Terrain Vehicle Solutions
application/pdf 803.57 KB
12/20/2022
803.57 KB
Agricultural Vehicles -
application/pdf 1.11 MB
10/25/2022
1.11 MB
Defence Ground Vehicles -
application/pdf 872.87 KB
6/14/2023
872.87 KB
Construction Vehicles -
application/pdf 984.29 KB
12/20/2022
984.29 KB
eBook
Nom
La description
Taille du fichier
Date
Taille
Redefining Road Rail & Rugged Applications
application/pdf 28.35 MB
12/20/2022
28.35 MB
Autres
Nom
La description
Taille du fichier
Date
Taille
AML 24 and 26 Series Electronic Control Rocker Switches
application/pdf 348.88 KB
7/21/2021
348.88 KB
TP Series Cricuitry/Operating Action
application/zip 907.35 KB
7/21/2021
907.35 KB
TP Series Rocker Button Switches
application/pdf 396.61 KB
7/21/2021
396.61 KB
MICRO SWITCH TP Series Rocker Switches Datasheet
application/pdf 980.44 KB
10/4/2021
980.44 KB
TP Series Product Photos
application/zip 68.81 MB
7/21/2021
68.81 MB
MICRO SWITCH Rocker Switches Line Guide
application/pdf 127.66 KB
7/21/2021
127.66 KB
TP Series Product Photos
application/zip 73.41 MB
7/21/2021
73.41 MB
Nom
La description
Taille du fichier
Date
Taille
Nom
La description
Taille du fichier
Date
Taille

102TP81-10
TP Series Rocker Switch, 2 pole, 3 position, IWTS (14-16 Gage) terminal, Above Panel Mounting

102TP81-3
TP Series Rocker Switch, 2 pole, 2 position, IWTS (14-16 Gage) terminal, Above Panel Mounting

102TP82-10
TP Series Rocker Switch, 2 pole, 3 position, IWTS (16-20 Gage) terminal, Above Panel Mounting

102TP82-3
TP Series Rocker Switch, 2 pole, 2 position, IWTS (16-20 Gage) terminal, Above Panel Mounting

102TP82-70
TP Series Rocker Switch, 2 pole, 3 position, IWTS (16-20 Gage) terminal, Above Panel Mounting

102TP82-8
TP Series Rocker Switch, 2 pole, 2 position, IWTS (16-20 Gage) terminal, Above Panel Mounting

104TP82-3
TP Series Rocker Switch, 4 pole, 2 position, IWTS (16-20 Gage) terminal, Above Panel Mounting

1TP1-1
TP Series Rocker Switch, 1 pole, 3 position, Screw terminal, Flush Panel Mounting

1TP1-2
TP Series Rocker Switch, 1 pole, 2 position, Screw terminal, Flush Panel Mounting

1TP1-31
TP Series Rocker Switch, 1 pole, 3 position, Screw terminal, Flush Panel Mounting

102TP81-10
TP Series Rocker Switch, 2 pole, 3 position, IWTS (14-16 Gage) terminal, Above Panel Mounting

102TP81-3
TP Series Rocker Switch, 2 pole, 2 position, IWTS (14-16 Gage) terminal, Above Panel Mounting

102TP82-10
TP Series Rocker Switch, 2 pole, 3 position, IWTS (16-20 Gage) terminal, Above Panel Mounting

102TP82-3
TP Series Rocker Switch, 2 pole, 2 position, IWTS (16-20 Gage) terminal, Above Panel Mounting

102TP82-70
TP Series Rocker Switch, 2 pole, 3 position, IWTS (16-20 Gage) terminal, Above Panel Mounting

102TP82-8
TP Series Rocker Switch, 2 pole, 2 position, IWTS (16-20 Gage) terminal, Above Panel Mounting

104TP82-3
TP Series Rocker Switch, 4 pole, 2 position, IWTS (16-20 Gage) terminal, Above Panel Mounting

1TP1-1
TP Series Rocker Switch, 1 pole, 3 position, Screw terminal, Flush Panel Mounting

1TP1-2
TP Series Rocker Switch, 1 pole, 2 position, Screw terminal, Flush Panel Mounting

1TP1-31
TP Series Rocker Switch, 1 pole, 3 position, Screw terminal, Flush Panel Mounting