Interrupteurs à bascule
TW Series
Miniature stainless steel toggle. UL, MIL-DTL-83781. 0.1 A to 5 A. Variety of actuators, actions, terminations, and circuitries
Vue d'ensemble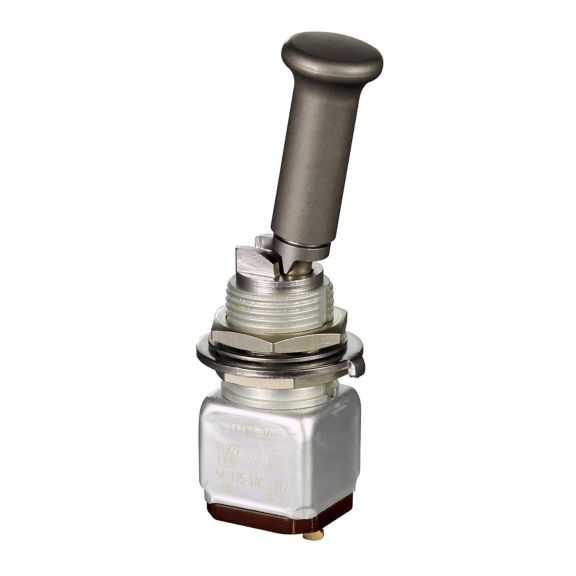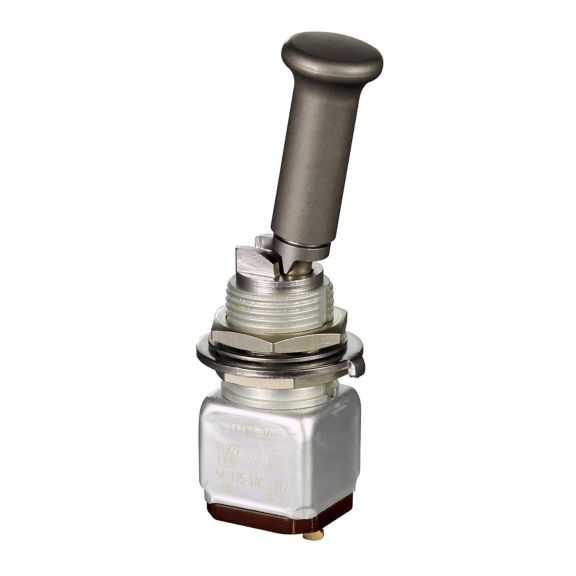 Honeywell MICRO SWITCH TW Series toggle switches are military qualified to MIL-83731 specifications for sealed and unsealed toggle switches. Quality construction features include an available bonded seal between the toggle lever and bushing for those applications where a sealing-related failure cannot be tolerated.
The durable design of the TW Series toggle is well-suited for many military, aerospace and other demanding applications where space behind the panel is limited. These applications include environments where the panels are subjected to mechanical shock, vibration, dust, splashing or hose-directed water, and temperature extremes.
MICRO SWITCH TW toggles feature a miniature military-grade design with environmental sealing capabilities and can be configured with a large selection of circuitries, electrical terminations, lever and bushing designs, and contact material options to satisfy a diverse range of applications.
Manuels et guides
Nom
La description
Taille du fichier
Date
Taille
Aerospace and Defense Product Range Guide -
application/pdf 16.36 MB
12/21/2022
16.36 MB
Basic, Toggle, and Rocker Switches Range Guide -
application/pdf 6.48 MB
10/25/2022
6.48 MB
Brochure
Nom
La description
Taille du fichier
Date
Taille
Oil and Gas Brochure -
application/pdf 3.4 MB
10/25/2022
3.4 MB
Note d'application
Nom
La description
Taille du fichier
Date
Taille
Construction Vehicles -
application/pdf 984.29 KB
12/20/2022
984.29 KB
Exploded view diagram of Honeywell sensors and switches in oil rig applications
application/pdf 6.35 MB
9/8/2022
6.35 MB
Defence Ground Vehicles -
application/pdf 872.87 KB
6/14/2023
872.87 KB
Agricultural Vehicles -
application/pdf 1.11 MB
10/25/2022
1.11 MB
eBook
Nom
La description
Taille du fichier
Date
Taille
Redefining Road Rail & Rugged Applications
application/pdf 28.35 MB
12/20/2022
28.35 MB
Photo du produit
Nom
La description
Taille du fichier
Date
Taille
TW Series Product Photo
application/zip 78.48 MB
7/22/2022
78.48 MB
Autres
Nom
La description
Taille du fichier
Date
Taille
Partners Providing Technical Safety and Productivity Solutions
application/pdf 8.05 MB
10/4/2021
8.05 MB
MICRO SWITCH TW Series Miniature Military-Grade Toggle Switches
application/pdf 1.07 MB
7/21/2021
1.07 MB
AT Series, TW Series Circuitry/Operating action
application/zip 4.68 KB
7/21/2021
4.68 KB
Transportation Range Guide
application/pdf 18.57 MB
10/4/2021
18.57 MB
MT Series,NT Series,TL Series,TS Series,TW Series Circuitry/Operating action
application/zip 597.65 KB
7/21/2021
597.65 KB
Nom
La description
Taille du fichier
Date
Taille
Nom
La description
Taille du fichier
Date
Taille

111TW1-1
MICRO SWITCH TW Series Toggle Switch, 1 pole, 3 position, IWTS terminal, Standard Lever

111TW1-3
MICRO SWITCH TW Series Toggle Switch, 1 pole, 2 position, IWTS terminal, Standard Lever

111TW1-3D
MICRO SWITCH TW Series Toggle Switch, 1 pole, 2 position, IWTS terminal, Locking Lever

112TW1-1
MICRO SWITCH TW Series Toggle Switch, 2 pole, 3 position, IWTS terminal, Standard Lever

112TW1-10
MICRO SWITCH TW Series Toggle Switch, 2 pole, 3 position, IWTS terminal, Standard Lever

112TW1-10A
MICRO SWITCH TW Series Toggle Switch, 2 pole, 3 position, IWTS terminal, Locking Lever

112TW1-1A
MICRO SWITCH TW Series Toggle Switch, 2 pole, 3 position, IWTS terminal, Locking Lever

112TW1-2
MICRO SWITCH TW Series Toggle Switch, 2 pole, 2 position, IWTS terminal, Standard Lever

112TW1-3
MICRO SWITCH TW Series Toggle Switch, 2 pole, 2 position, IWTS terminal, Standard Lever

112TW1-3D
MICRO SWITCH TW Series Toggle Switch, 2 pole, 2 position, IWTS terminal, Locking Lever

111TW1-1
MICRO SWITCH TW Series Toggle Switch, 1 pole, 3 position, IWTS terminal, Standard Lever

111TW1-3
MICRO SWITCH TW Series Toggle Switch, 1 pole, 2 position, IWTS terminal, Standard Lever

111TW1-3D
MICRO SWITCH TW Series Toggle Switch, 1 pole, 2 position, IWTS terminal, Locking Lever

112TW1-1
MICRO SWITCH TW Series Toggle Switch, 2 pole, 3 position, IWTS terminal, Standard Lever

112TW1-10
MICRO SWITCH TW Series Toggle Switch, 2 pole, 3 position, IWTS terminal, Standard Lever

112TW1-10A
MICRO SWITCH TW Series Toggle Switch, 2 pole, 3 position, IWTS terminal, Locking Lever

112TW1-1A
MICRO SWITCH TW Series Toggle Switch, 2 pole, 3 position, IWTS terminal, Locking Lever

112TW1-2
MICRO SWITCH TW Series Toggle Switch, 2 pole, 2 position, IWTS terminal, Standard Lever

112TW1-3
MICRO SWITCH TW Series Toggle Switch, 2 pole, 2 position, IWTS terminal, Standard Lever

112TW1-3D
MICRO SWITCH TW Series Toggle Switch, 2 pole, 2 position, IWTS terminal, Locking Lever