Interrupteurs de fin de course miniatures
914CE Series
For use in North America. Miniature, metal housing. Pre-leaded or connector. 25 mm mounting centers. IP65/66/67 sealing. cURus/CE approvals
Vue d'ensemble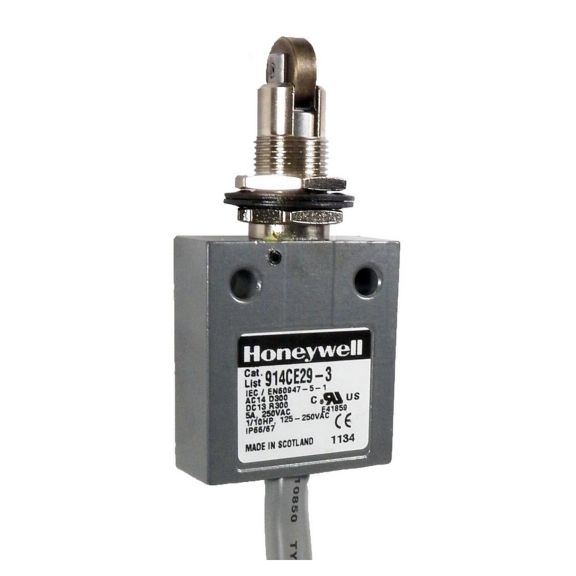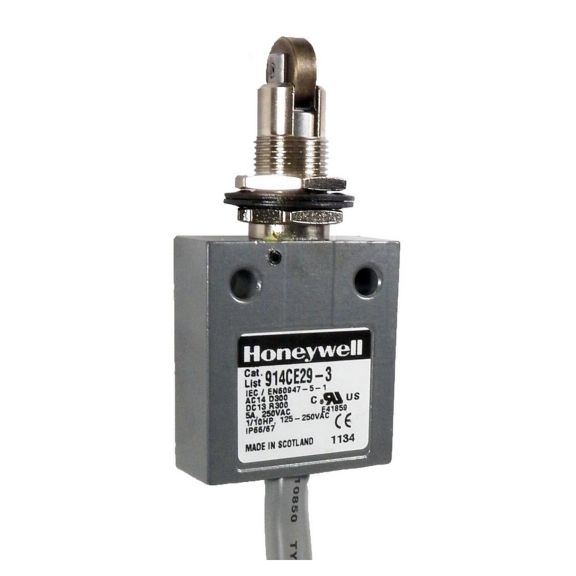 For use in North America, MICRO SWITCH 914CE Series compact enclosed switches incorporate fluorocarbon diaphragm sealing to provide reliable protection, meeting NEMA 1, 2, 3, 3R, 4, 6, 6P, and 13 as well as IP66, IP67, and IP68 requirements. Versions with boot seal also meet NEMA 12 requirements (dust, falling dirt, liquid media with solid contaminates).
The cable or connector and basic switch terminals are encapsulated in an epoxy sealant, offering excellent resistance in harsh environments. For low temperature applications (down to -40 °C, -40 °F), CE Series switches can be supplied with low temperature seals and lubricant.
The CE Series switches are rugged and versatile switches which can be applied indoors in many harsh factory floor applications, as well as on outdoor equipment in extreme temperatures. A full range of actuators are available, including plain plungers, roller plungers, side rotary, multi-directional wire, and manually operated.
The switches are also available with the industry standard, M12 micro-change 4-pin connector. MICRO SWITCH 914CE products meet North American, cURus standards, as well as European CE requirements.
Fiche technique
Nom
La description
Taille du fichier
Date
Taille
MICRO SWITCH 91MCE Series Miniature Compact Limit Switches
application/pdf 661.39 KB
1/3/2022
661.39 KB
MICRO SWITCH 914CE Series Compact Limit Switches
application/pdf 1.22 MB
7/21/2021
1.22 MB
Manuels et guides
Nom
La description
Taille du fichier
Date
Taille
Transportation Range Guide
application/pdf 18.57 MB
10/4/2021
18.57 MB
XP-4040: 14CE/914CE Series Miniature Limit Switches with UL, CSA and CE approvals
application/pdf 153.5 KB
7/21/2021
153.5 KB
Limit Switches and Machine Safety Range Guide
application/pdf 7.98 MB
9/5/2022
7.98 MB
Brochure
Nom
La description
Taille du fichier
Date
Taille
CE Family Miniature Limit Switches
application/pdf 279.12 KB
7/21/2021
279.12 KB
Note d'application
Nom
La description
Taille du fichier
Date
Taille
Construction Vehicles -
application/pdf 984.29 KB
12/20/2022
984.29 KB
Industrial Warehouse Solutions
application/pdf 2.85 MB
9/23/2022
2.85 MB
Agricultural Vehicles -
application/pdf 1.11 MB
10/25/2022
1.11 MB
Switches and Sensors Solutions for Industrial Applications -
application/pdf 2.48 MB
5/24/2023
2.48 MB
eBook
Nom
La description
Taille du fichier
Date
Taille
Redefining Road Rail & Rugged Applications
application/pdf 28.35 MB
12/20/2022
28.35 MB
Photo du produit
Nom
La description
Taille du fichier
Date
Taille
914CE Series Product Photo
application/zip 6.63 MB
7/21/2021
6.63 MB
Nom
La description
Taille du fichier
Date
Taille
Nom
La description
Taille du fichier
Date
Taille

914CE1-15
MICRO SWITCH 914CE Series Compact Precision Limit Switches,Top Plunger, 1NC 1NO SPDT Snap Action, 15 foot Cable

914CE1-3
MICRO SWITCH 914CE Series Compact Precision Limit Switches,Top Plunger, 1NC 1NO SPDT Snap Action, 3 foot Cable

914CE1-3A
MICRO SWITCH 914CE Series Compact Precision Limit Switches,Top Plunger, 1NC 1NO SPDT Snap Action, 3 foot Cable

914CE1-3G
MICRO SWITCH 914CE Series Compact Precision Limit Switches,Top Plunger, 1NC 1NO SPDT Snap Action, 3 foot Cable

914CE1-6
MICRO SWITCH 914CE Series Compact Precision Limit Switches,Top Plunger, 1NC 1NO SPDT Snap Action, 6 foot Cable

914CE1-6A
MICRO SWITCH 914CE Series Compact Precision Limit Switches,Top Plunger, 1NC 1NO SPDT Snap Action, 6 foot Cable

914CE1-9
MICRO SWITCH 914CE Series Compact Precision Limit Switches,Top Plunger, 1NC 1NO SPDT Snap Action, 9 foot Cable

914CE1-9A
MICRO SWITCH 914CE Series Compact Precision Limit Switches,Top Plunger, 1NC 1NO SPDT Snap Action, 9 foot Cable

914CE1-AQ
MICRO SWITCH 914CE Series Compact Precision Limit Switches,Top Plunger, 1NC 1NO SPDT Snap Action, 4-Pin dc Micro-Connector

914CE1-AQ1
MICRO SWITCH 914CE Series Compact Precision Limit Switches,Top Plunger, 1NC 1NO SPDT Snap Action, 4-Pin ac Micro-Connector

914CE1-15
MICRO SWITCH 914CE Series Compact Precision Limit Switches,Top Plunger, 1NC 1NO SPDT Snap Action, 15 foot Cable

914CE1-3
MICRO SWITCH 914CE Series Compact Precision Limit Switches,Top Plunger, 1NC 1NO SPDT Snap Action, 3 foot Cable

914CE1-3A
MICRO SWITCH 914CE Series Compact Precision Limit Switches,Top Plunger, 1NC 1NO SPDT Snap Action, 3 foot Cable

914CE1-3G
MICRO SWITCH 914CE Series Compact Precision Limit Switches,Top Plunger, 1NC 1NO SPDT Snap Action, 3 foot Cable

914CE1-6
MICRO SWITCH 914CE Series Compact Precision Limit Switches,Top Plunger, 1NC 1NO SPDT Snap Action, 6 foot Cable

914CE1-6A
MICRO SWITCH 914CE Series Compact Precision Limit Switches,Top Plunger, 1NC 1NO SPDT Snap Action, 6 foot Cable

914CE1-9
MICRO SWITCH 914CE Series Compact Precision Limit Switches,Top Plunger, 1NC 1NO SPDT Snap Action, 9 foot Cable

914CE1-9A
MICRO SWITCH 914CE Series Compact Precision Limit Switches,Top Plunger, 1NC 1NO SPDT Snap Action, 9 foot Cable

914CE1-AQ
MICRO SWITCH 914CE Series Compact Precision Limit Switches,Top Plunger, 1NC 1NO SPDT Snap Action, 4-Pin dc Micro-Connector

914CE1-AQ1
MICRO SWITCH 914CE Series Compact Precision Limit Switches,Top Plunger, 1NC 1NO SPDT Snap Action, 4-Pin ac Micro-Connector