Interrupteurs de sécurité compacts et standard
924CE Series
Miniature housing IEC945-5-1, EN60947-5-1. Metal housing. IP66. UL, CE, SIL3. Silver contacts
Vue d'ensemble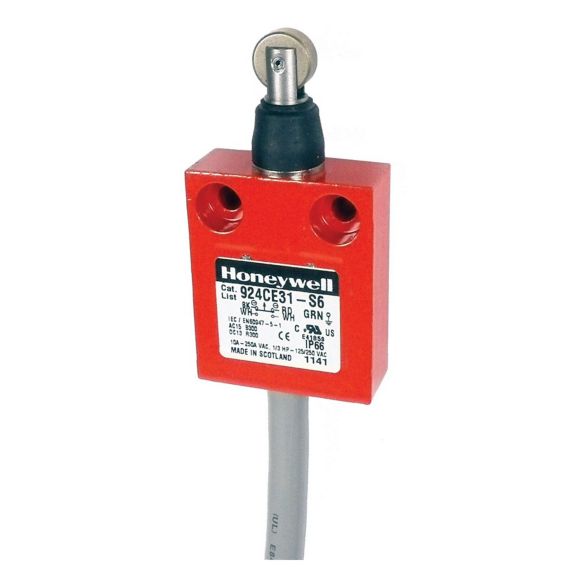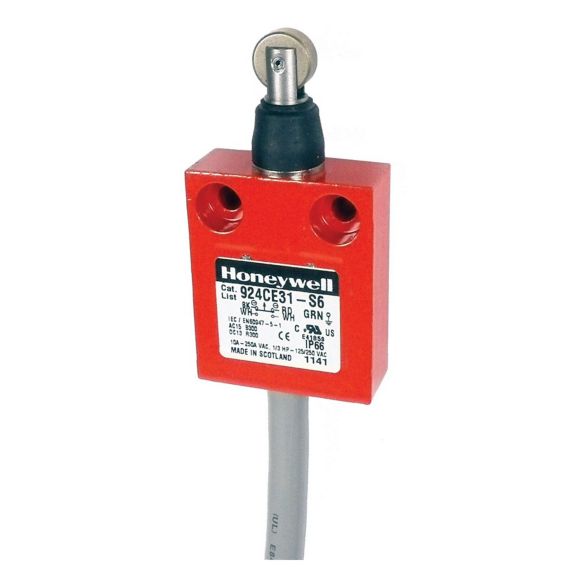 Honeywell's 924CE Series miniature electromechanical safety switches are designed with a rugged metal housing. This Series features positive opening normally closed contacts to EN/IEC 60947-5-1-3 specifications. Due to their small size and positive opening normally closed contact: the 924CE Series provides a safety solution for applications where the size of other products could be prohibitive on the machinery.
The 924CE Series offers a variety of configurations which include a wide range of actuators, circuits, and electrical terminations to solve many application issues.
These miniature switches are environmentally sealed to IP66 for demanding environments on indoor or outdoor machinery. In addition, the 924CE Series has been evaluated for safety functions up to a safety integrity level (SIL) of SIL3 when evaluated to the requirements of IEC 61508-2:2010.
Fiche technique
Nom
La description
Taille du fichier
Date
Taille
924CE Miniature Safety Switches Datasheet
application/pdf 2.25 MB
7/21/2021
2.25 MB
Manuels et guides
Nom
La description
Taille du fichier
Date
Taille
Limit Switches and Machine Safety Range Guide
application/pdf 7.98 MB
9/5/2022
7.98 MB
Electromechanical Safety Switch Product Selection Guide
application/pdf 355.99 KB
7/21/2021
355.99 KB
Note technique
Nom
La description
Taille du fichier
Date
Taille
Industrial Product Line Card
application/pdf 2.24 MB
10/24/2022
2.24 MB
Certificat
Nom
La description
Taille du fichier
Date
Taille
24CE & 924CE switch electrical endurance certificate
application/pdf 27.38 KB
7/21/2021
27.38 KB
24CE & 924CE switch SIRA certificate
application/pdf 377.66 KB
7/21/2021
377.66 KB
24CE & 924CE switch mechanical endurance certificate
application/pdf 27.54 KB
7/21/2021
27.54 KB
Catalogue
Nom
La description
Taille du fichier
Date
Taille
MICRO SWITCH Safety Switches Comparison
application/pdf 491.94 KB
7/21/2021
491.94 KB
Note d'application
Nom
La description
Taille du fichier
Date
Taille
Agricultural Vehicles -
application/pdf 1.11 MB
10/25/2022
1.11 MB
Nom
La description
Taille du fichier
Date
Taille
Nom
La description
Taille du fichier
Date
Taille
924CE Miniature Safety Switches Datasheet
2.25 MB
7/21/2021
Limit Switches and Machine Safety Range Guide
7.98 MB
9/5/2022
Electromechanical Safety Switch Product Selection Guide
355.99 KB
7/21/2021
Industrial Product Line Card
2.24 MB
10/24/2022
24CE & 924CE switch electrical endurance certificate
27.38 KB
7/21/2021
24CE & 924CE switch SIRA certificate
377.66 KB
7/21/2021
24CE & 924CE switch mechanical endurance certificate
27.54 KB
7/21/2021
MICRO SWITCH Safety Switches Comparison
491.94 KB
7/21/2021
Agricultural Vehicles -
1.11 MB
10/25/2022