Harnesses, Belts & Accessories
Miller H-Design Hi-Vis Vest Harness
New comfortable lightweight high visibility vest specifically developed for use with the Miller H-Design.
Overview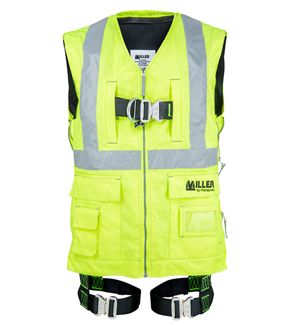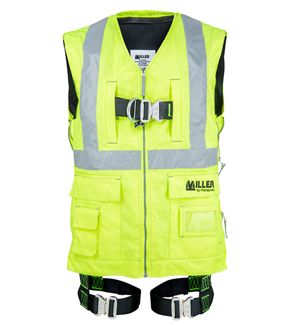 Key Features
Features & Benefits:
2-point Miller H-Design®harness with stretch webbing, front and rear anchorage point and quick buckles.
High visibility repellant yellow or orange textile with reflective tapes certified to EN ISO 20471 (2013).
Side zippers with double cursers allows a perfect fit to any body shape and adjustment to summer and winter clothing.
Inner zippers for easy access to the harness for making adjustments.
Removable vest easy to fix to the harness thanks to its quick clip system (push buttons).
Vest suitable to any Miller H-Design harness:
• 2 large front slits allow the height adjustment of the sternal anchor point and the chest straps.• 1 slit at the back with velcro fastener to sustain the rear D-ring.
           Available in 2 sizes.
Multi pouch vest:
2 big external pouches (for tools…..)2 side pouches (for hands, gloves…)1 small pocket (for accessories, cellar…)1 name card holder (possibility to identify the PPE).
Recommended Industries/Use
Hazards
Regulations
EN 361 - Fall protection harness
EN ISO 20471 class 2 (2013) - High visibility clothing tests and methods.
EN ISO 13688 (2013) - protective clothing.
OEKO-TEX standard 100 - Components of the vest respecting the human- ecological requirements
Warranty Information
Our state of the art equipment provides the critical tool for worker protection, combining mobility with unsurpassed comfort.
At our ISO 9001 certified manufacturing facilities in Europe, we ensure that every Miller product is made in accordance with the standards and meets your exacting requirements.
Data Sheet
Name
Description
File Size
Date
Size
Miller High Visability Vests Datasheet - Middle East - India
application/pdf 103.31 KB
12/5/2021
103.31 KB
Manuals and Guides
Name
Description
File Size
Date
Size
Miller High Visability Vests Literature - Middle East - India
application/pdf 166.45 KB
166.45 KB
Name
Description
File Size
Date
Size
Miller High Visability Vests Datasheet - Middle East - India
103.31 KB
12/5/2021
103.31 KB
Miller High Visability Vests Literature - Middle East - India
166.45 KB
166.45 KB
Name
Description
File Size
Date
Size
Miller High Visability Vests Datasheet - Middle East - India
103.31 KB
12/5/2021
Miller High Visability Vests Literature - Middle East - India
166.45 KB