Harnesses, Belts & Accessories
Miller RTST harness
The Miller R'TST 2 points harness is designed specifically for utility workers, particularly in the electrical high tension sector, as it provides them with maximum comfort and flexibility when carrying out maintenance on overhead power lines.
Overview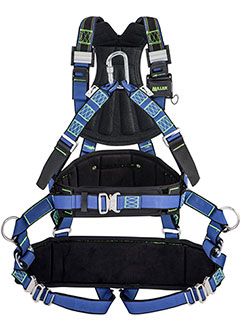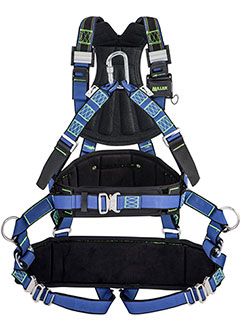 Key Features
Benefits:360° OPERATIONS IN MULTITUDE OF WORK STATIONS
The Miller R'TST fits like a second skin allowing users to work free from obstruction.Quilted back pad and semi-rigid seat strap provide great comfort and support during long periods of work, reducing fatigue. Stretch webbing on shoulders offers more mobility.
Rotating belt allows the wearer to turn 180°.
With the use of extended work positioning rings, the user can work even backwards to the pylon, all in comfort and with ease.

QUICK AND EASY TO DON
Very quick to fit due to the back pad maintaining shoulders straps in place.
Easy adjustment with cam buckles, preventing any slippage during usage.

EASY TO INSPECT
2 fall indicators (on the dorsal webbing) facilitate visual inspection to ensure the equipment has not suffered a fall and is therefore safe for use.
Recommended Industries/Use
Hazards
Regulations
All Miller harnesses are CE certified and comply with EN 361 and, where necessary, with EN 358
Warranty Information
Our state of the art equipment provides the critical tool for worker protection, combining mobility with unsurpassed comfort.
At our ISO 9001 certified manufacturing facilities in Europe, we ensure that every Miller product is made in accordance with the standards and meets your exacting requirements.
Data Sheet
Name
Description
File Size
Date
Size
Harnais Miller RTST - Datasheet
application/pdf 845.92 KB
5/31/2021
845.92 KB
Miller Rtst Harness Data Sheet - Nordics
application/pdf 142.46 KB
142.46 KB
Miller R Tst Fall Arrest Harness - Datasheet
application/pdf 464.11 KB
6/1/2021
464.11 KB
Brochure
Name
Description
File Size
Date
Size
Miller R Tst Harness Eur Brochure - Nordics
application/pdf 845.92 KB
845.92 KB
Name
Description
File Size
Date
Size
Name
Description
File Size
Date
Size